Did you know the first collection of Winnie the Pooh stories were created in 1926? This makes Winnie 96 years old! We thought we'd take a trip down memory lane by taking a look at our favourite classic characters, and also at some Winnie the Pooh personalised baby gifts we have at Thats mine.
Sometimes the smallest things take up the most room in your heart.

Winnie the Pooh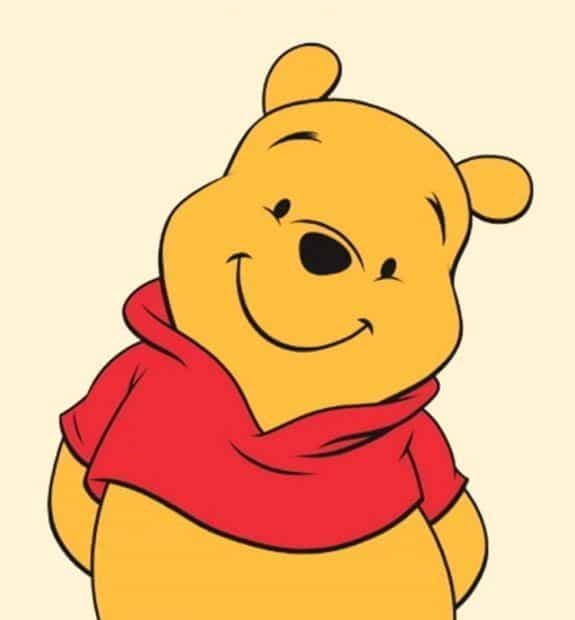 All About Winnie the Pooh
Winnie the Pooh is a fictional teddy bear created by English author A.A. Milne and English illustrator E.H. Shepard. Milne based the characters on his son, Christopher Robin, his stuffed animals, Winnie the Pooh and friends Piglet, Eeyore, Kanga, Roo and Tigger and their country home in England's Ashdown Forest. Tales of Winnie and his friends fun adventures have captivated children and adults over generations, all full of lessons about life, love and friendship. Then in 1961, Disney bought the rights to Winnie the Pooh and adapted the the Pooh stories into the beloved cartoon.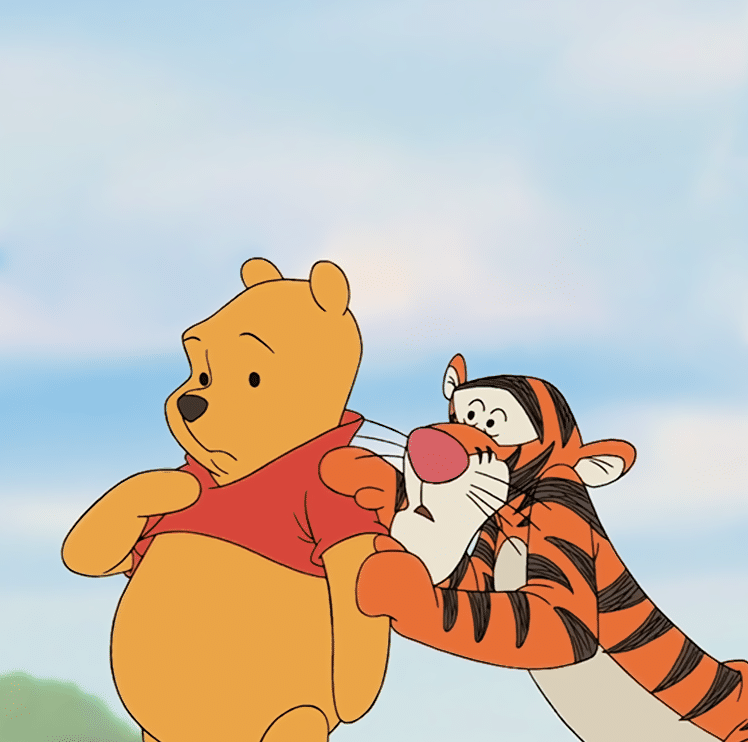 Winnie the Pooh Personalised Baby Gifts
Toffee Moon personalised luxury cable baby blanket and Winnie the Pooh soft toy, £60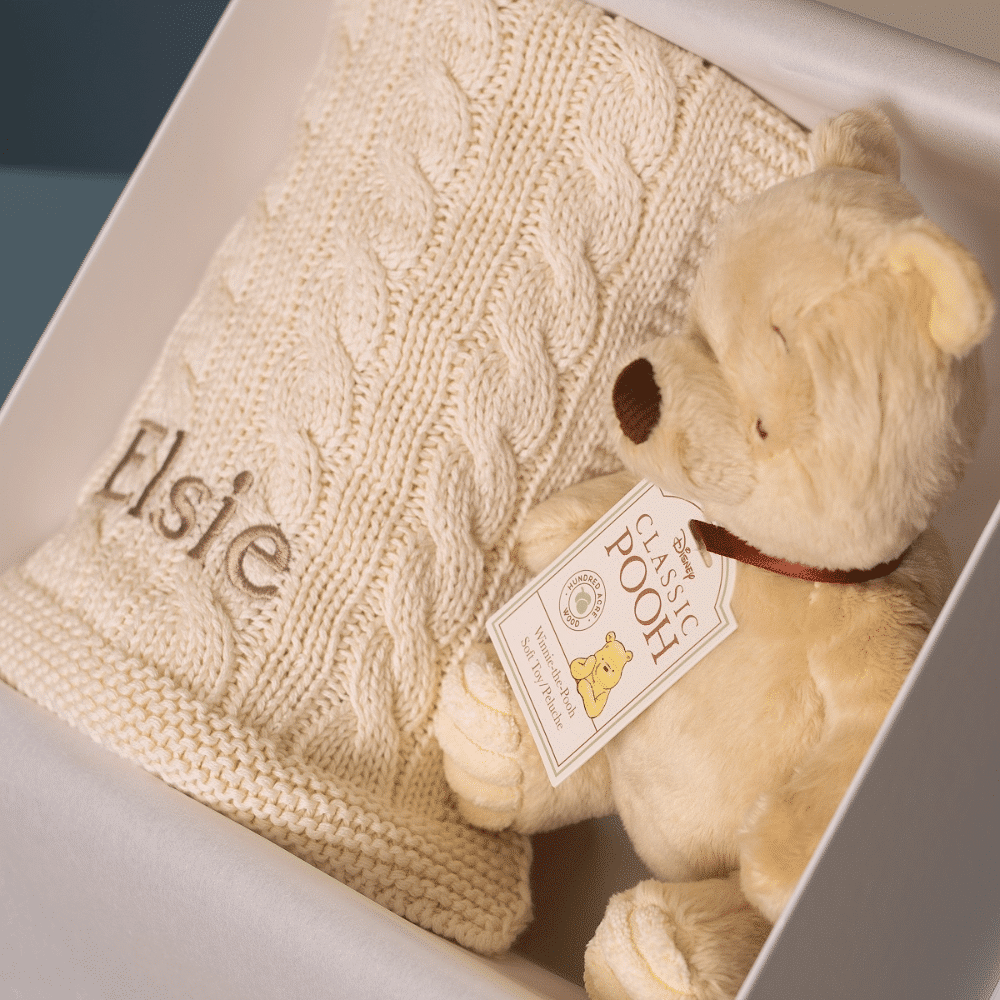 Here's a gorgeous and luxurious personalised cotton cable blanket and Winnie the Pooh soft toy, making this the perfect gift set. A perfect keepsake; this cream luxury personalised cotton baby blanket will keep your precious little one warm and snug. Part of our Disney classic Winnie the Pooh personalised baby gifts range, each gift can be embroidered with your name in a choice of colours.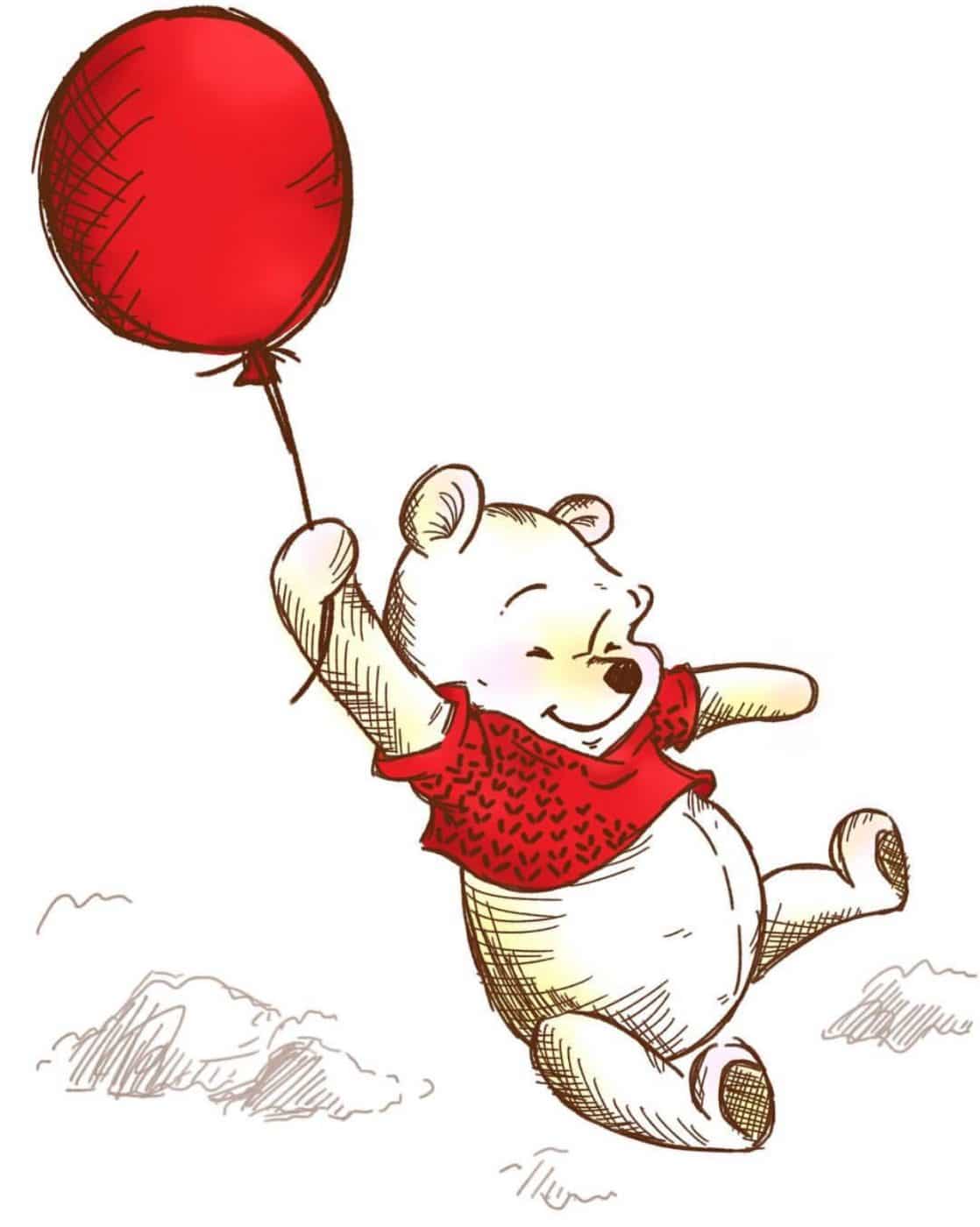 Which Winnie the Pooh character are you?
If Winnie is your favourite, it's likely you are loyal, kind and creative. You always have your love ones best interests at heart and you have a very caring, loving soul.
Toffee Moon personalised luxury cable baby blanket and Tigger soft toy, £60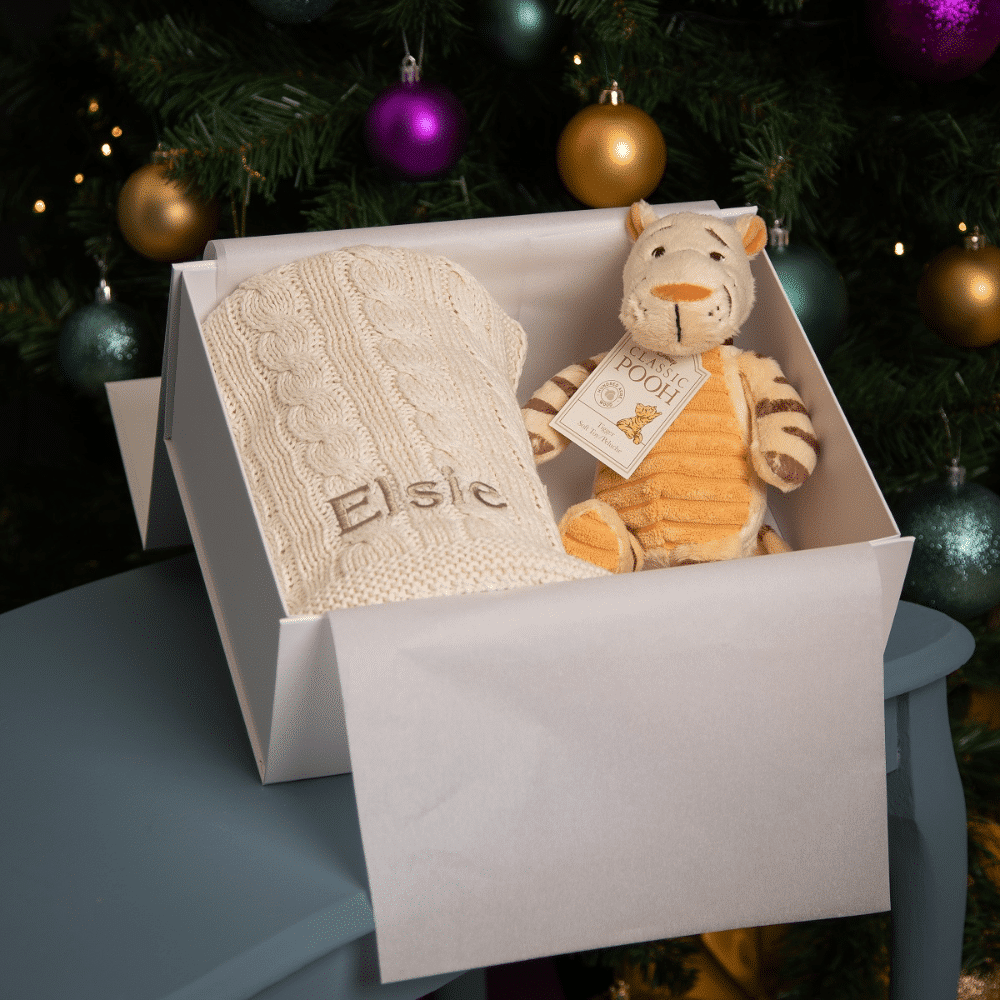 Next up is the Tigger giftset! These beautifully soft personalised pure cotton cable knitted blankets are ideal for prams, cots and make a lovely bedroom accessory for many years to come. The Tigger soft toy completes the set perfectly and beautifully matches the cream shade blanket.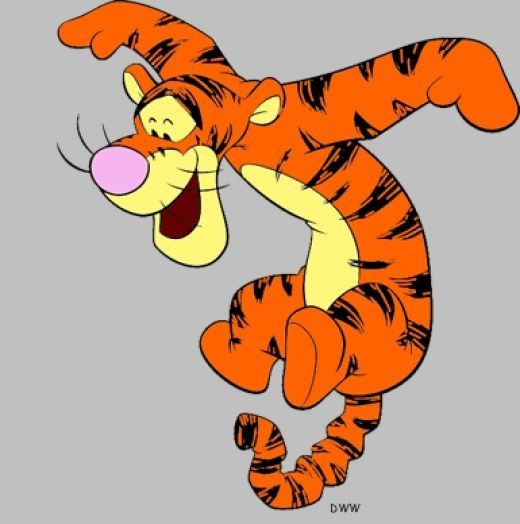 Upbeat and carefree – Is Tigger your favourite?
If Tigger is your top choice, this means you're really fun and easy-going! You love to make friends and don't find it hard making loads. You've got a great sense of humour and love to make your friends laugh and smile!
Toffee Moon personalised luxury cable baby blanket and Piglet soft toy, £60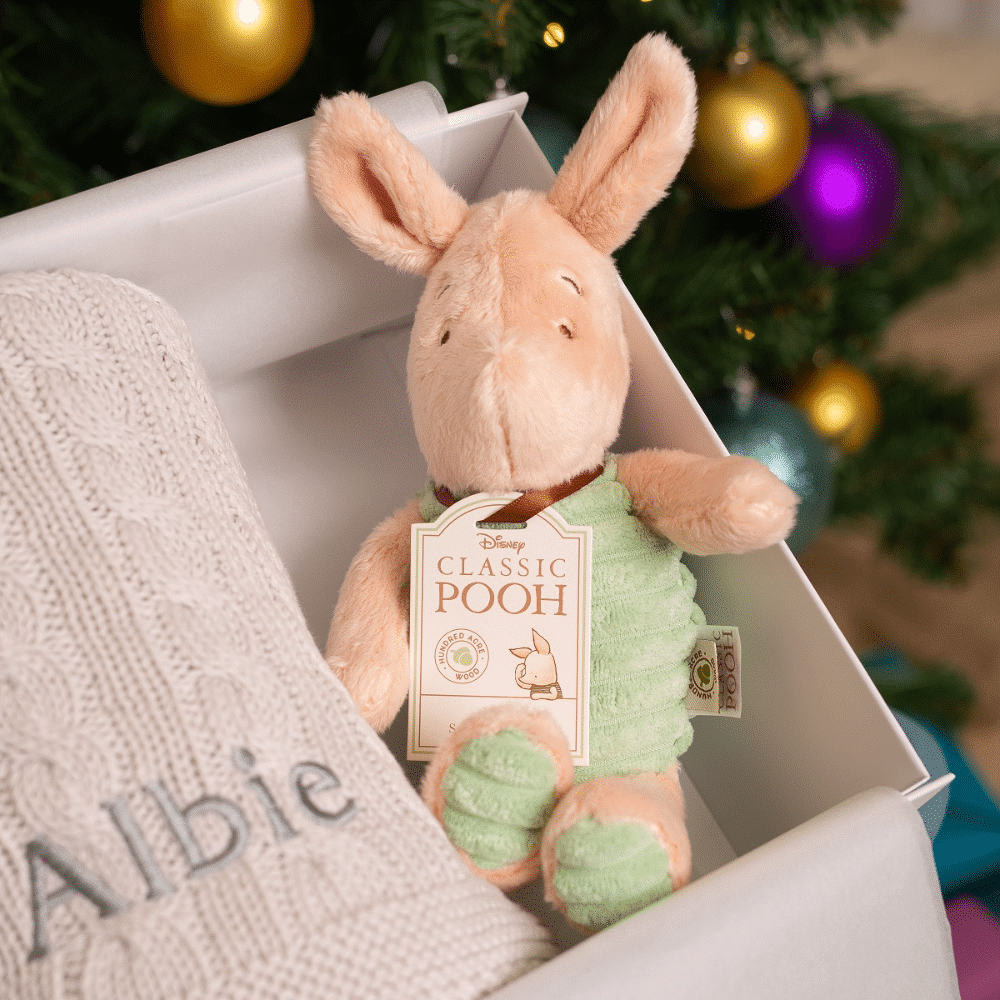 And of course, we also have the cutest Piglet gift set! Whether you're buying for a birthday, christening, baby shower, or maybe just because, these are the perfect gift sets for you or your loved one. Piglet asked, "How do you spell love?", and Winnie replied, "You don't spell it, you feel it." Feel the love with the gorgeous personalised gift set!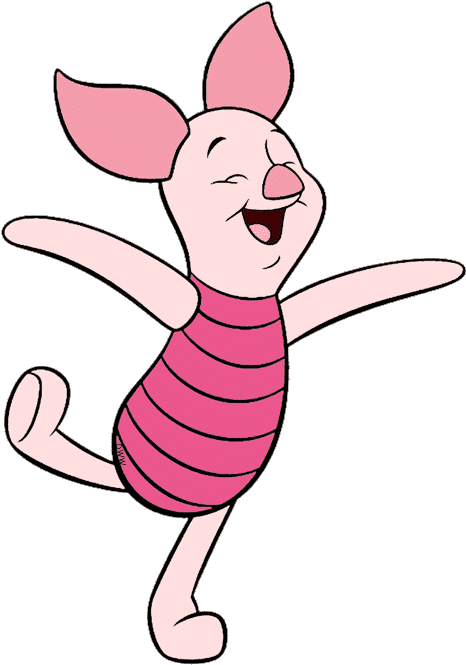 Shy but strong – is Piglet your top pick?
You're very kind and gentle, like Piglet! You might seem a little shy, but you have no problem creating strong amazing friendships. You would also do anything for your loved ones.
Toffee Moon personalised luxury cable baby blanket and Eeyore soft toy, £60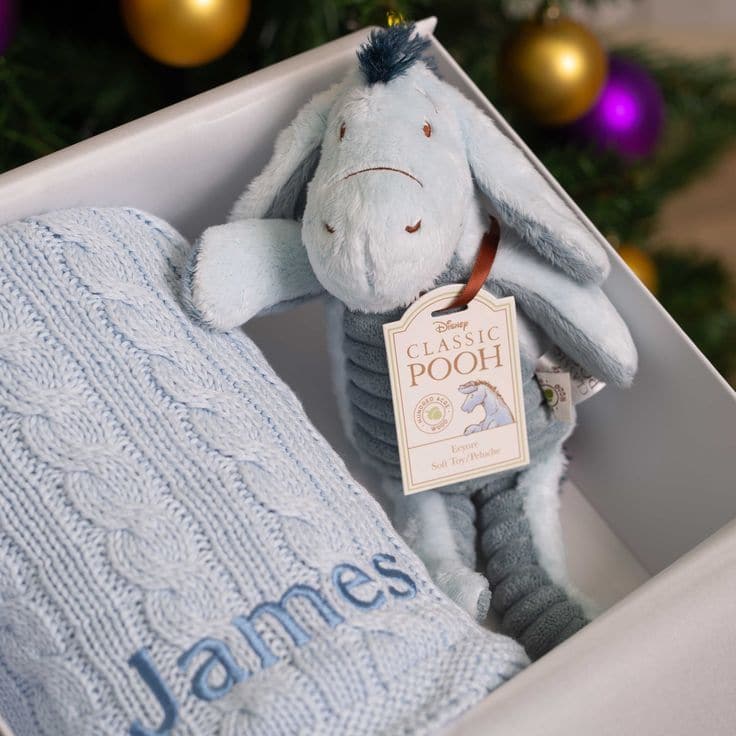 At last but definitely not least, we have Eeyore! Blue toned Eeyore matches perfectly to our Toffee Moon blue personalised blanket; a wonderful unique gift for any occasion. If you prefer a bit more colour or maybe to match your blue nursery, this is the one for you!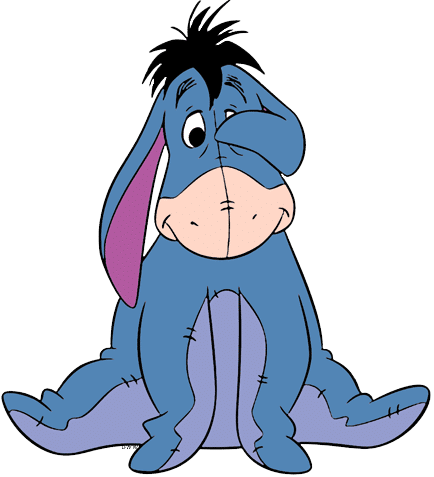 Eeyore – the introverted gentle soul
If you're like Eeyore, you tend to be cautious and a tad serious. You're emotional, gentle and sensitive, and can't help wearing your heart on your sleeve. You might be a more introverted than others, but you are really genuine in your friendships!
Make sure you check out all these options and many more, and also our giftboxes and gift cards, making it extra special for those new bundles of joy.
Happy shopping!