Christmas is the perfect time to go on a festive trip; and what better place to go than London! We wanted to show you what we got up to! Here's a run through of our fun few days away; what we recommend doing if any of you are planning your own London Christmas trip.
Where to start: London Christmas shopping!
At That's mine, one of our must-have things to do when visiting London, is window shop! Of course, we'd love to be able to shop in these high end stores all the time, but sadly there's no Harrods up North! The following stores are some of our favourites to browse, admire the amazing window displays; and maybe pick up a Christmas present or two.
Liberty is a luxury department store in London, England. It is located on Great Marlborough Street in the West End of London. Liberty is known around the world for its close connection to art and culture; it is most famous for its bold and floral print fabrics. If you're looking for a beautiful Christmas stocking, Liberty London is the place.
Fortnum and Mason is an upmarket department store. "Founded as a grocery store, Fortnum's reputation was built on supplying quality food, and saw rapid growth throughout the Victorian era. Though Fortnum's developed into a department store, it continues to focus on stocking a variety of exotic, speciality and also 'basic' provisions." – Wikipedia. Fortnum's have the most incredible desert counters, for those of you who have a sweet tooth!
And let's not forget, Harrods! Harrods is a department store located on Brompton Road in Knightsbridge. The shop's 330 departments offer a wide range of products and services. It is one of the largest and most famous department stores in Europe!
If you're looking for a nice view…
Kew Gardens is a highly recommended place to visit! Kew Gardens is a botanic garden in southwest London. It houses the "largest and most diverse botanic and mycological collections in the world". "Founded in 1840, from the exotic garden at Kew Park, its living collections includes some of the 27,000 taxa curated by Royal Botanic Gardens, Kew, while the herbarium, which is one of the largest in the world, has over 8.5 million preserved plant and fungal specimens." If the busy London city life gets a bit too much on your trip, then head out to Kew Gardens for a peaceful day out in nature.
We even spotted a Jellycat pretzel in the Kew Gardens gift shop! Check out our Jellycat collection here!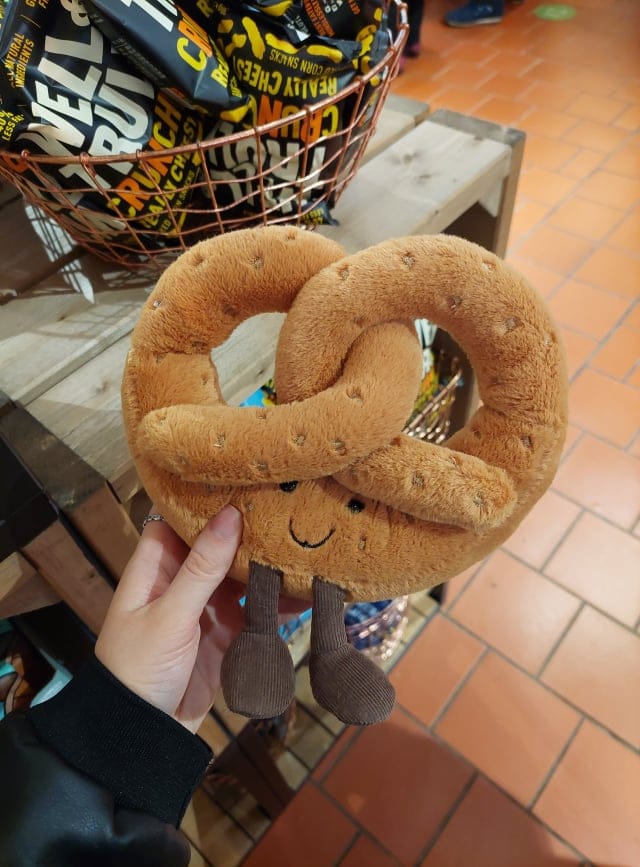 Places to Eat Places to See
Some other recommendations we have for a great Christmas London trip; include booking tickets to a couple of West End shows, and try some new restaurants and bars! For our trip, we went to see Wicked The Musical (a must whenever you're in London); and also Come From Away, a musical about the true story of what transpired when 38 planes were ordered to land unexpectedly in the small town of Gander, in the province of Newfoundland and Labrador, Canada, following the September 11 attacks. We highly recommend these shows, however there's many more that could be added to your London visit, find out more at London Theatre Guide.
We also found out about the Miracle bar at The Henrietta, a pop up bar that provides the perfect pitstop for a Christmassy cocktail. "Hidden away on the mezzanine, guests are transported back in time to Christmas past, with a nostalgic take on festive décor." It was the perfect place to really get into the Christmas spirit, as the place was fully decked out with Christmas decorations, almost like you were in Santa's Grotto! Highly recommended!
These are just a couple of great places to visit in London. It is completely brimming with lots to see and do, but hopefully this has given you a few new places to check out that you may have not known about! Go and enjoy a Christmas trip in the city!
Links: