Welcome to That's mine, a husband and wife family business, specialising in personalised embroidered gifts for babies and children.
That's mine are an online e-commerce business, selling luxurious gifts through their website and several other platforms. Based in Chorley, Lancashire, they are proud to carry on Lancashire's historic legacy of textiles and send personalised gifts to customers all over the world.
That's mine was created in 2000, it was originally set up by co-founder, Elaine, as a flexible part time job whilst accommodating Paul and Elaine's young family. Their youngest daughter was diagnosed with Autism, so as the years progressed it became essential that Elaine had flexible working hours to accommodate her complex needs. Elaine had previously worked in the textile nursery sector for many years as a designer  and  product developer  and she spotted a gap in the market for well-designed personalised gifts for babies and children.
Over the years leading up to this, Elaine had started creating personalised gifts for family and friends. At this point, personalisation was very new. Everyone loved how their name was on the gifts, making it completely theirs and theirs alone. When it was time to come up with an idea for a new business, Elaine had a lightbulb moment! Combining her skills and experience from the nursery industry, she went on to create a home-based small business, personalised gifts for babies and children. In 2000, Elaine bought her very first embroidery machine, working out of her kitchen and utility room. She would embroider at night when the kids were asleep. Even the That's mine logo is Elaine's eldest daughter, Phoebe's handprint at 18 months old! Elaine would hand out leaflets and hold house parties for family, friends, and neighbours, where they could order their own personalised gift. They also set up a display in Coppull Mill and a stall at Botany Bay.
During this time, Paul worked in the retail sector as an area manager. He decided to join Elaine, and they invested their personal life savings and relaunched 'That's mine', with a quality e-commerce website and social media campaign in 2015. They have both worked hard using their skills and experience within the industry to build the business to its current level.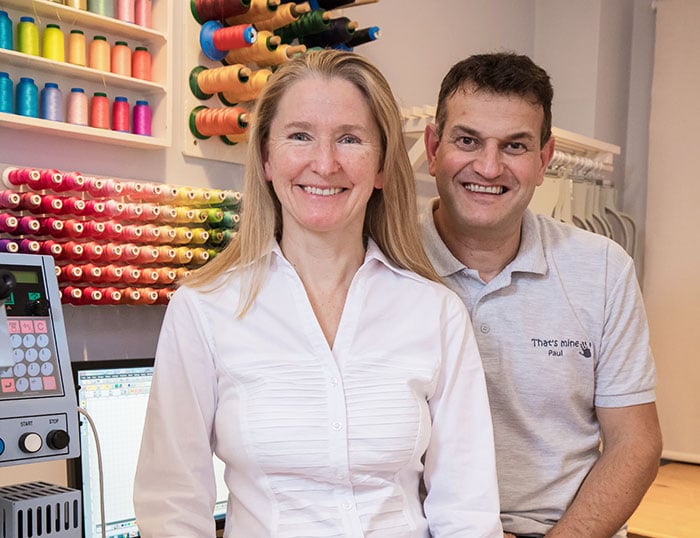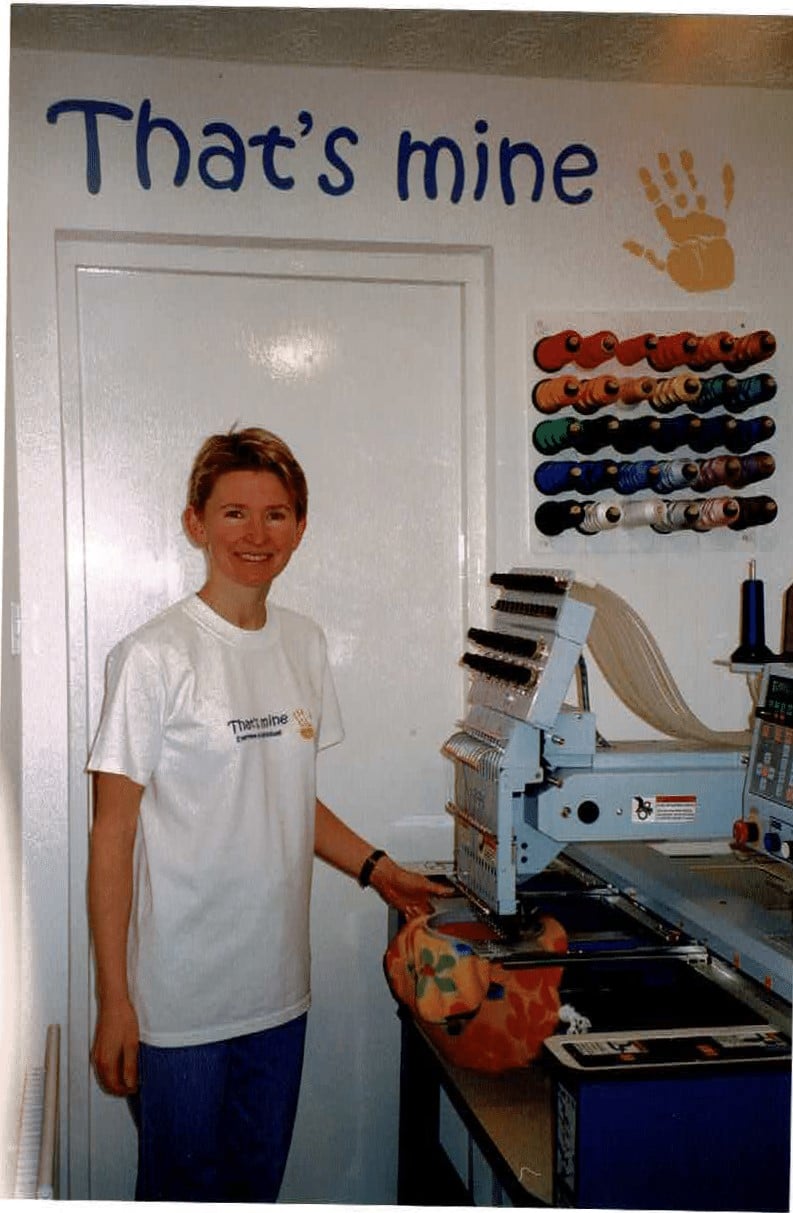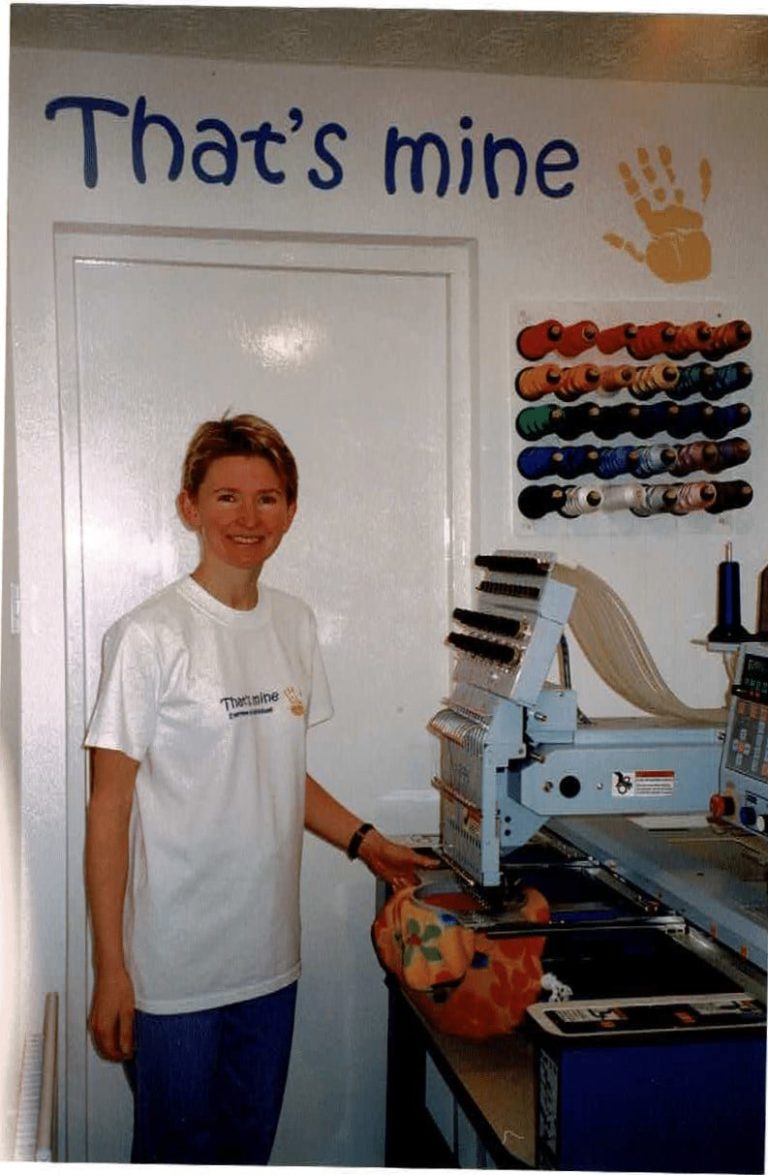 That's mine design and work with leading baby brands and are very passionate about textiles and quality. Their product range includes soft toys, blankets, towelling, cuddlerobes and bathrobes, muslins, swaddles, and bibs. By adding personalised embroidery and creating bespoke gift sets, they create unique, quality and design led baby gifts. That's mine gifts certainly have the WOW factor, and they provide the complete baby gift service.
At That's mine they are also very proud of their exceptional customer service, and their biggest motivation is the happiness of their customers. That's mine's 5-star customer service reviews reflect this. The That's mine brand is synonymous with luxury and quality, which they have built up over many years of trading. Many of the products are from British companies and their own range of bathrobes are manufactured in Lancashire! Recently, Steiff, the famous German toy company, have allowed That's mine to exclusively add personalised embroidery to their world-famous Steiff soft toys.
During the Covid lockdowns, they felt a need to do something to help. So, they created the iconic "Stay Safe" bunny to support the NHS. They started with a giveaway on social media which went viral! They then made it their mission to send out bunny hugs to the nation. They were overwhelmed with orders and soon their home resembled a factory and warehouse with boxes of products in every room. Elaine embroidered in the garage and Paul packed on the kitchen table!
At that point they were unable to cope with the demand and needed to enlist help outside of their home. With Covid restrictions in place, this was not possible unless they moved the business out of their home into a commercial unit. Therefore, at a time when people were encouraged to work at home, they did the opposite! With the help of The Chorley BIG grant, The Lancashire County Council Boost grant and a government bounce back loan, they were able to move into a unit on Buckshaw Village during March of this year. They now employ 7 local people, all family, and friends. To date they have not needed to interview anyone as every one of their team came forward to help. It really is a special place to work!
That's mine are extremely proud of being a small family business based in Chorley and they have always felt a passion for supporting the community, charities, and other local businesses like themselves. For example, they've participated in the Derian House Winter Sparkle Event and also hosted their own Barnabus Big Brew, raising money for the Manchester Barnabus Homeless Charity.
They also support local specialist schools, Astley Park School being very close to their hearts. As a company that care and due to their own personal experience, they want to be able to have employment links with local organisations to help vulnerable individuals and they are also open to employ such individuals in the future.
Paul and Elaine wanted to create a caring, inclusive environment for people from all walks of life, especially having learnt from their daughter Amelia's diagnosis. They wanted to show that it's important to care, and to build a business for the future.
"The best part is to be part of people's personal lives. They've chosen That's mine to be a part of something special, like a birth of a grandchild. It's a privilege that people have chosen That's mine to celebrate that precious moment in time."
"We'll always remember how we started, Elaine designing products on the kitchen table. We started surrounded by family and friends, and we continue with their support now. The kitchen table came with us.Seriously, it's in our new factory."
At That's mine, you always feel you're in a very special environment, and Paul and Elaine are both very proud of what they have achieved so far, proud of themselves and proud of the team. Their aim is to continue providing high quality products that delight their customers, and hopefully make a positive difference in the community. They're here to remind everyone that they should embrace their uniqueness, and that everyone truly is an individual.