We had an exciting opportunity to visit the Alice in Wonderland exhibition at the V&A Museum, Alice: Curiouser and Curiouser. Sadly the exhibition ended in December but fear not! We did you a favour and recorded our experience of the fabulous event.
Inside Alice: Curiouser and Curiouser
"Take a mind-bending journey into Wonderland with our immersive exhibition, exploring the origins, adaptations and artistic reinventions of 'Alice's Adventures…' across time and media. Discover how Lewis Carroll's stories have inspired the most creative minds over the last 150 years."

V&A Museum
Alice's Adventures in Wonderland (commonly Alice in Wonderland) is an 1865 English children's novel by Lewis Carroll. A young girl named Alice falls through a rabbit hole into a fantasy world of creatures. It is seen as a prime example of the literary nonsense genre. Its play with logic gives the story lasting popularity with adults as well as children.
We were definitely not late for this very important date! We were extremely impressed with how much there was to see in this exhibition. Beginning with the origins of the Lewis Carroll book, and then delving into its worldwide influence on fashion, film, art and more.
It was incredible to see the original book wrote for Alice Liddell (who the character Alice is based on), and also original concepts and illustrations by John Tenniel.
Alice in Wonderland
(1931 film)
'Alice' Inspired Fashion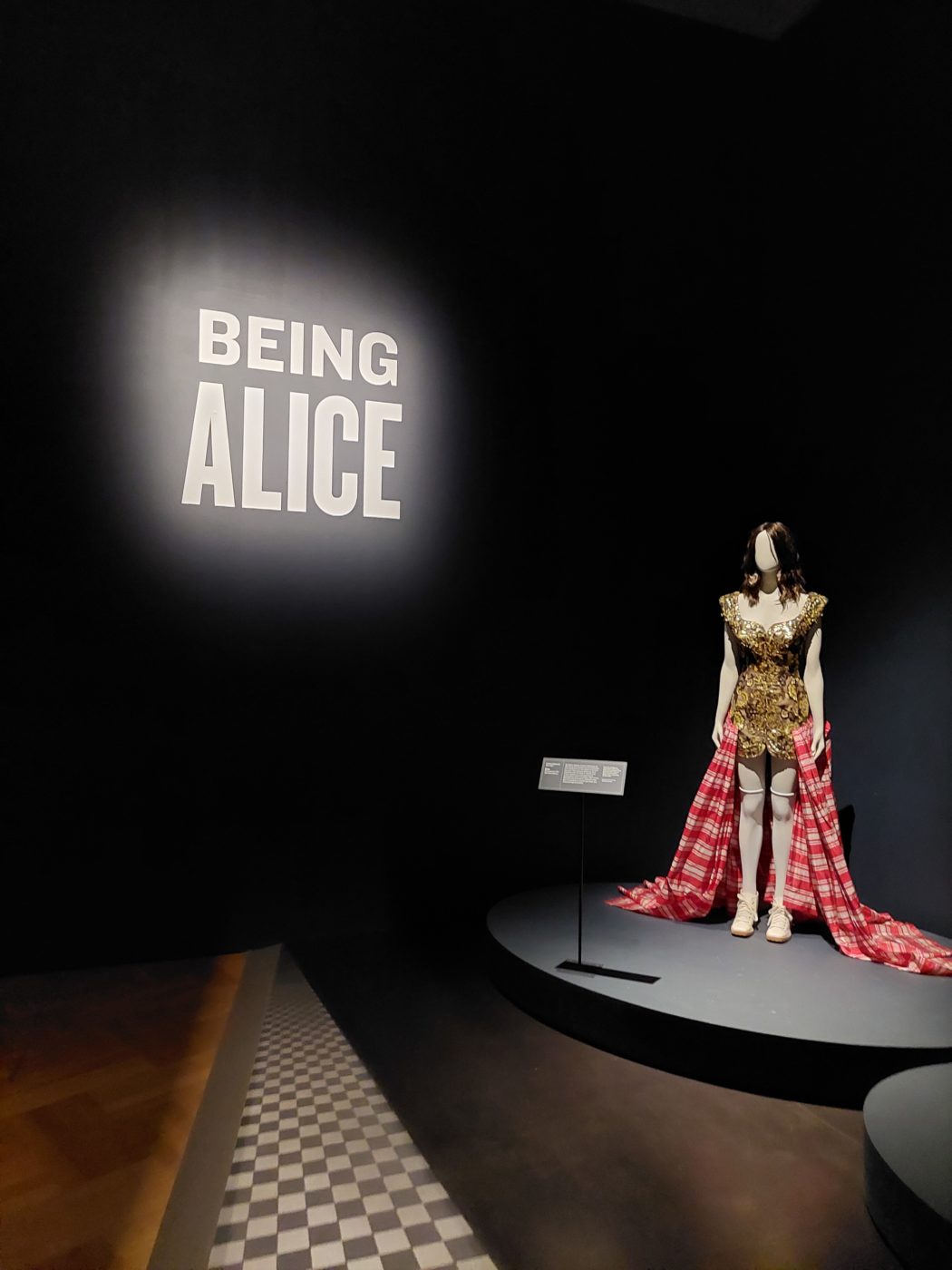 Alice has become a literary and visual icon, and has been illustrated countless times in different interpretations. To much surprise, Alice in Wonderland has had a huge influence on the fashion world. The exhibition included a number of key works by designers including Iris van Herpen, Viktor & Rolf, and Vivienne Westwood.
Film Adaptations
The exhibition also explored the different film adaptations of the book throughout the years, each adaptation reimagined and developed. The first film adaptation was on 1903, a British silent film directed by Cecil Hepworth and Percy Stow. The film was only 10 minutes long! After this stories of Alice's adventures have been told in film many times, up until the 2010 dark fantasy film by Tim Burton.
Alice in Wonderland (1949),
a live-action/animated film with stop motion segments, directed by Dallas Bower
Alice: Curiouser and Curiouser was an interesting, informative and immersive experience. It was a perfect day out for either adults and children. There was so much more in the exhibition that we loved, too much to mention! We are disappointed that the exhibition is no longer available at the V&A to view, however there is a documentary of the exhibition, The V&A presents Alice: Curiouser and Curiouser, coming soon.
'A wonderful tumble down the rabbit hole'

The Guardian
Grab your own personalised 'White Rabbit'
To keep on the theme of Alice's Adventures, we have a fabulous range of Jellycat bunnies, so you can have your very own white rabbit! Fall down the rabbit hole before it's too late!