At That's mine, we have the pleasure of working with the most incredible brands, that supply us with products that we then personally embroider. Our team wholeheartedly believes in our motto, 'Everyone an individual'. Therefore, why not take some time to learn how fantastically unique the world of Jellycat is? We decided to learn more about one of our favourite suppliers, and shine a spotlight on some our favourite Jellycat toys!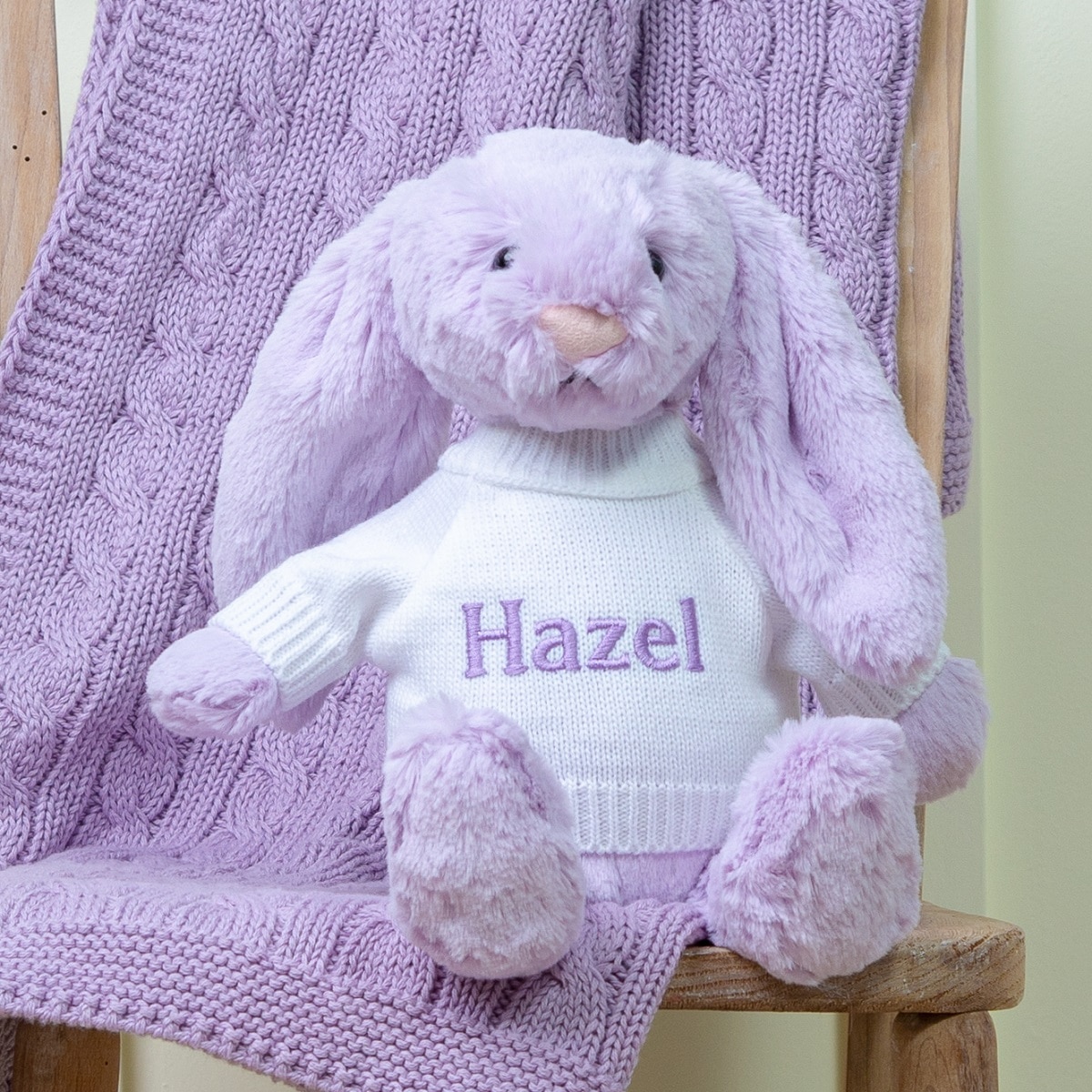 All About Jellycat Toys
Jellycat is a worldwide lifestyle company, established in 1999. It has now become one of the world's leading global luxury soft toy companies. Jellycat first created their unique and newfound soft toys in London. Not long after this in 2001, they expanded to set up in Minneapolis. They're also now supplying department stores all over the world, including the UK, USA, Canada, Europe, Asia and Australia.
Jellycat – The perfect baby gift
Personalised Jellycat silver bashful bunny and baby blanket gift set, £77.95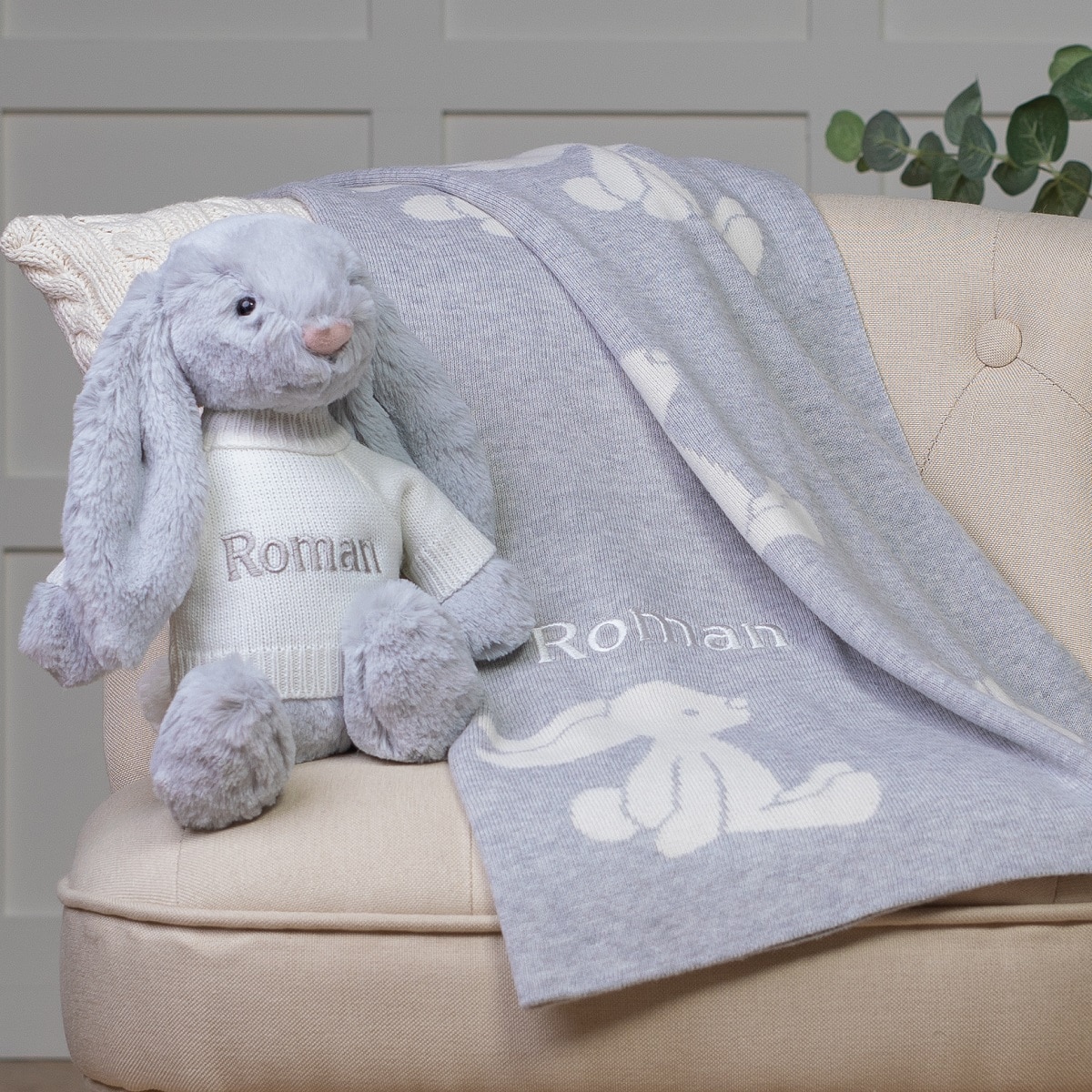 This Personalised Jellycat bashful bunny and baby blanket is a unique gift set. A perfect newborn, christening or birthday gift. The Jellycat blanket is a heavy weight, 100% cotton blanket. Breathable whilst providing warmth for little ones. A stylish and simple bunny design, and also the super soft bunny soft toy compliments the blanket perfectly.
Personalised Jellycat Bashful Fudge Puppy soft toy, £33.95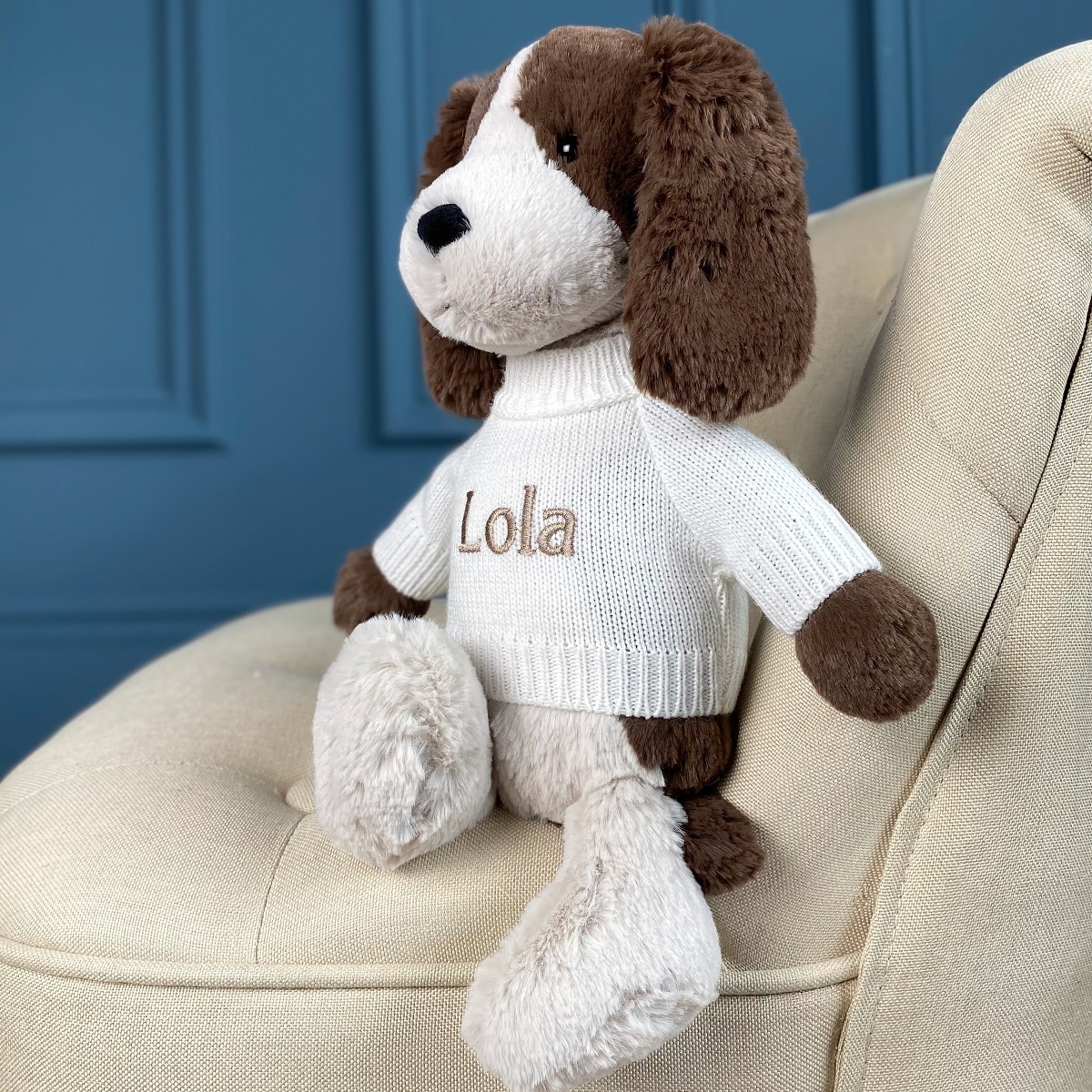 Bashful Fudge Puppy loves trotting along and snuffling about for sticks! A cocoa-cream spaniel with rumply ears, a podgy tum and long tufty paws, this poppet pup loves sharing big hugs. This loyal pal is a perfect present. By also adding our original and unique personalised jumper, That's mine have created the perfect classic keepsake! This makes a lovely puppy in a lovely jumper!
Personalised Jellycat silver blossom bunny comforter and soft toy gift set, £36.95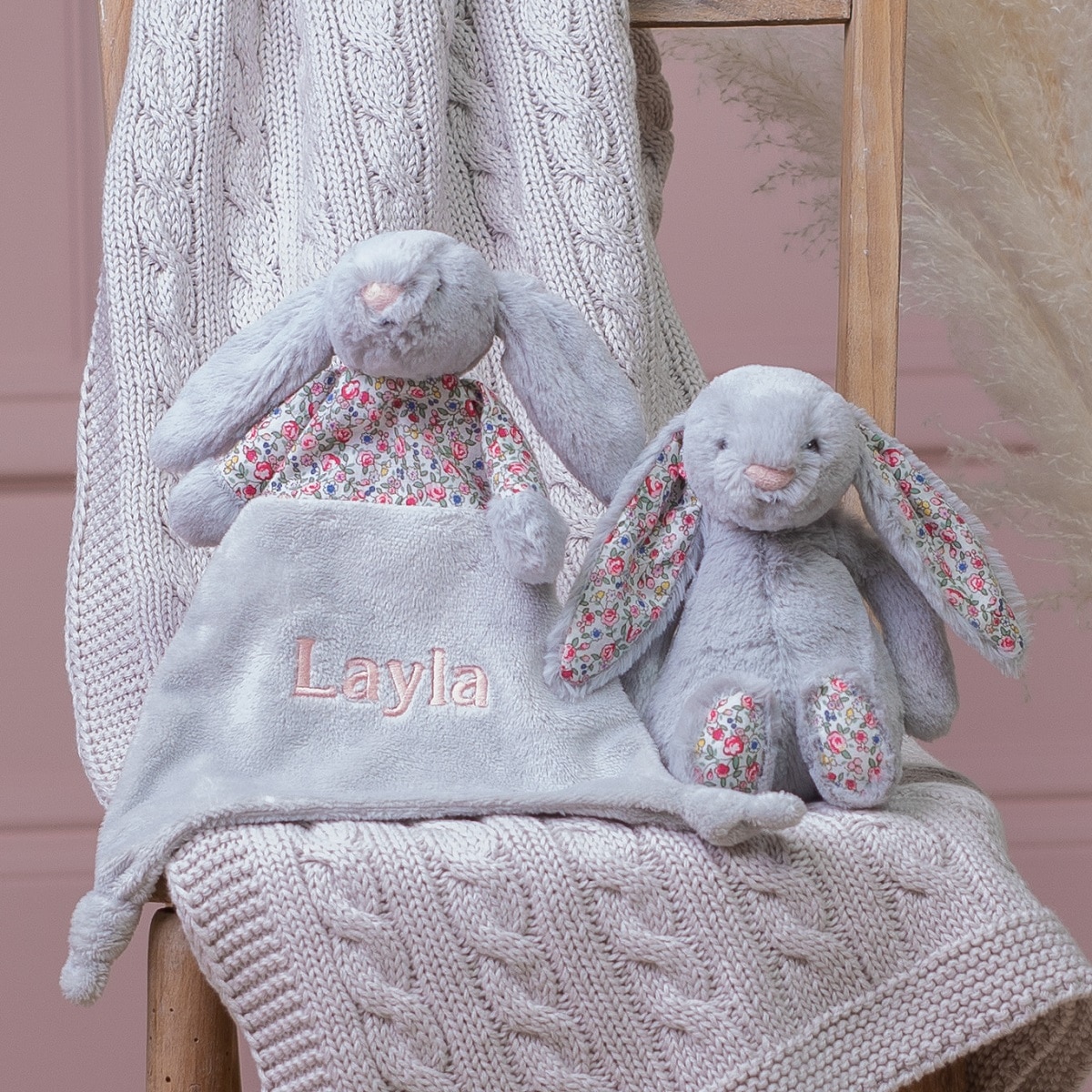 Featuring the classic Blossom Silver Bunny floral print across the upper body, silver bunny super soft fur everywhere else, long ears, delicate pink nose and beautiful cute looks. Blossom comforters are sumptuously soft, making them hugely huggable! The comforter can also be personalised with your choice of name, making this the perfect newborn, christening or birthday gift set.
Are Jellycat toys suitable from birth?
Jellycat toys are most definitely suitable from birth, as all toys are tested to and pass the European Safety Standard: EN71 parts 1, 2 & 3, for all ages.
'The safety of everything we make at Jellycat is of the utmost importance to us. We take the greatest care possible to make sure you and your children stay safe with our toys'

Jellycat
Bashful Bee Soft Toy, £24.95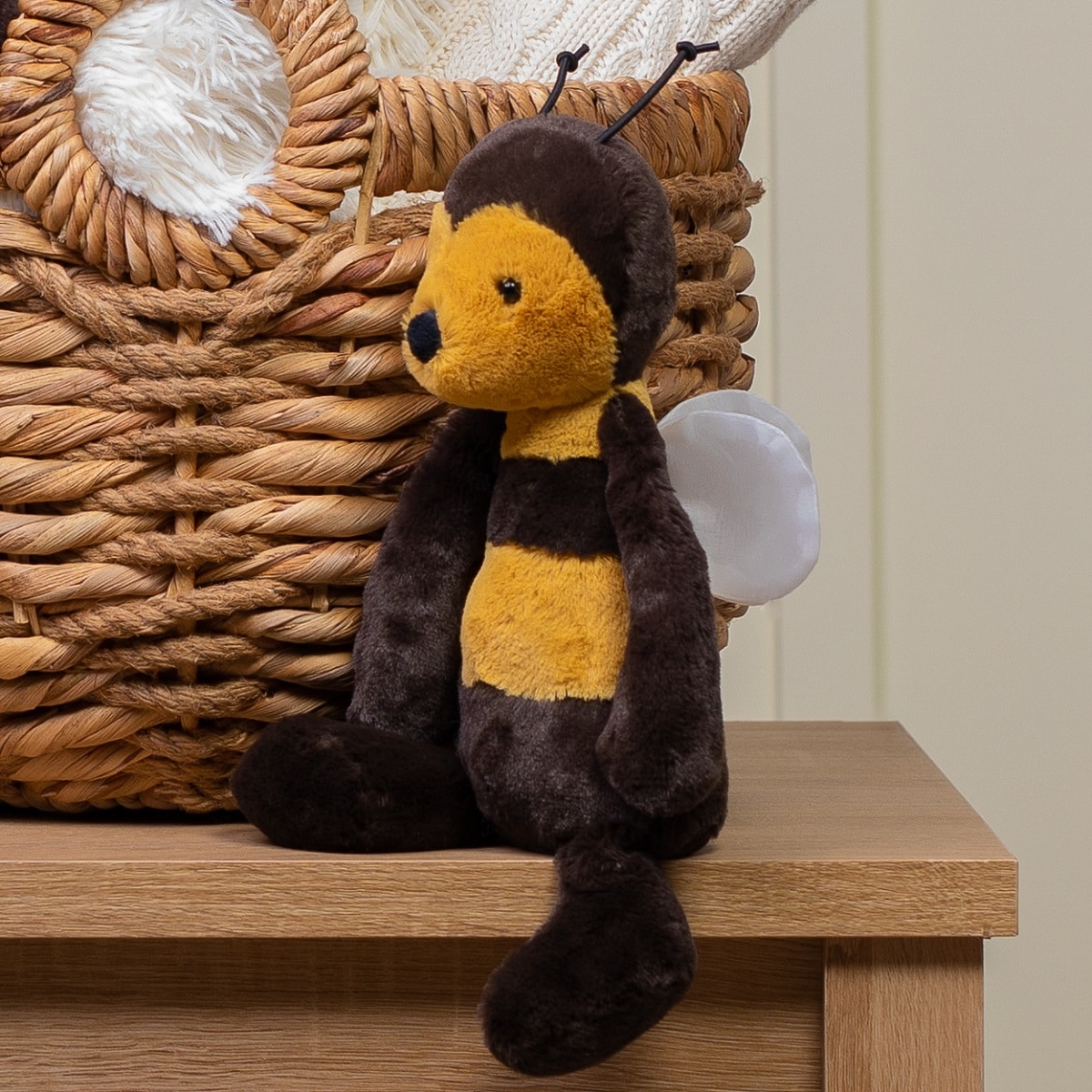 If you like to plant flowers, Bashful Bee has a few requests! He loves lilac, honeysuckle and poppies – perfect for making heavenly honey! This beautiful bug is a real dapper chap His gold and black fur is bee-yootiful, and also his squooshy black nose and broad smile make our hearts flutter!
Personalised Jellycat silver blossom bunny soft toy, £33.95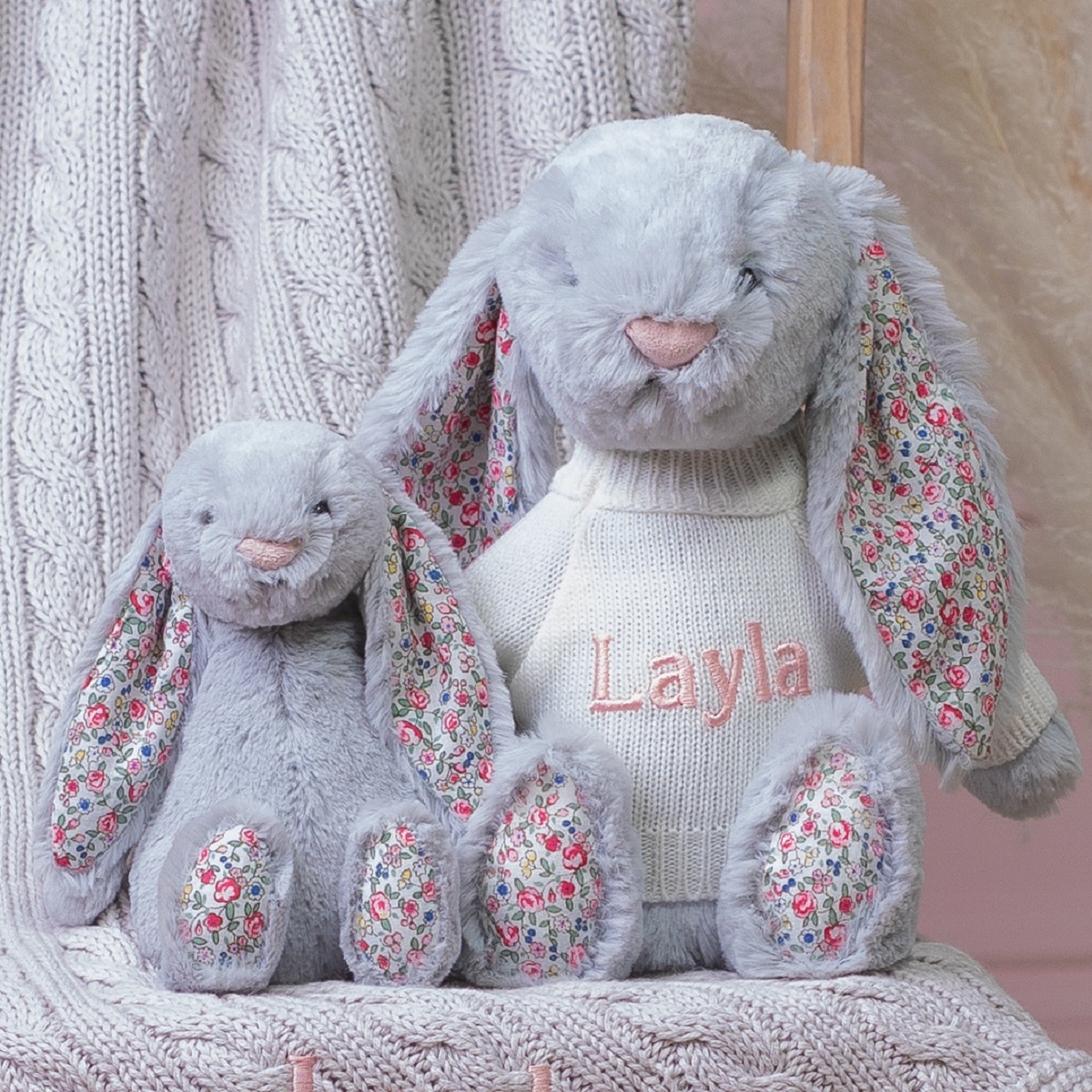 Next up, super cuddly and full of floppiness, the bashful bunny is a great cot side companion and the perfect Easter gift. Amazingly squishy and always ready to snuggle, with lop-ears and scrummy soft fur, so this bunny is perfect for beddy byes! In addition, choose this colour in large too!
Personalised Toffee Moon luxury cable baby blanket and Jellycat bashful bunny set in pale pink/cream, £75.95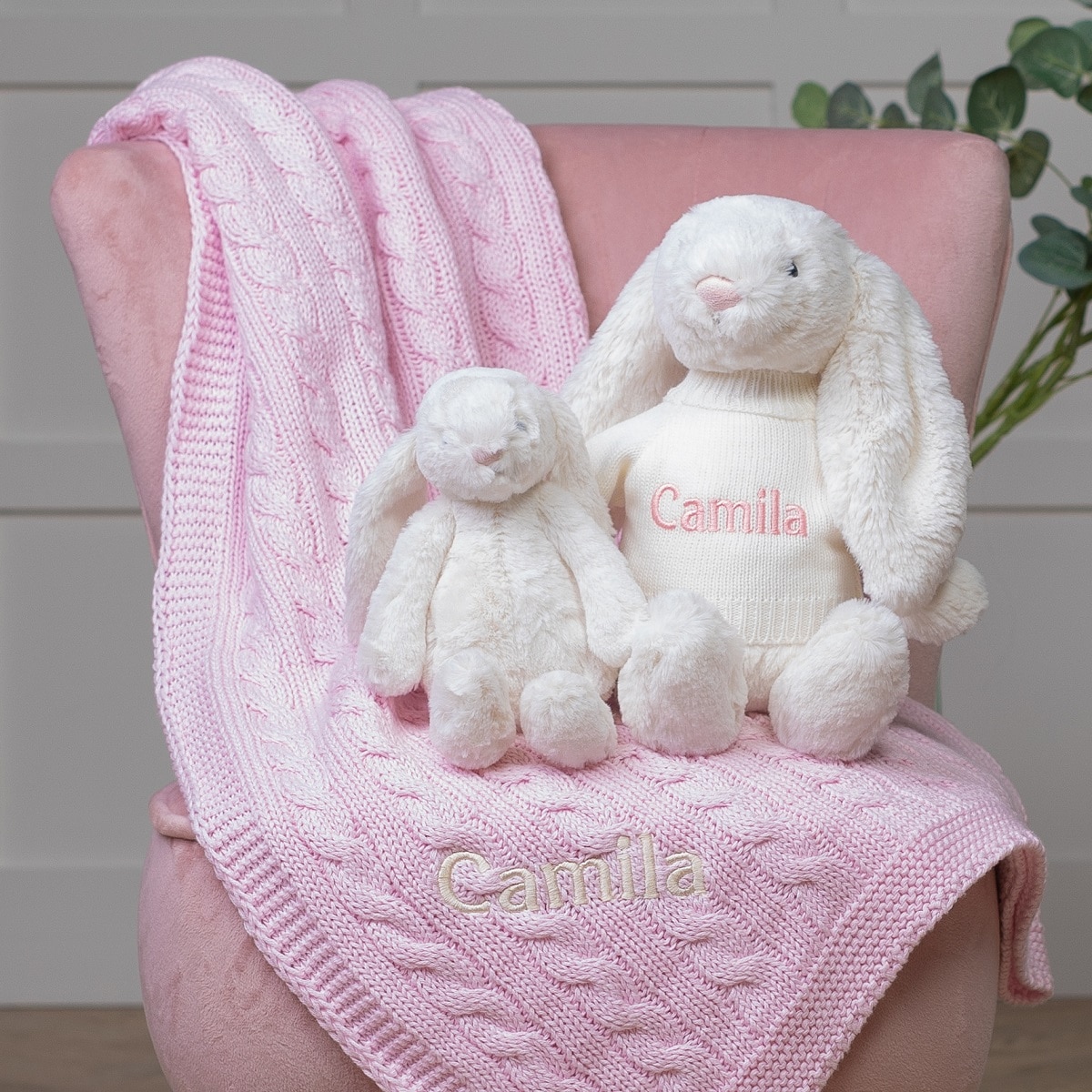 Why not pair your Jellycat toy with a gorgeous matching blanket? For instance, we have a gorgeous and luxurious personalised Toffee Moon cotton cable blanket and a super soft personalised Jellycat bashful bunny soft toy. A perfect keepsake, this luxury personalised cotton baby blanket will keep your precious little one warm and snug, which therefore makes it one of the perfect personalised baby girl gifts. Also, these beautifully soft personalised pure cotton cable knitted blankets are ideal for prams, cots and make a lovely bedroom accessory for many years to come.
Make sure you check out all these options and many more, and also our giftboxes and gift cards, making it extra special for those new bundles of joy.
Happy shopping!