The That's mine Factory was officially opened by Rt Hon Sir Lindsay Hoyle MP and Lady Catherine Hoyle!
We have some very exciting news to share! We are extremely proud to announce our That's mine Factory has been offically opened by Sir Lindsay Hoyle MP, Speaker of the House of Commons, and Lady Catherine Hoyle! As many of you may know, our founders Paul and Elaine have dreamed of moving That's mine into a commercial unit. Now the dream has come true.
The Event
At the event on Friday 5th November 2021, Sir Lindsay Hoyle MP made a visit to the That's mine Factory, located at Barnes Wallis Way, Buckshaw Village, Chorley. To celebrate the move, we had an official plaque unveiling ceremony carried out by Sir Lindsay Hoyle and Lady Catherine. A big thank you to Culzean Engraving for our beautiful plaque, which now looks right at home in our factory!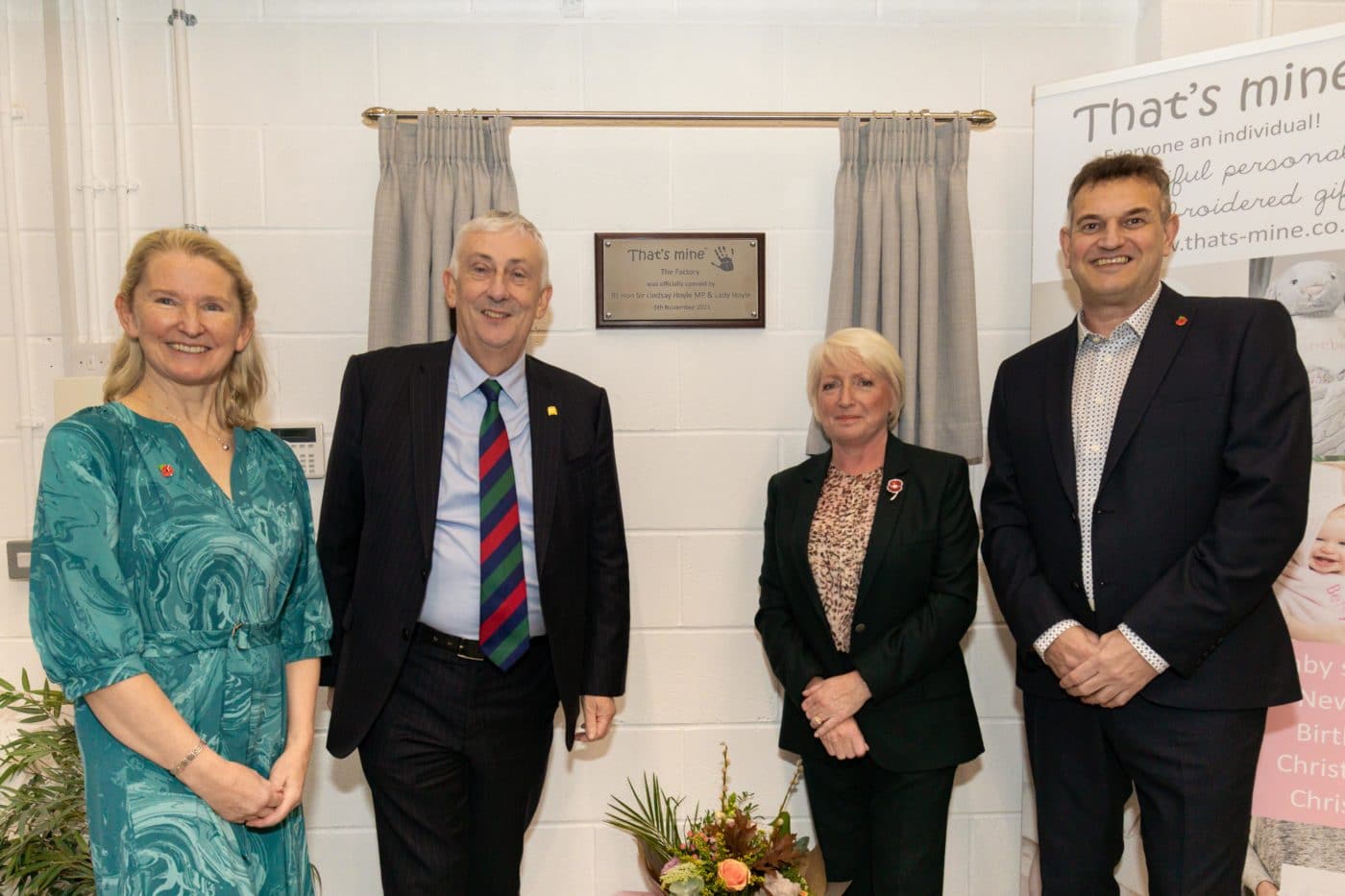 "When I heard that the house was taken over by boxes and you couldn't move, where do you go from here? So, the bunny factory arrived. I wish I had known about you 30 years ago when I was looking for a company to embroider for me."

Sir Lindsay Hoyle MP
During the recent G7 Speakers' Summit, hosted by Sir Lindsay Hoyle in Chorley, we gifted personalised teddy bears to Sir Lindsay and Lady Catherine Hoyle, and Nancy Pelosi, Speaker of the United States House of Representatives. Sir Lindsay and Lady Catherine's teddies now reside in their London residence at the Palace of Westminster.
"By the way, the teddies have been in the Speaker's chair!"

Lady Catherine Hoyle
"You will be the envy of everyone in Congress and the Senate, with Nancy Pelosi showing off her teddy."

Sir Lindsay Hoyle MP
The 'Stay Safe' Campaign
During the recent Covid-19 lockdowns, Paul and Elaine felt a need to do something to help their community. So, they created the iconic "Stay Safe" bunny to support the NHS. Using social media, the embroidered bunny went viral. Paul and Elaine were extremely proud of the success of their Stay Safe campaign. They made a donation to The Children's Appeal at Chorley and South Ribble Hospital!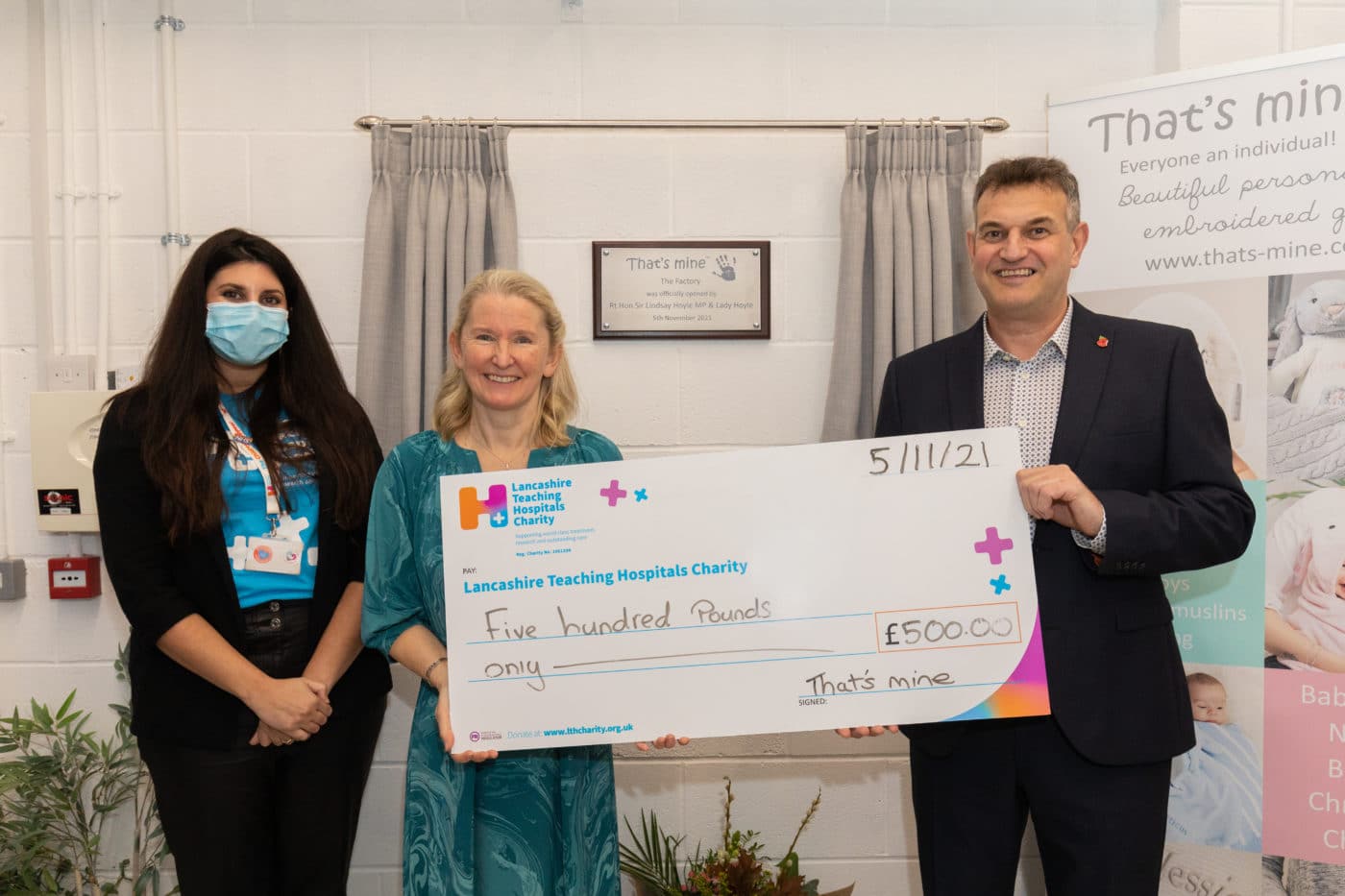 With the rapid growth of the business, staying at home made them unable to cope with the demand. With Covid restrictions in place, it was not possible to keep up with growth unless they moved the business out of home. Therefore, at a time when people were encouraged to work at home, That's mine did the opposite. With the help of The Chorley BIG grant and The Lancashire County Council Boost grant, we were able to move into a unit on Buckshaw Village during March of this year.
The Celebration
We were so honoured that Sir Lindsay and Lady Catherine agreed to officially open our factory, so of course, we had to give them some gifts! We gifted them a beautiful bouquet by local florists Aspen and Ivy, and we couldn't resist gifting Sir Lindsay and Lady Catherine a Chocolate Fayre chocolate box from Elaine's hometown, Barnard Castle!
After all the speeches and formalities, the evening was spent mingling with family and friends, all who have been a huge part of our journey and supported us every step of they way.
And it wouldn't be a That's mine event without introducing Sir Lindsay and Lady Catherine to the animals!
A BIG thank you
A massive thank you goes out to Sir Lindsay Hoyle and Lady Catherine Hoyle for the support and celebrating our success. Another goes to our fabulous, supportive family and friends, many of whom we get to work with every day! And another thank you goes to our amazing customers! Seeing the incredible feedback we get from happy customers is the best motivation to keep going.
"What a success you have been, and long may it continue."

Sir Lindsay Hoyle MP