Welcome to the world, little one! Looking for some newborn baby gift ideas?
Read our recommendations for this year's best newborn baby gift ideas. The past year has been filled with negativity and isolation, and we've all not been able to spend time with our friends and family as much as we usually do. Even though this pandemic has been incredibly challenging, there is still many families that have been blessed with new bundles of joy! 2021 babies ought to have the newborn baby gifts, and That's mine is the place to find them.
From personalised bibs, to muslins, baby blankets to hooded towels, we have everything a family needs to celebrate their new addition. And of course, everything is personalised! Have a browse through our recommendations for the best personalised gifts for newborns.
---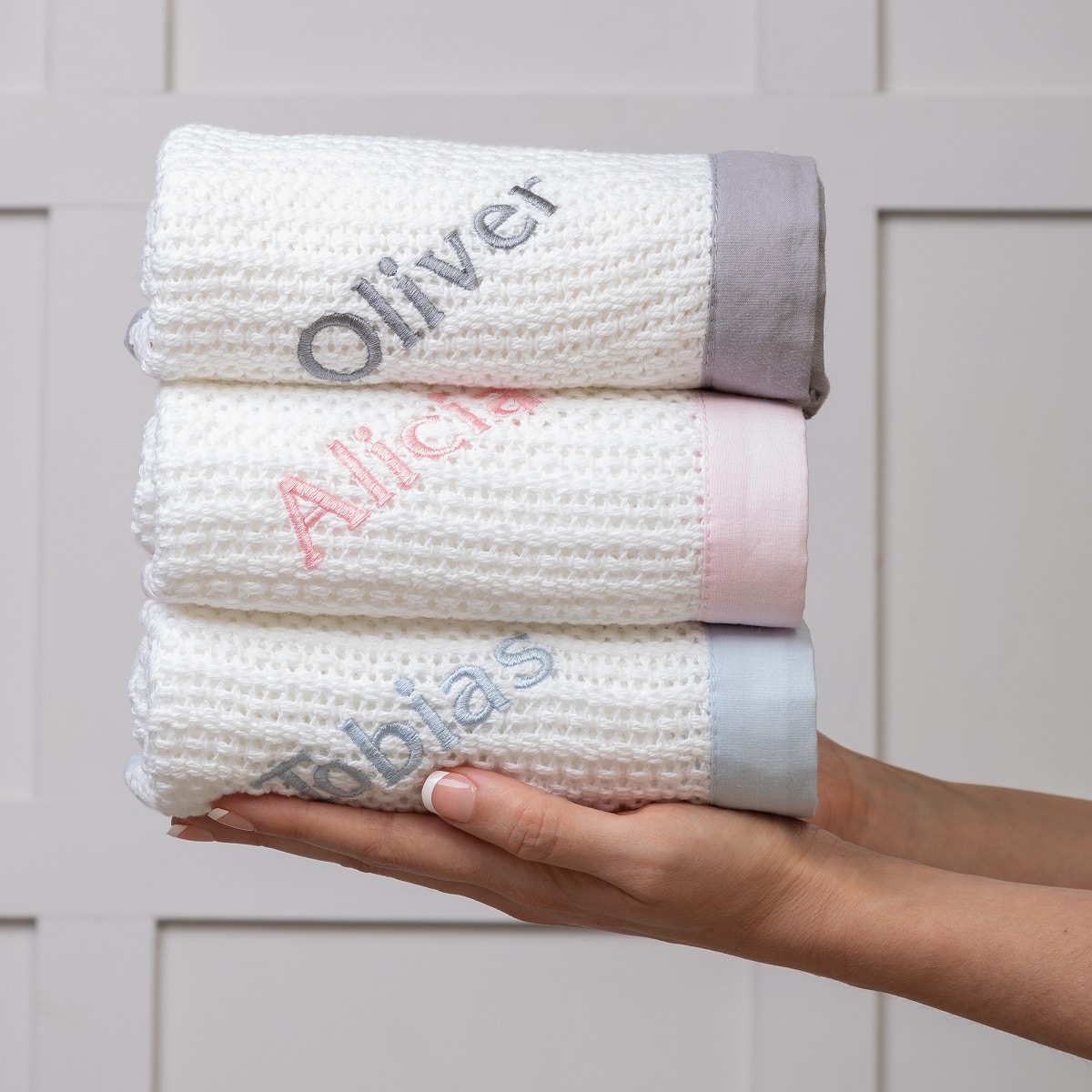 Ziggle personalised white cellular baby blanket
First up is this gorgeous personalised Ziggle cellular baby blanket. It's an ideal practical gift, it's lightweight, and made out of 100% combed cotton, making this knitted blanket extremely soft to touch and comfy for new babies to be wrapped up in. It's open cellular construction allows airflow to keep babies warm in the winter and cool in the summer.
It's the perfect addition for the parent's essential kit, and has a simple, modern design in pure white, and your choice of light pink, light blue or light grey. Also, you choose what colour for the name embroidered. Perhaps add a Jellycat small bashful bunny to make this an extra special unique gift set? It's also machine washable, 90cm x 70cm, and goes for £24.00. Practical and cute!
---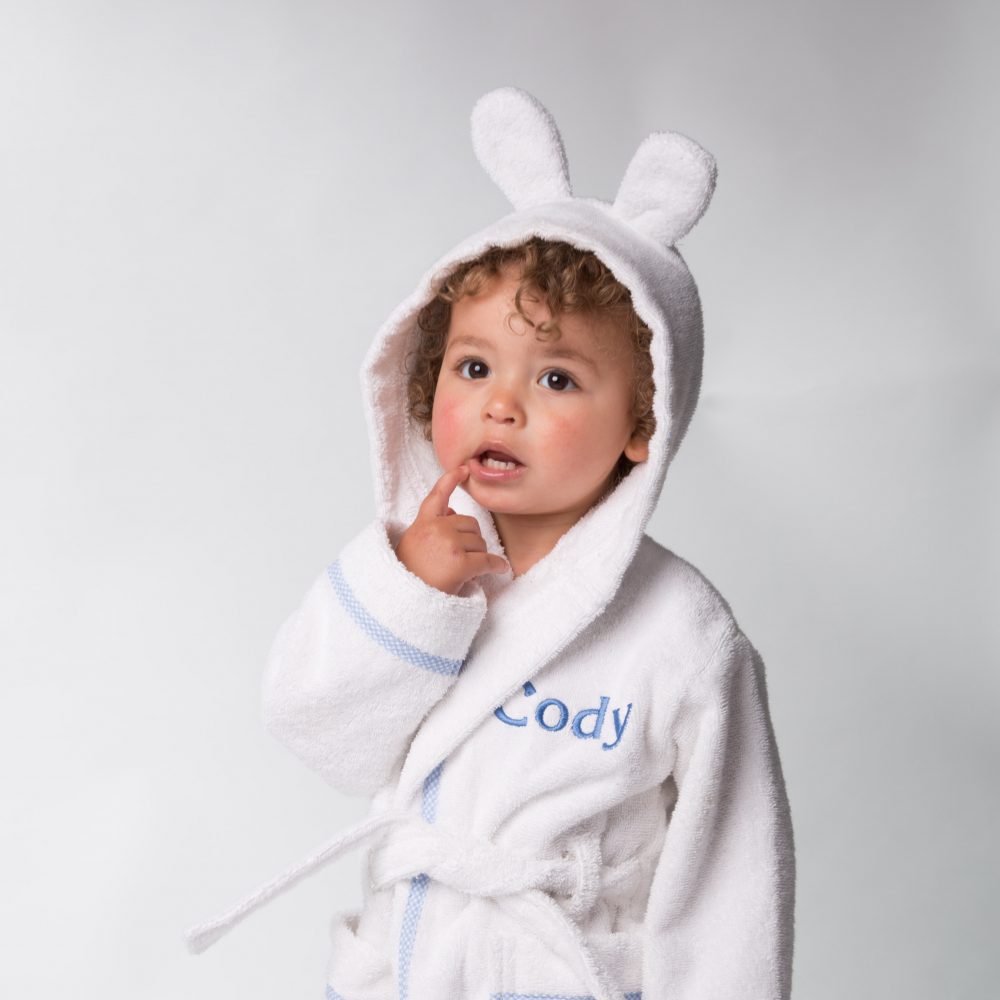 That's mine personalised white towelling gingham trimmed bathrobe
Of course, we had to include a That's mine classic, the traditional towelling bathrobe. It's made with 100% luxury cotton and trimmed with a lovely, gorgeous gingham. The personalised bathrobe comes in white 400g towelling, with your choice of either blue or pink gingham trim and embroidery, and we cannot forget it's super cute little bunny ears!
Pick any name to embroidered on the bathrobe and also what size you want. Even though this bathrobe would be adorable for 0-6 months, it's also available in 6-12 months, 12-18 months and 2-3 years. Gift this perfect personalised bathrobe to make family's bath and bedtimes special!
---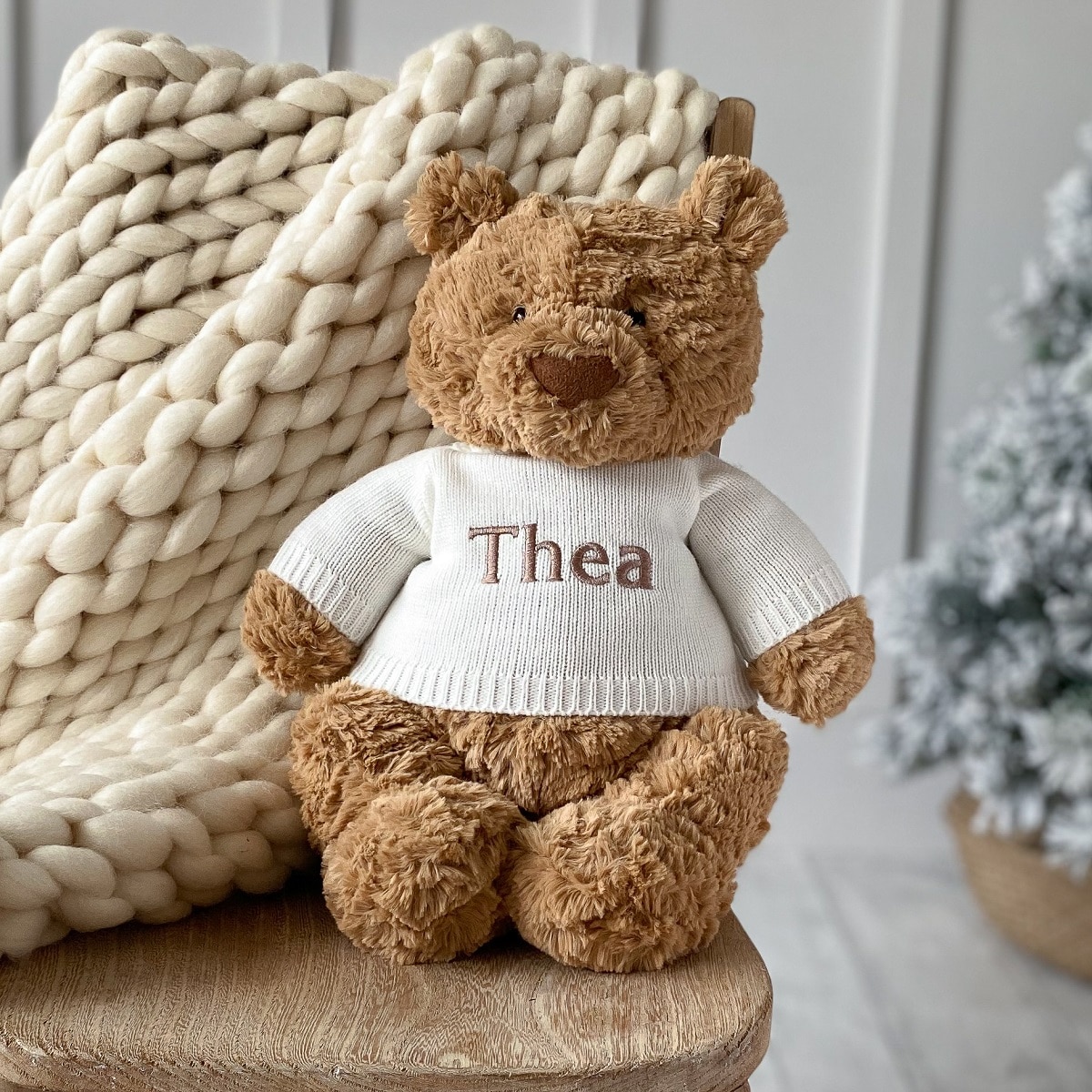 Personalised Jellycat Bartholomew bear large teddy soft toy
We had to include the ESSENTIAL Jellycat Bartholomew teddy bear, for a new-born gift guide. To be honest, we'd include this on any list! This personalised Jellycat Bartholomew large bear is a tubby cub with lots of love to give to your new-born. Huggable, tawny-tousled and full of softness, Bartholomew Bear is the perfect bedtime buddy. Such an amazing gift that will become baby's best friend, and a lovely keepsake.
By adding our original and unique personalised jumper, That's mine have created the cutest customised cuddly! The jumper can be embroidered in either beige, grey, blue, or pink thread with your choice of name. And don't worry, it's completely suitable for new-borns, tested and passed European Safety Standard for toys! Check it out for gift options and care instructions.
---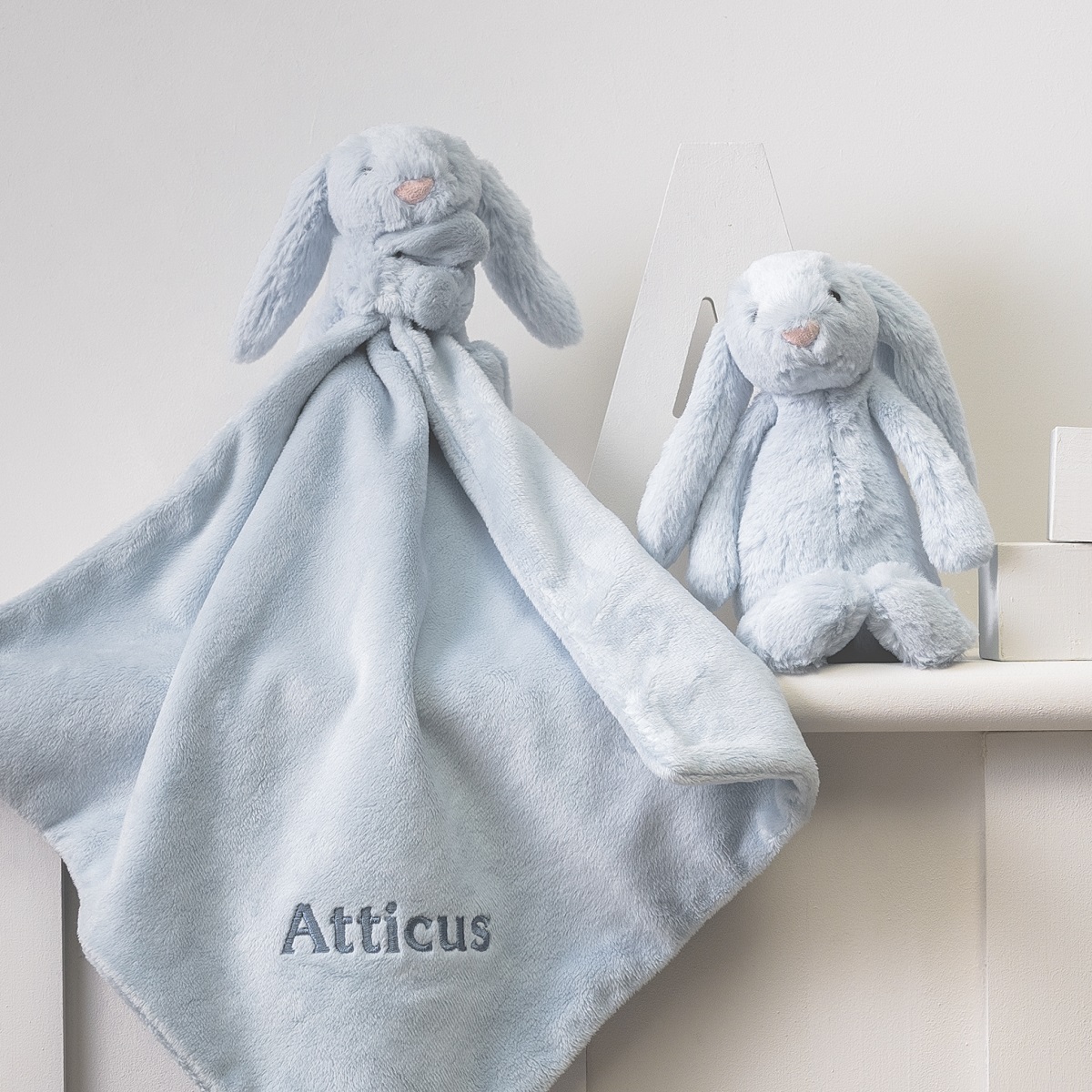 Personalised Jellycat bashful bunny comforter and soft toy gift set
Another perfect little gift for a new-born is this unique personalised Jellycat comforter and soft toy gift set. Bashful bunny comforters are extremely soft, luxury and huggable, and they are a great soother for your little ones. The matching soft toys are amazingly squishy and always ready to snuggle.
These sets are available in a variety of different colours and embroidered with a perfectly matched thread colour. These sets are £34.00 and are a beautiful present to an expecting family.
---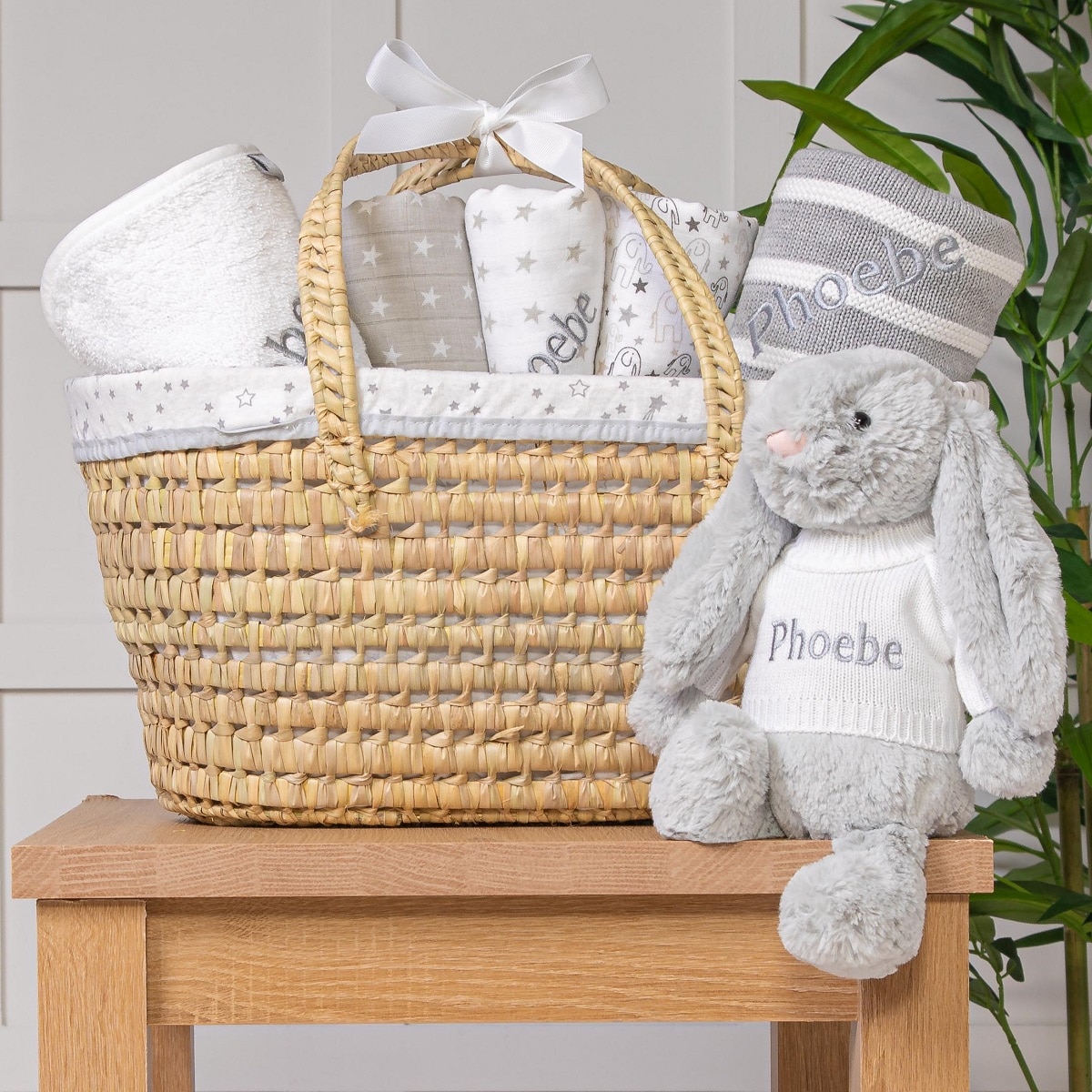 Personalised baby gift basket with bunny soft toy
Finally on the list is the amazing personalised baby gift basket, unique and exclusive to That's mine. It has been carefully curated by us, as we selected matching and complimentary products, making this palm basket a baby basket with a difference.
Each product is colour coordinated. Consisting of a Clair de Lune lined baby palm basket, it's filled with a That's mine personalised towelling cuddle robe, 3 Ziggle stylish muslin squares, one of which is personalised, a gorgeous Ziggle personalised stripe knitted pram blanket and finally, a wonderfully soft Jellycat bashful bunny toy, all dressed in a That's mine jumper! A gift both stylish and practical, it has everything you need for the perfect new-born present. 
---
Make sure you check out all these options and many more, and also our giftboxes and gift cards, making it extra special for those new bundles of joy.
Happy shopping!