It's baby shower time! We've all been in that place where you need to find the perfect baby shower gift idea; but have no clue what a newborn or mum-to-be needs. We've searched high and low to find the perfect list of personalised baby gifts for baby showers that you'd be proud to present at the party! This list includes some personalised baby gift ideas that won't break your budget, and also some that are on the more luxurious side.
Baby shower gifts that are the perfect keepsake
Personalised Toffee Moon luxury cable baby blanket and Jellycat bashful bunny, £75
First up, is one of the easiest but most beautiful, personalised gifts; a giftset we've created for you! A gorgeous and luxurious, personalised cotton cable blanket, and super soft personalised Jellycat bashful bunny soft toy makes this the perfect gift set. It's such a memorable keepsake, this luxury personalised cotton baby blanket will keep baby warm and snug. Beautifully soft, pure cotton cable knitted blankets are ideal for prams, cots and make a lovely bedroom accessory for many years to come. This gift set is completed by a complimentary Jellycat bashful bunny with personalised jumper; this makes it an individual and very unique gift set. You can also add a small matching Jellycat bashful bunny for an additional cost.
Baby gift basket with sherwood bear soft toy, £130
This personalised baby gift basket really is unique and exclusive to That's mine! We have carefully curated this ourselves, making this palm basket a baby basket with a difference. Colour coordinated products to make this basket stand out from the crowd! It consists of a Clair de Lune lined baby palm basket, a That's mine personalised towelling cuddlerobe, 3 Ziggle stylish muslin squares, one of which is personalised; a gorgeous Ziggle personalised stripe knitted pram blanket and finally a wonderfully soft Keel sherwood teddy bear, dressed in a personalised That's mine jumper.
The products are embroidered with your choice of name, in either blue, grey, beige or pink, making this a very personal gift. A group of colleagues could club together and purchase this wonderful gift basket for that special someone at work. This gift is both stylish and practical.
New Baby Inkless Handprint Footprint Kit by Stomp Stamps, £10.50
Capture those first special moments with this amazing handprint/footprint keepsake kit! Congratulate the new family by helping them capsulate how tiny their new-born once was, that first new-born stage doesn't last long! Incredible quality and extremely easy to use, this is a unique personalised baby gift that the new parents will keep forever.
Dandelion personalised receiving shawl, knitted jacket and leggings and Jellycat bashful bunny gift set, £85
Here's a baby essential; a beautiful personalised gift set, comprising of a knitted baby receiving shawl, matching pom pom knitted jacket and leggings and a Jellycat bashful bunny with personalised jumper. These Spanish knitwear outfits are lovingly made in Portugal. The jacket and leggings are traditional and timeless and the jacket is front fastening with gorgeous pom poms. The jacket can be personalised with an initial of your choice. The matching receiving shawl and the Jellycat bashful bunny can be embroidered with a name of your choice, making this unique gift set, extra special. The embroidery can be in grey (as shown), pink or blue. Jacket and leggings come in two sizes, 0-3m and 3-6m and the gift sets come in pink, blue, grey and white. The shawl is 90cm x 90cm. The bunny is 31cm. This is great to help the mum-to-be build their new baby's wardrobe.
That's mine personalised white towelling baby cuddlerobe, £25
Our That's mine classic, traditional super soft towelling cuddlerobe. Your little one's very own cuddly hooded towel for drying after bathtime. Embroidered with your choice of name, and available in a choice of embroidery thread colours – Blue, Grey or Pink. Make bath times special with a That's mine personalised cuddlerobe! A wonderful gift for a special person, remember……"It can dry me, it can only dry me!" This is the perfect gift to help that new family make new memories.
New Parents Date Box by A Year of Dates, £23
Despite the sleepless nights, this personalised baby shower gift encourages the parents to spend time together! There are 26 envelopes inside the luxury brown Kraft gift box, and each contains a date idea! All easy and fun activities and most dates can be done when you're out and about with the baby, or at home and a few ideas need a babysitter. The envelopes are colour coded to make choosing the type of date easier to manage around the baby and other life commitments.
That's mine personalised cable knit cashmere baby blanket, £155
As far as personalised baby gifts go, this cashmere baby blanket is up there as one of the best. Unbelievably soft and snuggly, That's mine have designed and made this exclusive cashmere baby blanket. It has been designed with a fabulous double cable pattern with a contrasting close knit border. Super soft to the touch, this 100% cashmere blanket really is the height of luxury for your little one. It comes in 2 beautiful colours, beige and grey.
The Book Of You: A Record Of Childhood by Colour Chronicles, £25
We're in love with this! A beautiful book for children and their parent or guardian to record all the wonderful moments and memories from age one to sixteen! The Book of You is one of our favourite personalised baby gifts for new baby, Christening, 1st Birthday or 1st Christmas. There is a dedication page at the front for a gift message and it has been thoughtfully designed for each and every child to capture their story. Can be sent direct with a presentation keepsake box, gift wrapped, or with a handwritten greetings card with your personal message.
Such a stylish memory book that new young families will love and can keep forever.
Peter rabbit personalised blue baby comfort blanket and soft toy rattle gift set, £38
Any Peter Rabbit fans out there? From the original Beatrix Potter books our Peter Rabbit nursery collection features loveable Peter Rabbit and snuggly Flopsy Bunny. The gift set is completed with a Peter Rabbit baby plush soft toy rattle. Suitable from birth, this comforter is made from baby soft plush and encourages sensory play in children. This comfort blanket can be embroidered with your choice of name, making this one of the perfect newborn, christening or birthday personalised baby gifts.
My First Steiff Teddy Bear beige soft toy and cream Toffee Moon luxury cable blanket gift set, £70
Our My first Steiff beige teddy bear and Toffee Moon luxury cable blanket gift set is an adorable gift for a newborn! This is part of the Soft Cuddly Friends Collection by Steiff, which are all suitable from birth. High quality soft, plush fabrics are used and prices are very reasonable, making perfect gifts for babies, children and people of all ages. A perfect keepsake, this luxury personalised cotton baby blanket will keep your precious little one warm and snug.
Personalised baby gifts for baby showers – we've got a gift for you!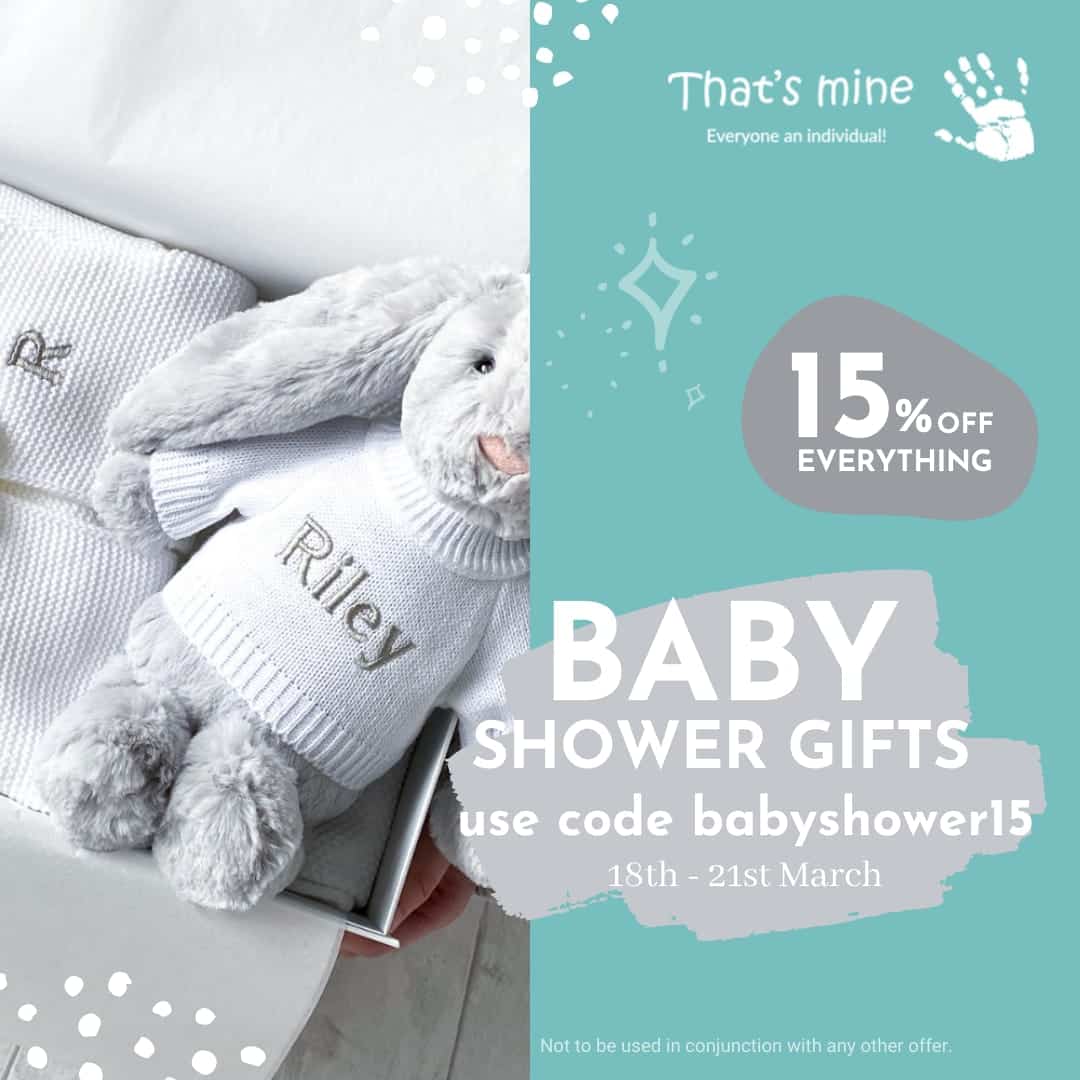 We wanted to join in on all the gift giving! Here's 15% off site-wide on all personalised baby gifts to help you buy the perfect gift for those new families! We hope we've inspired you with this list of our top 10 personalised baby gifts for baby showers. For a mum-to-be, the best gift is that support, love and encouragement a new family needs. A personalised baby gift is just the cherry on top! Here come the baby showers!
Offer valid 18th-21st March 2022. Used code 'babyshower15' at the Checkout. Not to be used in conjunction with any other offer.