Unless you've got your own newborn, finding that perfect newborn gift can feel difficult. You want a gift that helps celebrate the new family's unique bundle of joy, and that means avoiding the generic onesies and highchairs. To help you on your gift-giving mission, we've created the best guide to personalised baby gifts for newborns! Also, some of our picks you can find right here at That's mine, and others we've found from some fabulous small businesses. Lets welcome these cuties to the world the right way!
Personalised Baby Gifts for Newborns
Personalised white and grey baby gift basket with grey bunny soft toy, £130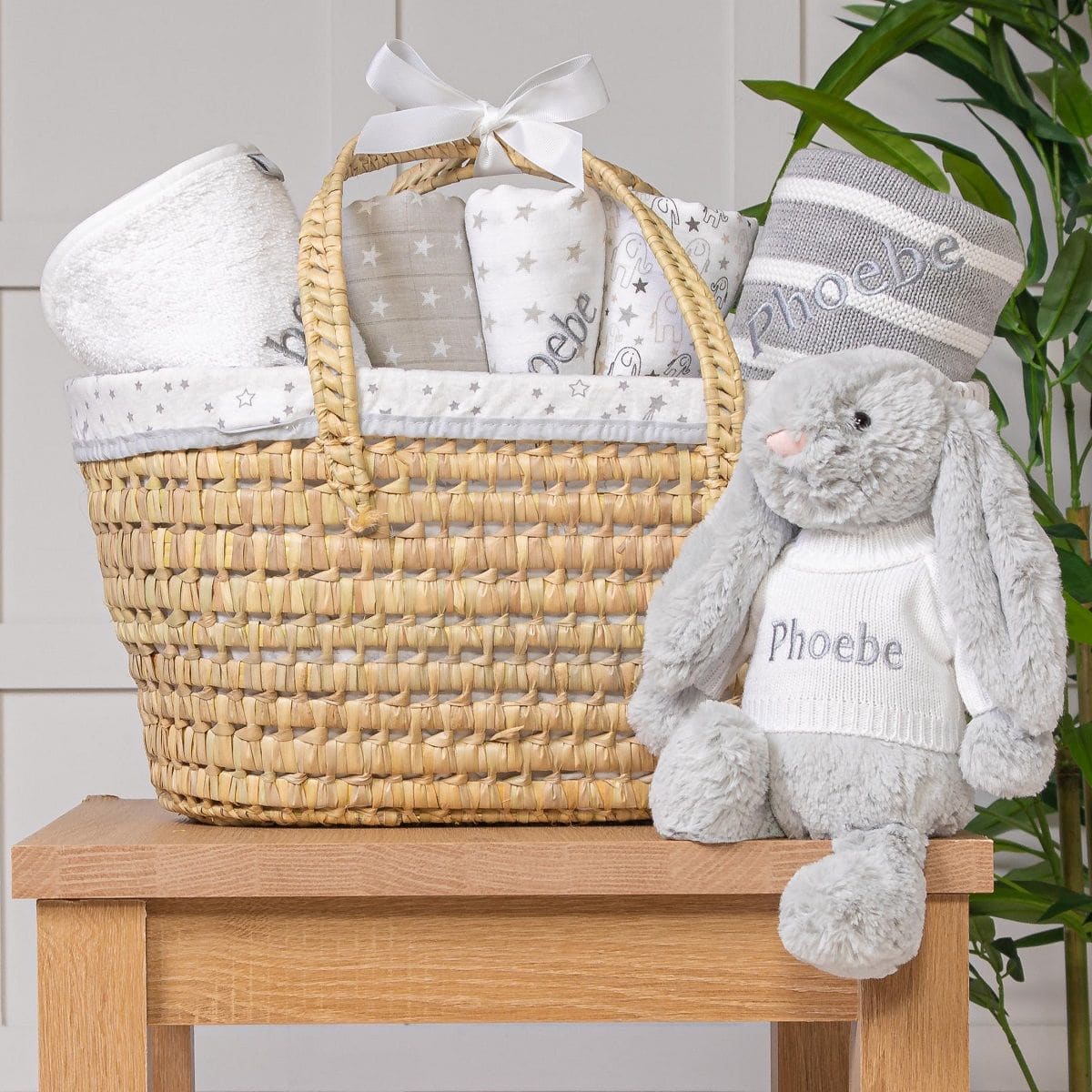 If you're looking to go all out with your present, here's the ultimate personalised baby gift for a new-born. Unique and exclusive to That's mine, this personalised baby gift basket has been carefully created by ourselves. So, we have selected matching and complimentary products, making this palm basket a baby basket with a difference. Each colour coordinated product makes this basket stand out from the crowd!
It consists of a Clair de Lune lined baby palm basket, a That's mine personalised towelling cuddle-robe, 3 Ziggle stylish muslin squares, one of which is personalised; a gorgeous Ziggle personalised stripe knitted pram blanket and finally a wonderfully soft Jellycat bashful bunny toy, dressed in a personalised That's mine jumper. The products are embroidered with your choice of name, in either blue, grey, lemon or pink, making this an exceptional and very personal gift. A group of colleagues could club together and purchase this wonderful gift basket for that special someone at work. This gift is both stylish and practical!
Newborn Adventure Baby Keepsake Box by Sunday's Daughter, £34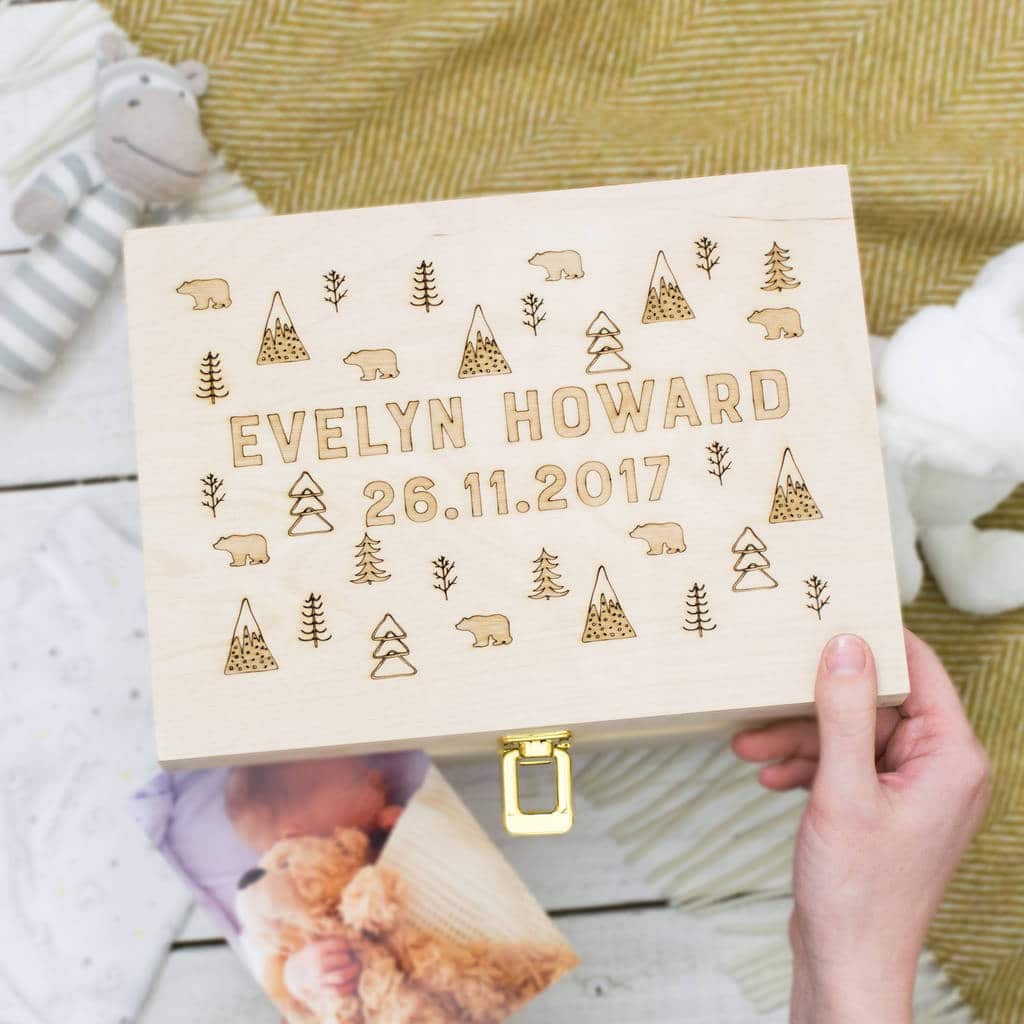 Give proud parents the perfect place to keep newborn mementos with this personalised baby keepsake box by Sunday's Daughter. The new-born period is all about firsts, and making memories, and what better place to keep them than a beautifully personalised high quality box. The perfect size for photographs, cards and eventually first curls of hair and first teeth. Get any name, date or message personalised!
Personalised Jellycat Fleury Soother and Jitter gift sets, £42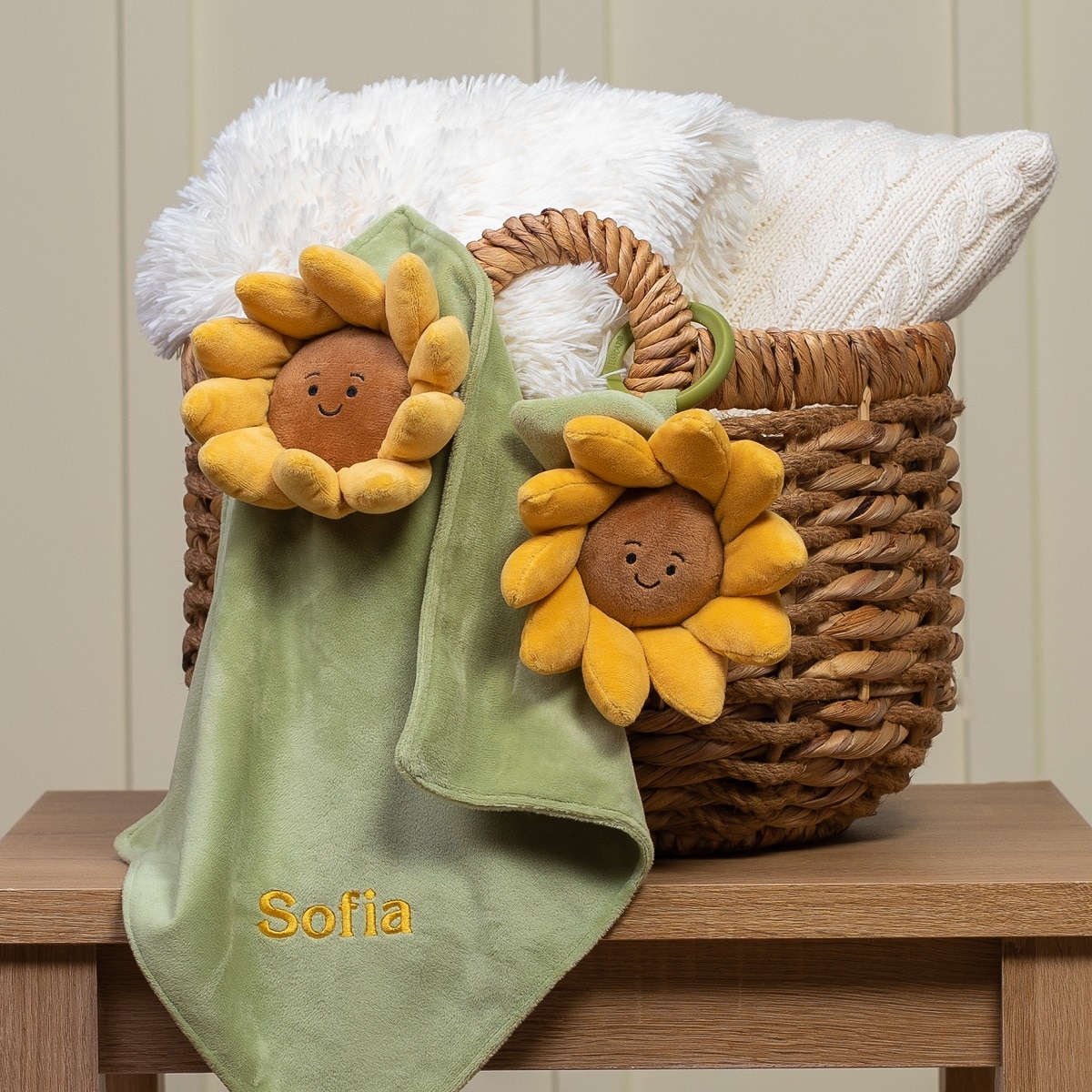 Here's a perfect gift for any Spring newborns, these snuggly soothers are a firm favourite! These Fleury Soothers feature a snuggly soft flower themed comforter with either a sunflower, daisy or petunia flower head with pretty petals (and not forgetting a happy, smiley face!) This Jellycat Jitters is made from cuddly soft plush with coloured petals and a green plush leaf and green coloured 'stem'. Get your choice of name embroidered on the soother in a colour to match! Suitable from birth; these soothers are beautiful but also perfect to help comfort baby.
Personalised Baby Blue Knitted Dungarees by The Bababee, £29.99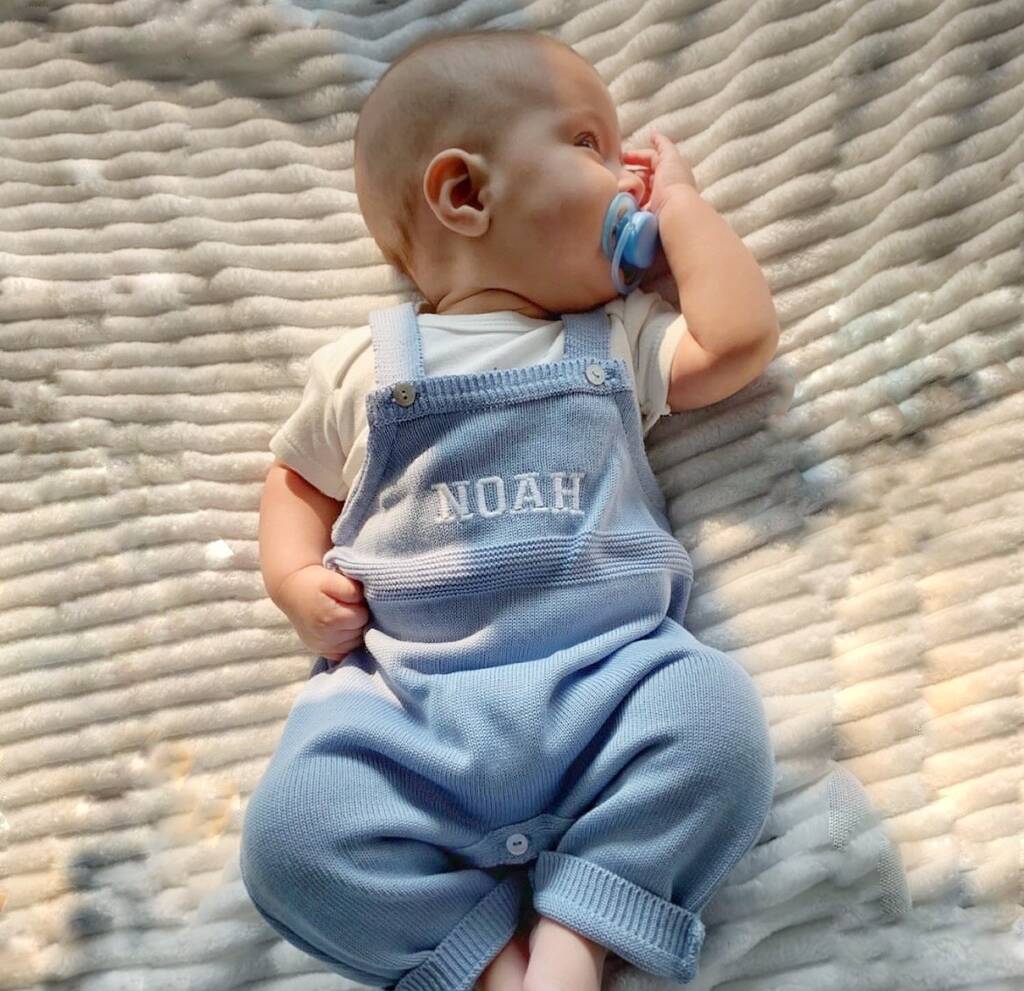 These stunning dungarees are a perfect outfit for any baby to wear, soft, comfortable and durable! Every new family needs help in building their new-borns wardrobe, therefore, every baby needs a cute pair of dungarees! Shop a range of colours and sizes, personalised with the name of your choice.
Ziggle Personalised Baby Gifts for Newborns White Cellular baby blanket, £24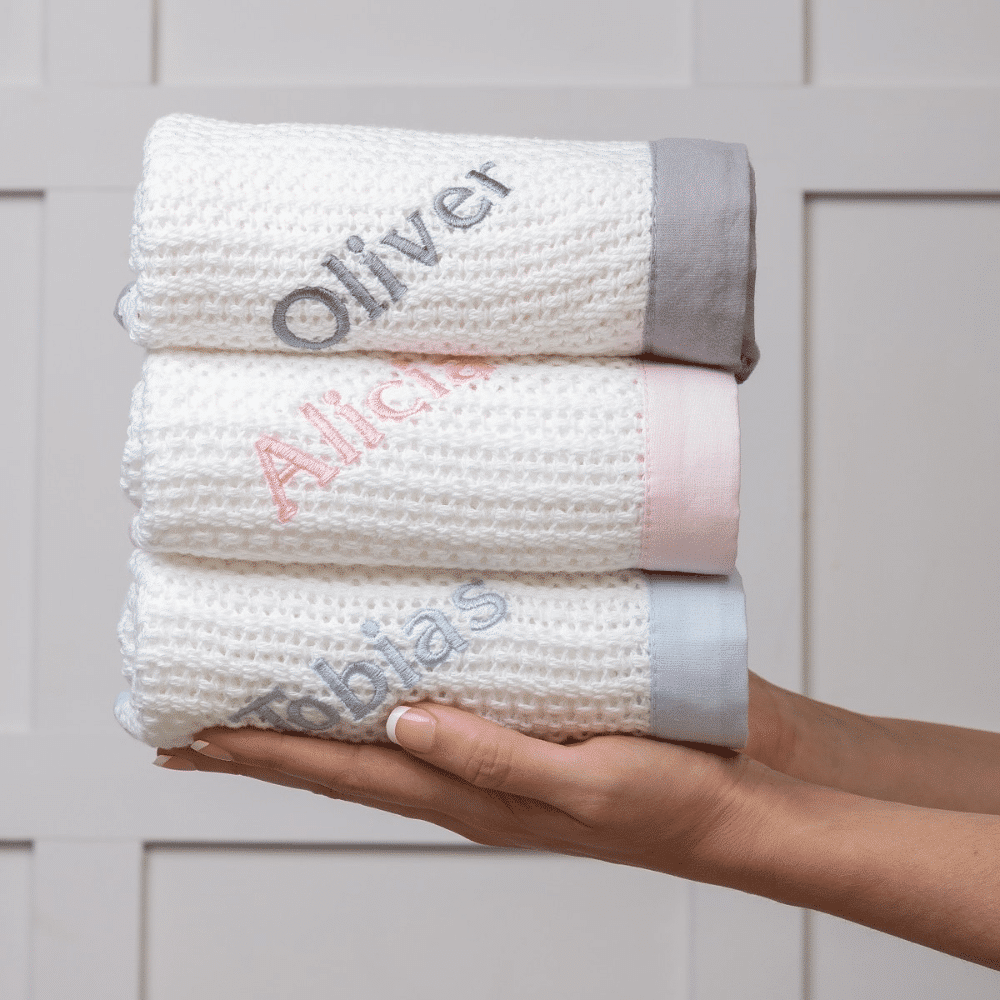 The ideal practical gift. Ziggle create amazing cellular baby blankets, that are modern, simple and help keep newborns warm. Open cellular construction allows airflow to keep babies warm in the winter and also, cool in the summer.
Because of this, it creates light weight, 100% combed cotton knitted blanket which is extremely soft to touch and comfy for babies to be wrapped in. Add a matching Jellycat small bashful bunny to make this an extra special and unique gift set!
NEWBORN BABY GIFTS
Personalised New Baby Organic Vegan Gift Set by Aphrodite and Ares, £26.90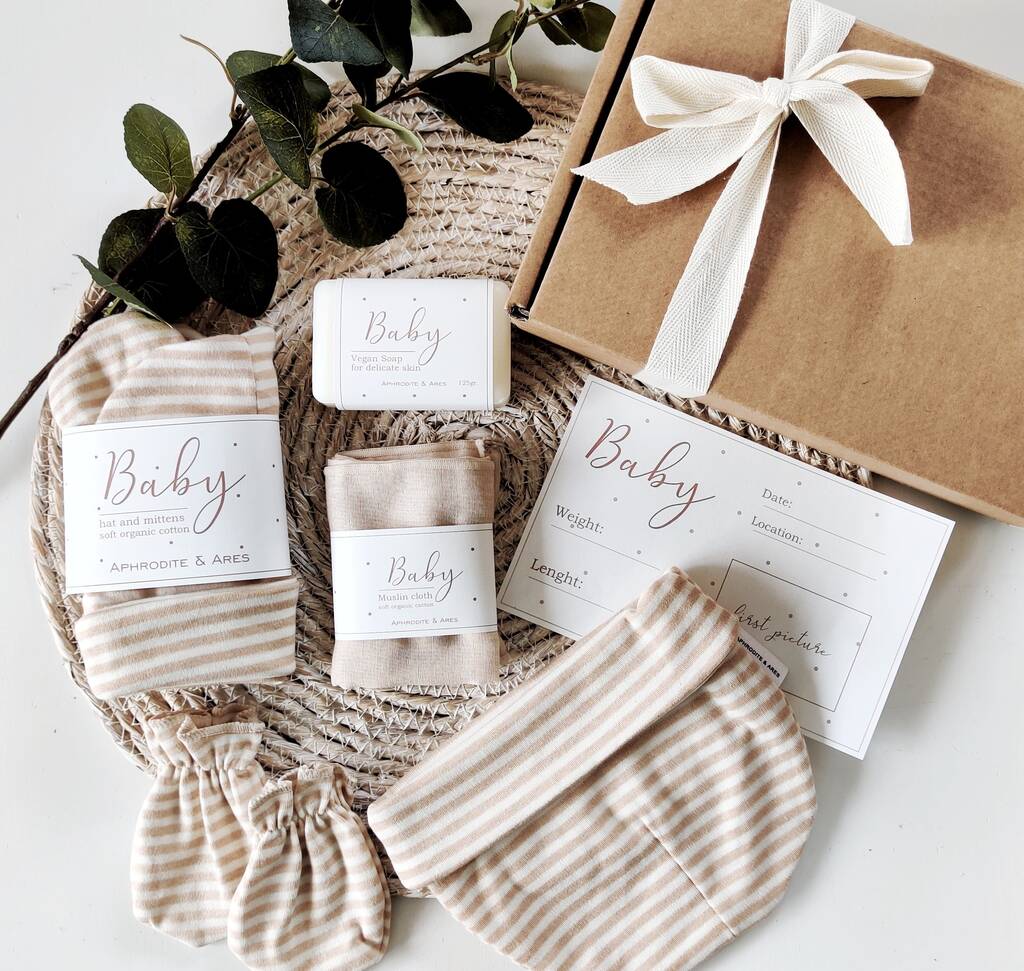 Next up, for the environment-conscious buyer! Here's a stunning and sustainable newborn gift set, good for baby and the environment. This organic vegan gift set includes vegan soap suitable for sensitive skin, an organic cotton muslin cloth, a baby hat and mittens, a baby details card and the eco friendly gift box. And of course, get the giftset personalised with the name of your choice! We think this is a great option for those are looking for eco-friendly personalised baby gifts for newborns.
My First Steiff Teddy Bear beige soft toy and storm blue Toffee Moon luxury cable blanket gift set, £70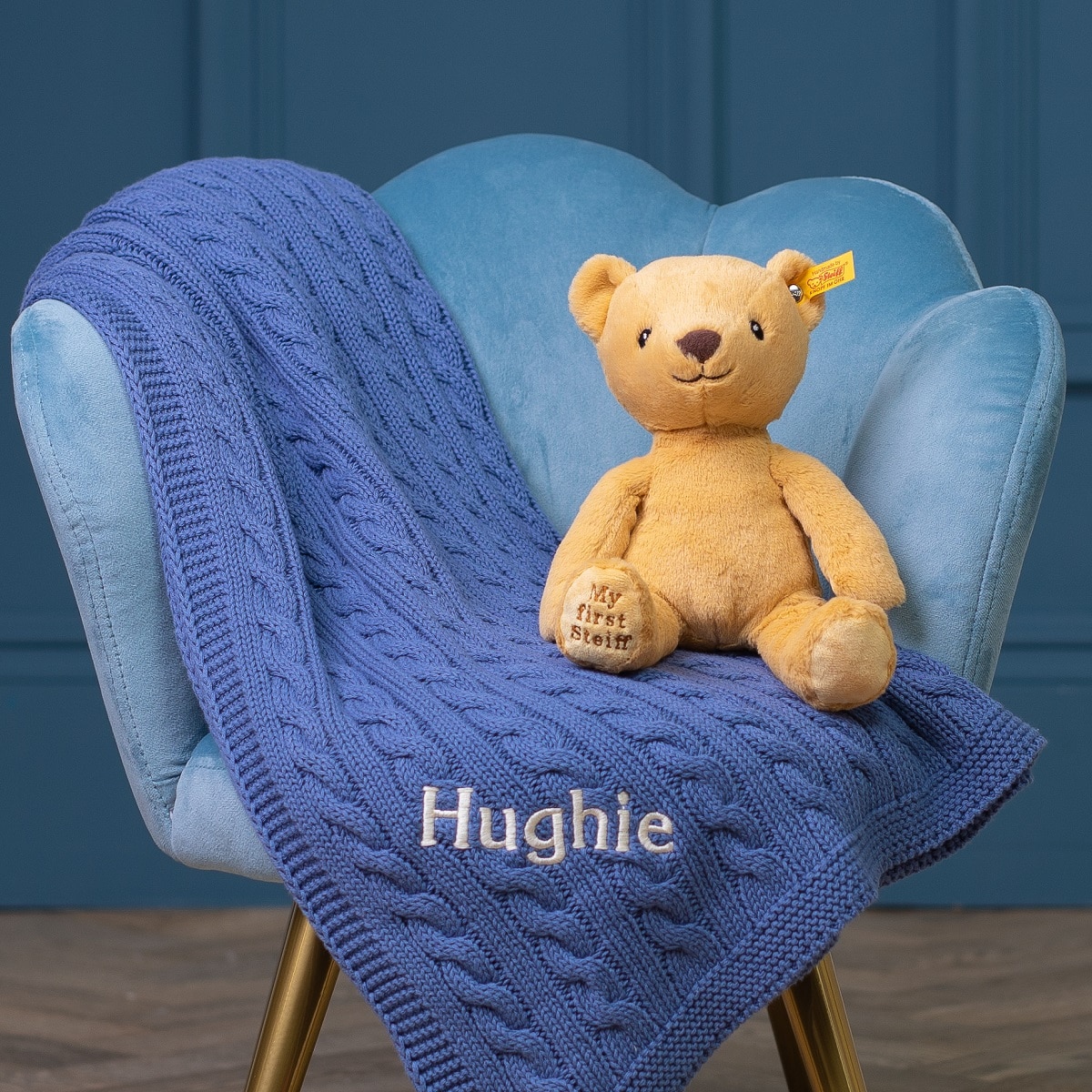 Our My first Steiff beige teddy bear and Toffee Moon luxury cable blanket gift set is an adorable newborn baby gift! This is part of the Soft Cuddly Friends Collection by Steiff, which are all suitable from birth. High quality soft, plush fabrics are used and prices are very reasonable, making perfect gifts for babies, children and people of all ages. Also, we've added a perfect keepsake; this luxury personalised cotton baby blanket will keep your precious little one warm and snug.
Personalised Wooden Elephant, Teddy or Bunny Stacking Toy by LoveUniquePersonal, £15
Perfect for little hands and curious minds! This beautiful wooden toy set is amazing to help inspire play and creativity. This will become one of baby's first memories of fun and problem-solving! Have some great stacking fun with these personalised baby gifts for newborns!
Ziggle Personalised Grey Elephant and starfish baby bandana bibs, £18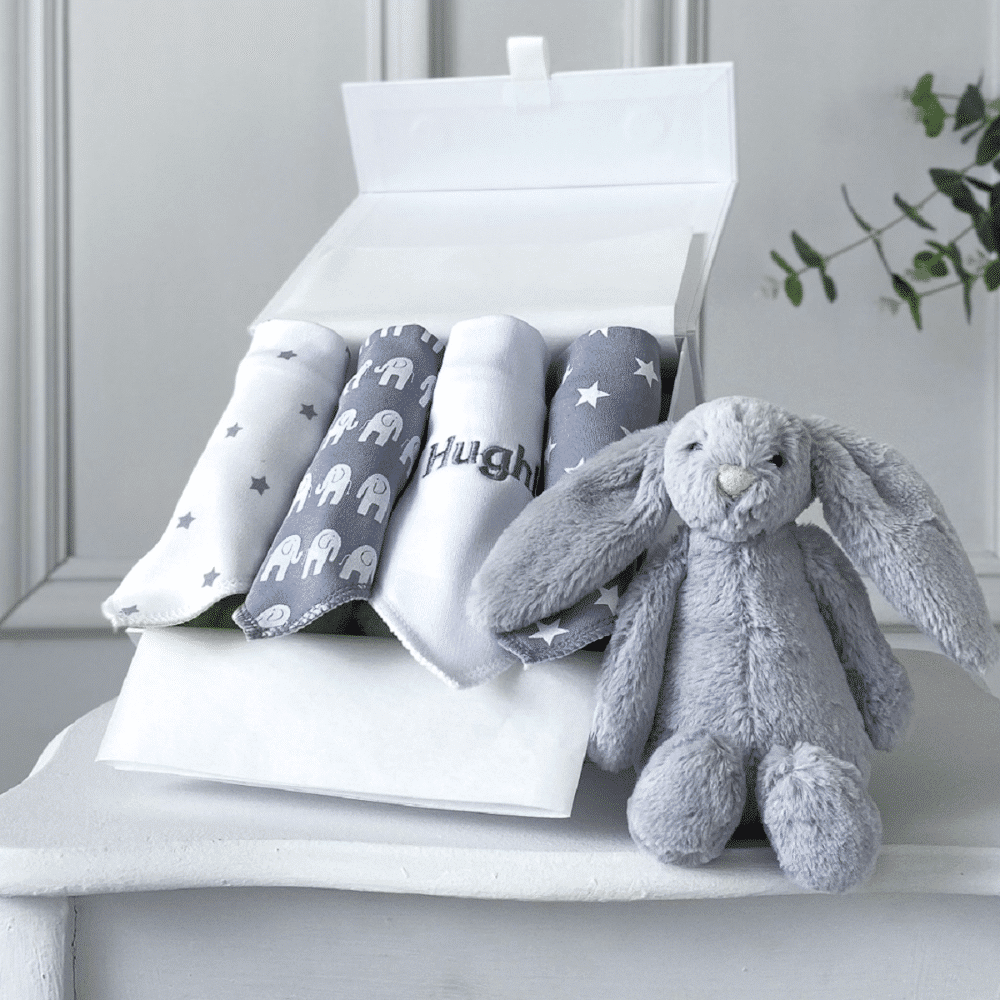 These Bandana Bibs are fashionable fun for little droolers! Soft and comfortable, the top layer is soft 100% cotton and underneath is an absorbent fleece layer. They have 2 alternative (nickel free) popper fastenings so the bib fits as your baby grows. These sets are unique to That's mine. And of course, the choice of designs along with the personalised plain bibs, make these sets extra special- everyone is indeed an individual!
Cosatto personalised fika forest cotton muslin, £15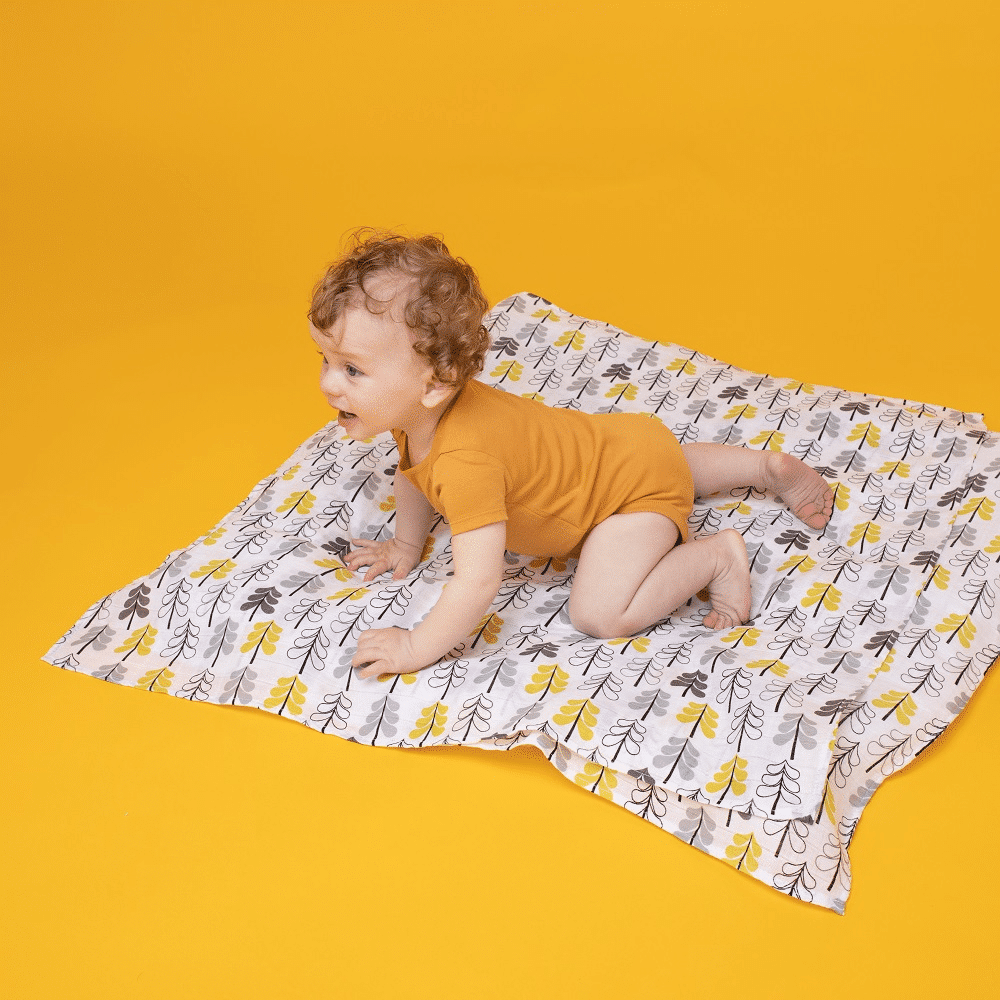 The classic Cosatto Scandinavian forest gets a midnight hushed statement look. Babies love symmetry and this design has a calming visual harmony. This muslin has Ziggle's innovative design structure and is decorated with Cosatto's unique design. The perfect collaboration……created by Cosatto, manufactured by Ziggle and personalised by That's mine!
Newborn Keepsakes
From personalised bibs, to muslins, baby blankets to hooded towels, we have everything a family needs to celebrate their new addition. And of course, everything is personalised! Have a browse through our recommendations for the best personalised gifts for newborns.
Make sure you check out all these options and many more, and also our giftboxes and gift cards, making it extra special for those new bundles of joy.
Happy shopping!