Iconic Brands – Jellycat Personalised Baby Gifts
At That's mine, we have the pleasure of working with the most incredible brands, that supply us with products that we then personally embroider. Our team wholeheartedly believes in our motto, 'Everyone an individual'. Therefore, why not take some time to learn how fantastically unique the world of Jellycat is? We decided to learn more about one of our favourite suppliers, and shine a spotlight on some our favourite Jellycat personalised baby gifts.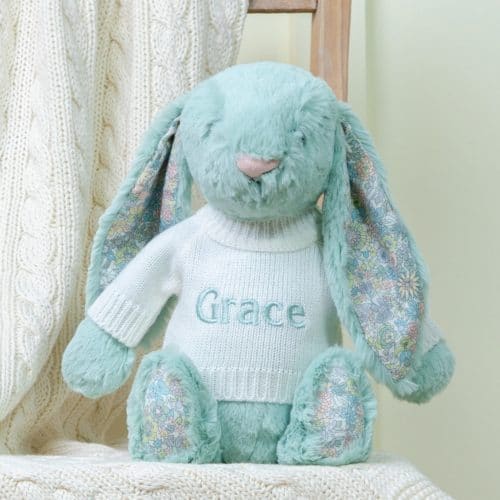 Jellycat is a worldwide lifestyle company, established in 1999. It has now become one of the world's leading global luxury soft toy companies. They first created their unique and newfound soft toys in London. Not long after this in 2001, they expanded to set up in Minneapolis. They're now supplying department stores all over the world, including the UK, USA, Canada, Europe, Asia and Australia.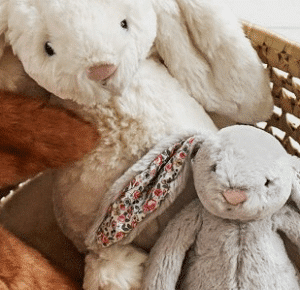 Did you know Jellycat was named by a child? Jellycat stated that their company's unique name came from a child who loved jellies and cats, and thought the two together was hiliarious! The silliness of the name definitely reflects the fun-loving, quirky nature of the brand!
How to wash a Jellycat
Once your child gets their own Jellycat, they become a very well-loved furry friend. But of course, after playtime, your Jellycat might end up in need of a wash. Jellycat themselves recommend to avoid the washing machine! Instead, hand wash your soft toy with mild soap in lukewarm water, and then rinse in cold water. Also, avoid the dryer too. This does sound like more work, but using the cold air from your hairdryer or leaving to air dry will help your Jellycat become good as new!
The Perfect Easter Bunny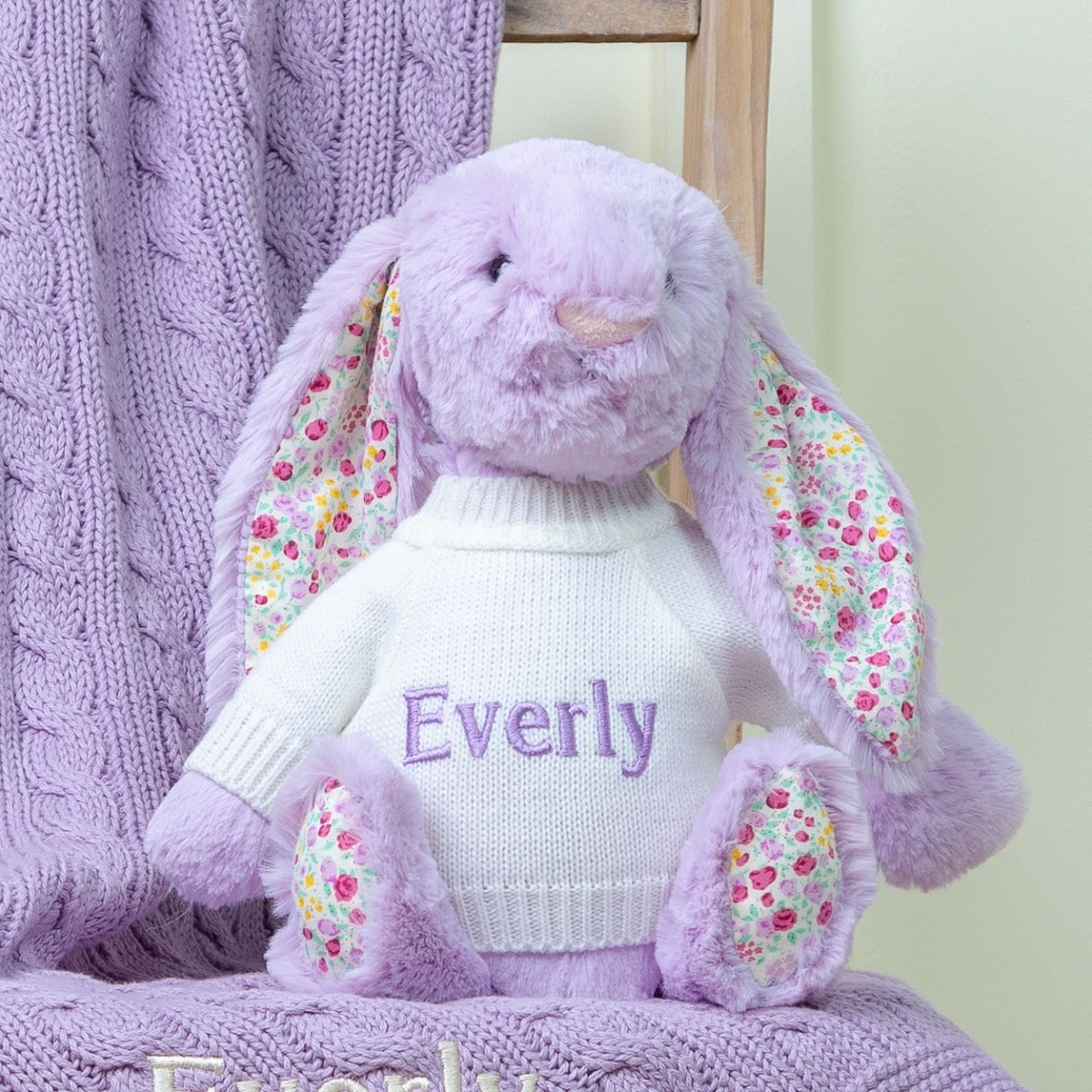 Would your little ones love their very own Easter bunny, from Jellycat and Steiff, to find at the end of the egg hunt? Or a cosy towel to cuddle up in after a hard days hunting? Gift them their own Easter Bunny!
The Easter Bunny is a folkloric figure and symbol of Easter. Depicted as a rabbit, sometimes dressed in clothes, it brings Easter eggs to children in Easter greetings. In German Lutheranism, the "Easter Hare" originally played the role of judge, evaluating if children had good or bad behaviour at the start of the Easter season, just like Santa's Naughty or Nice list. The bunny carries coloured eggs in a basket, also sweets and toys, to homes of children.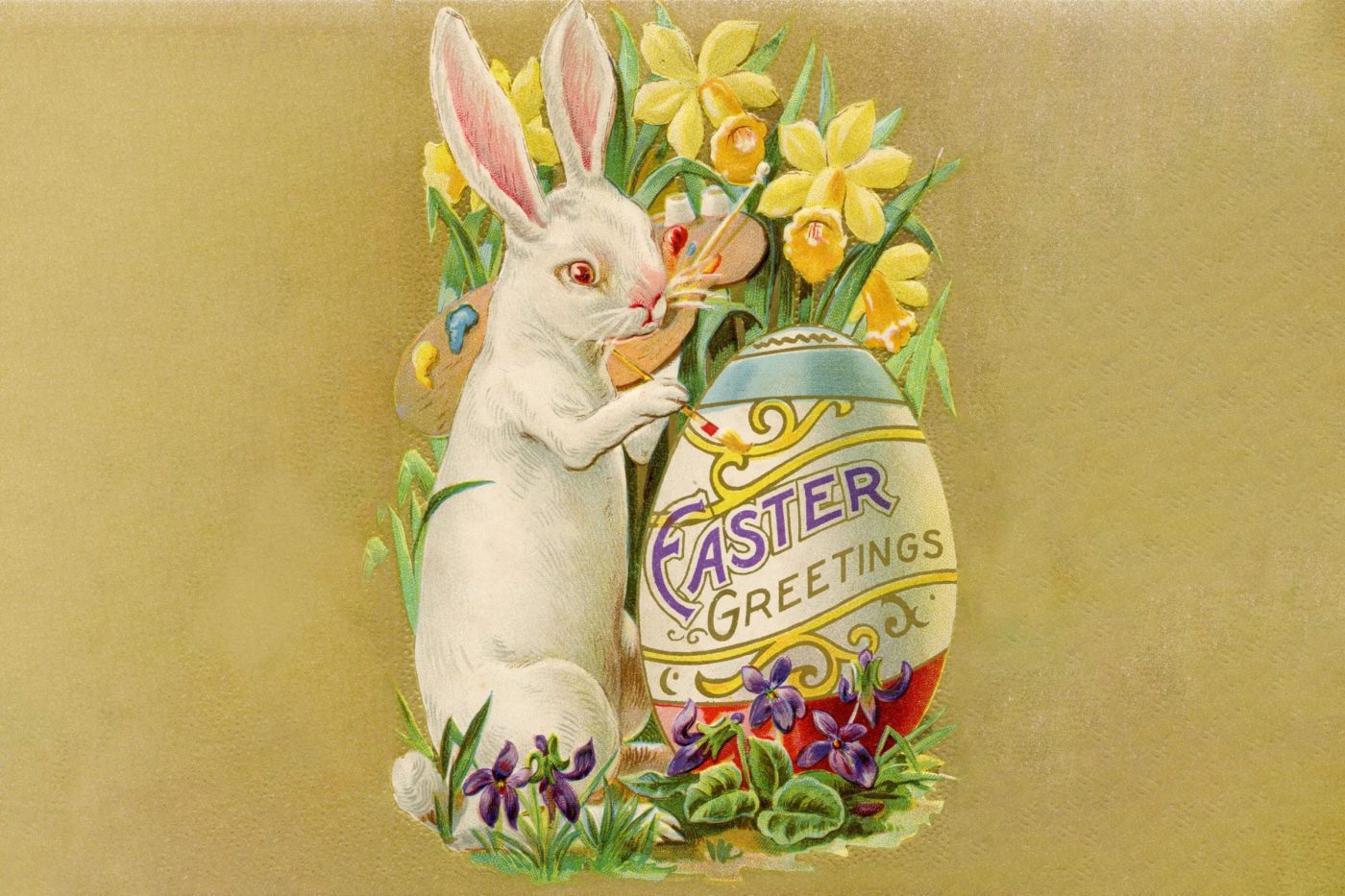 This Personalised Jellycat bashful bunny and ziggle star baby blanket is a unique gift set. A perfect newborn, christening or birthday gift. The Ziggle blanket is a heavy weight, 100% combed cotton knitted blanket. Breathable whilst providing warmth for little ones. A stylish and simple star design, and also the super soft bunny soft toy compliments the blanket perfectly.
Featuring the classic Blossom Silver Bunny floral print across the upper body, silver bunny super soft fur everywhere else, long ears, delicate pink nose and beautiful cute looks. Blossom bunny comforters are sumptuously soft and hugely huggable! The comforter can also be personalised with your choice of name, making this the perfect newborn, christening or birthday gift set.
Make sure you check out all these options and many more, and also our giftboxes and gift cards, making it extra special!
Happy shopping!