Find your new best friend!
Check out our top teddy bear personalised baby gifts here! Look no further for the perfect birthday, newborn or christening gift!
Did you know who invented the teddy bear? The classic teddy bear we all know and love today, was actually named in honour of American President Theodore Roosevelt. In 1902, Roosevelt refused to shoot a bear whilst on a Mississippi hunting trip. The guides had discovered the bear, clubbed it and tied it to a tree, and then invited the President to shoot it. Roosevelt declined, believing it was unsportsmanlike to kill the defenseless animal in that way. After this, in Brooklyn, New York, shopkeeper Morris Michtom and his wife Rose created a stuffed fabric bear and named it 'Teddy's bear', in honour of Roosevelt. They then went on to start a successful company manufacturing teddy bears and toys.
Also, around the same time, seamstress Margarete Steiff founded a German company, making their own plush bears as well! Fast foward to 2022, That's mine are very proud to personalise and sell Steiff bears!
Steiff Honey Bear, £42 – £59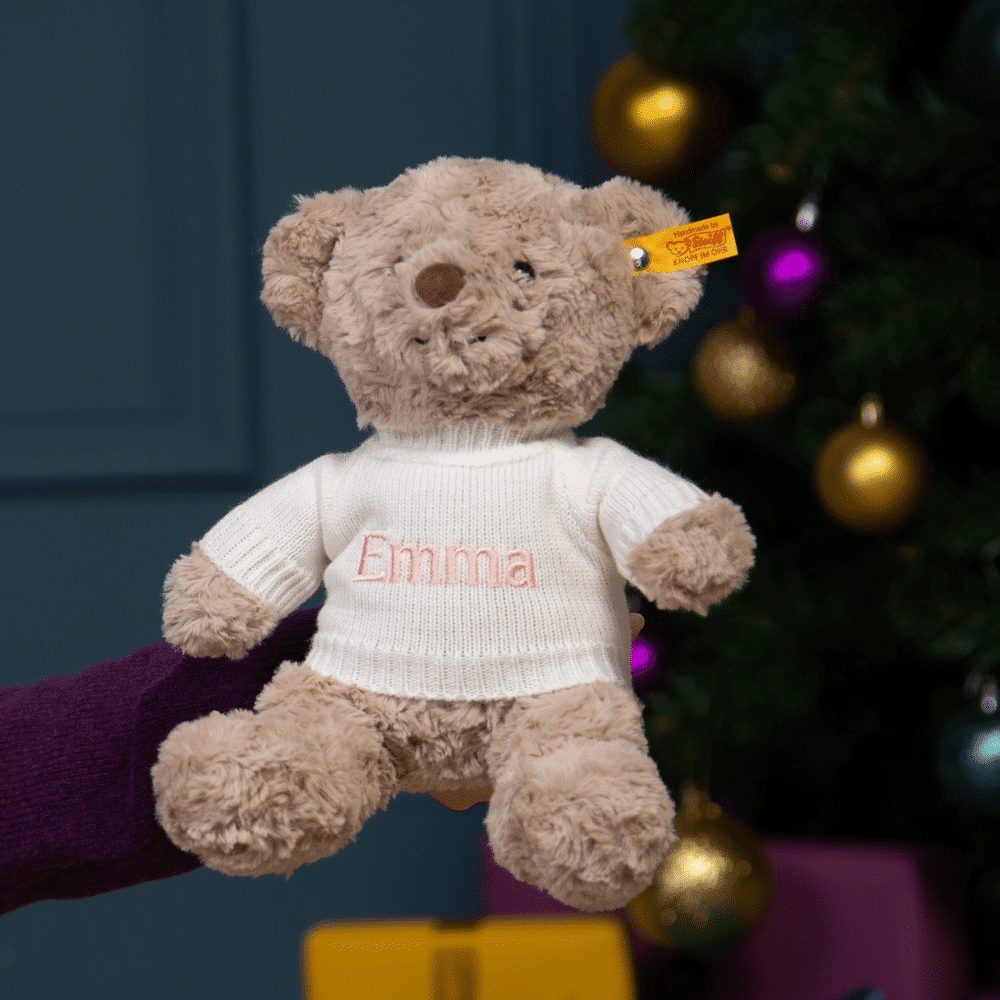 This Personalised Steiff honey teddy bear medium soft toy is exclusive to That's mine, therefore making it totally unique! Did you know That's mine is the only place to find personalised Steiff bears?! Soft Cuddly Friends Honey teddy bear is made of cuddly soft plush. The 28cm friend with a honey-sweet smile will steal the heart of any child. The bean bags included in its rear, paws and soles allow honey teddy to be firmly seated on a surface. They are also perfect for teaching your child to grip. Complete with the world famous Steiff stainless steel "Button in Ear" yellow and red tag.
Jellycat Cocoa Bear, £38 – £52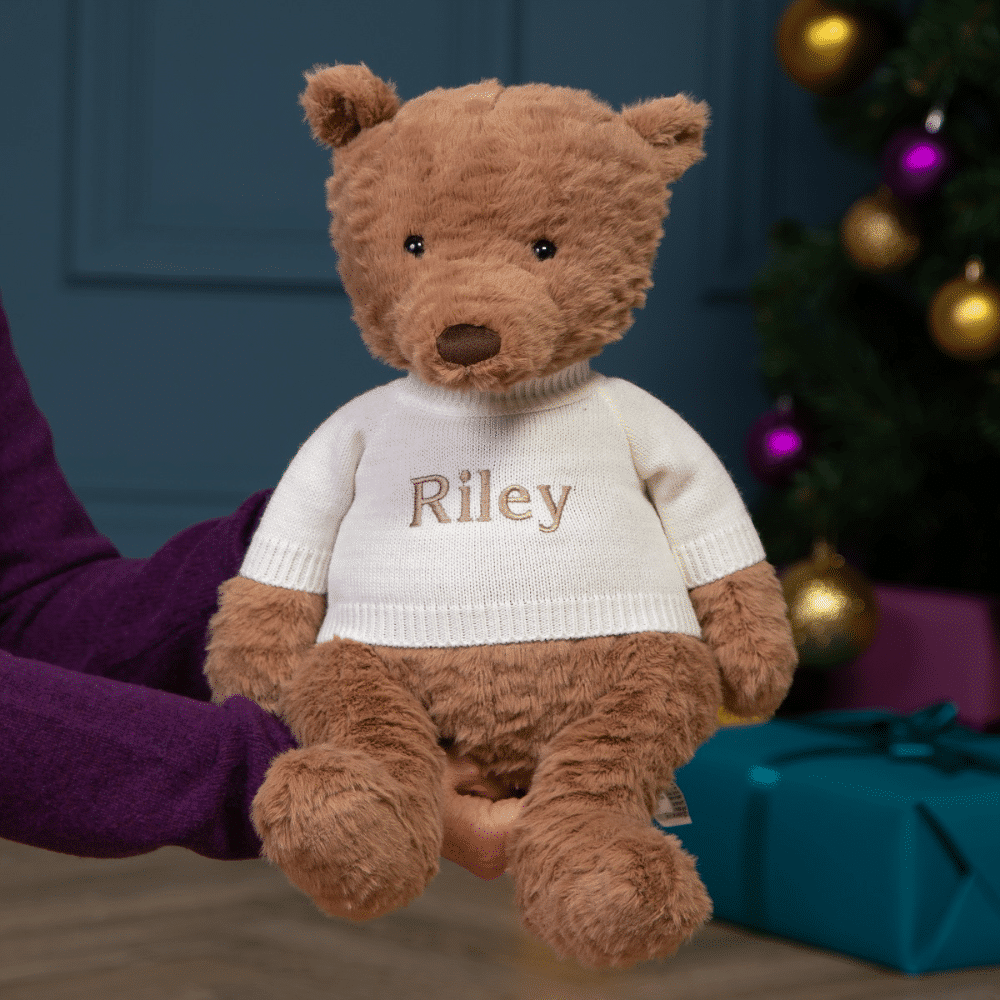 Cocoa Bear is a classic scruffle chum, with rumple-soft praline fur. This curious cub has big squishy paws, a choc-drop nose and a caramel muzzle. With long, lopsy arms and perky wee ears, this baby bear is a scrumptious gift. Also, perfect for rangers in training! Choose from large or medium sizes.
Jellycat Bumbly Bear, £33 – £45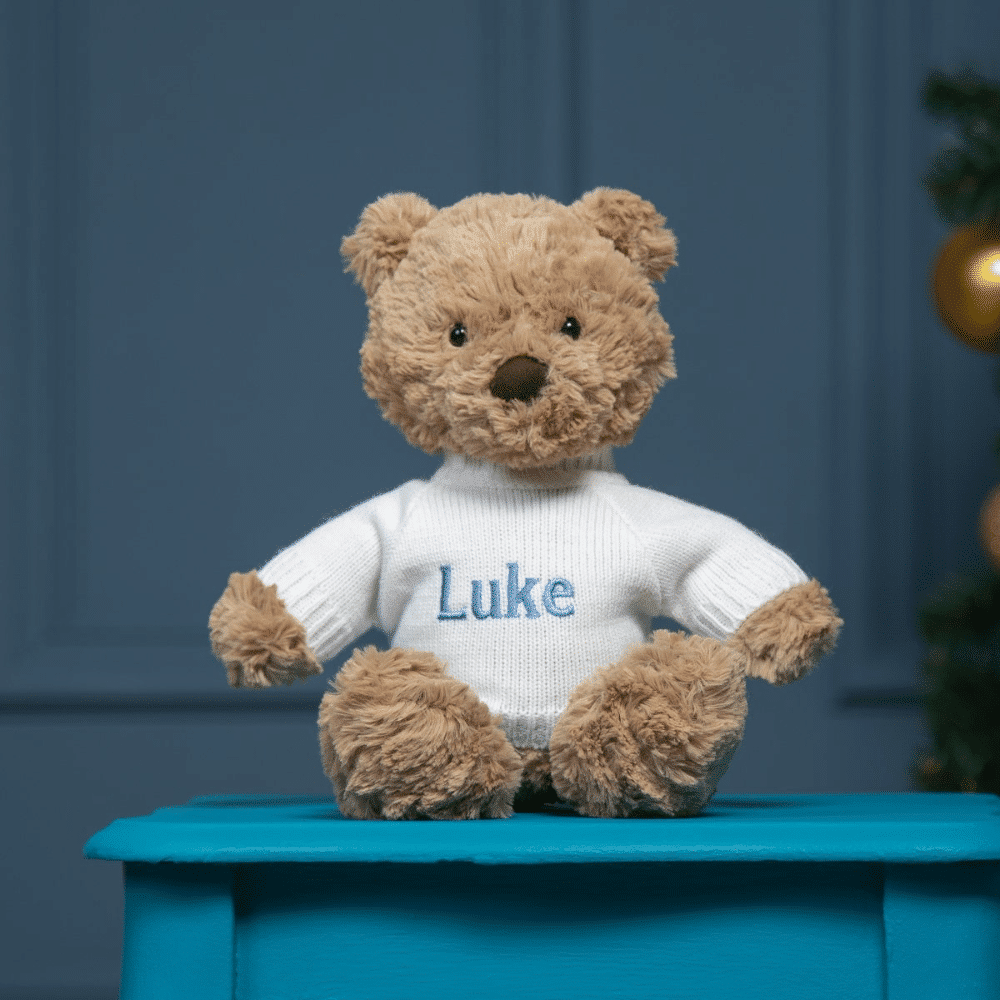 Another Jellycat makes the list! Choose from small or medium sizes, or both. This personalised Jellycat Bumbly Bear is sumptuously soft and hugely huggable, making it the perfect new best friend.
Steiff bearzy beige Teddy Bear, £45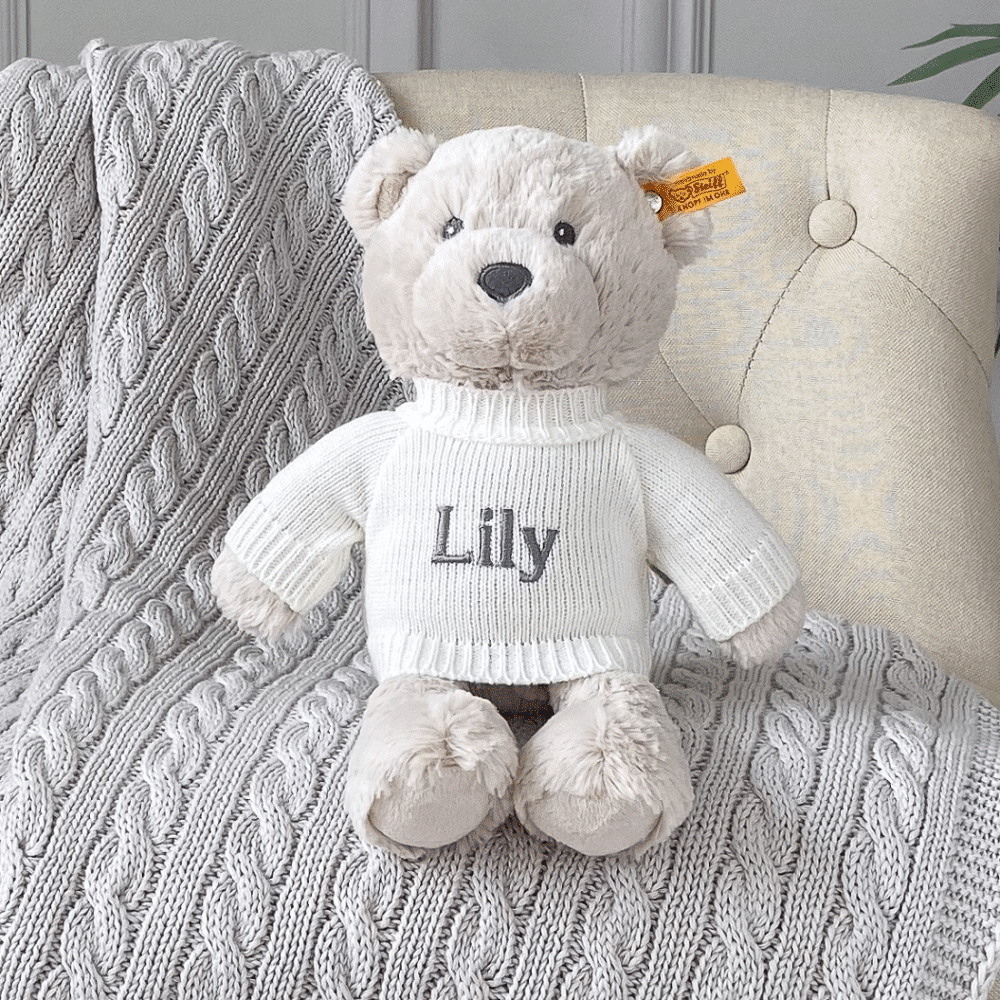 Thanks to the bean bag in teddy's tail, this 28cm soft, Cuddly Friends Bearzy teddy bear can sit beautifully next to their best friend. Teddy's eyes and nose are lovingly embroidered. Inside of the ears, arms and the paws is short haired plush for baby's soft skin. Also, beautiful fur is made of longer ultra soft plush. The arrangement of the different surfaces invites baby to feel and touch. Complete with the world famous Steiff stainless steel "Button in Ear" yellow and red tag.
Teddy Bear Personalised Baby Gifts – Find Your Perfect Personalised Teddy
Keel Sherwood Bear, £28 – £33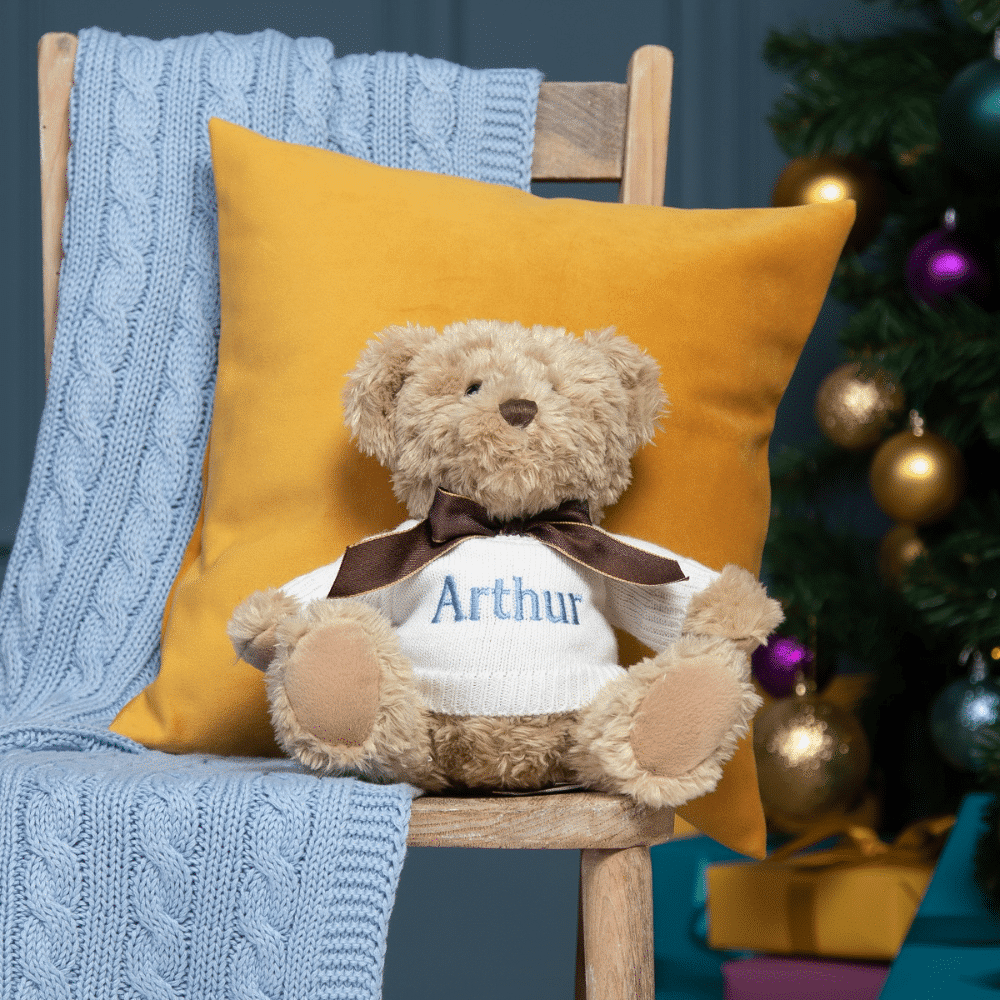 This traditional teddy bear has shaggy honey coloured fur, brown eyes and a brown plush nose. Sherwood also wears a brown bow around his neck. Sherwood bear is an adorable plush toy from traditional toymakers Keel. Using only the finest materials, it's incredibly soft and built to last. Knowing it's the little details that add character, his nose and mouth are painstakingly stitched and a ribbon bow is added around his neck. It's one that will be treasured by anyone from kids to collectors!
Keeleco Recycled Teddy Bear, £28 – £38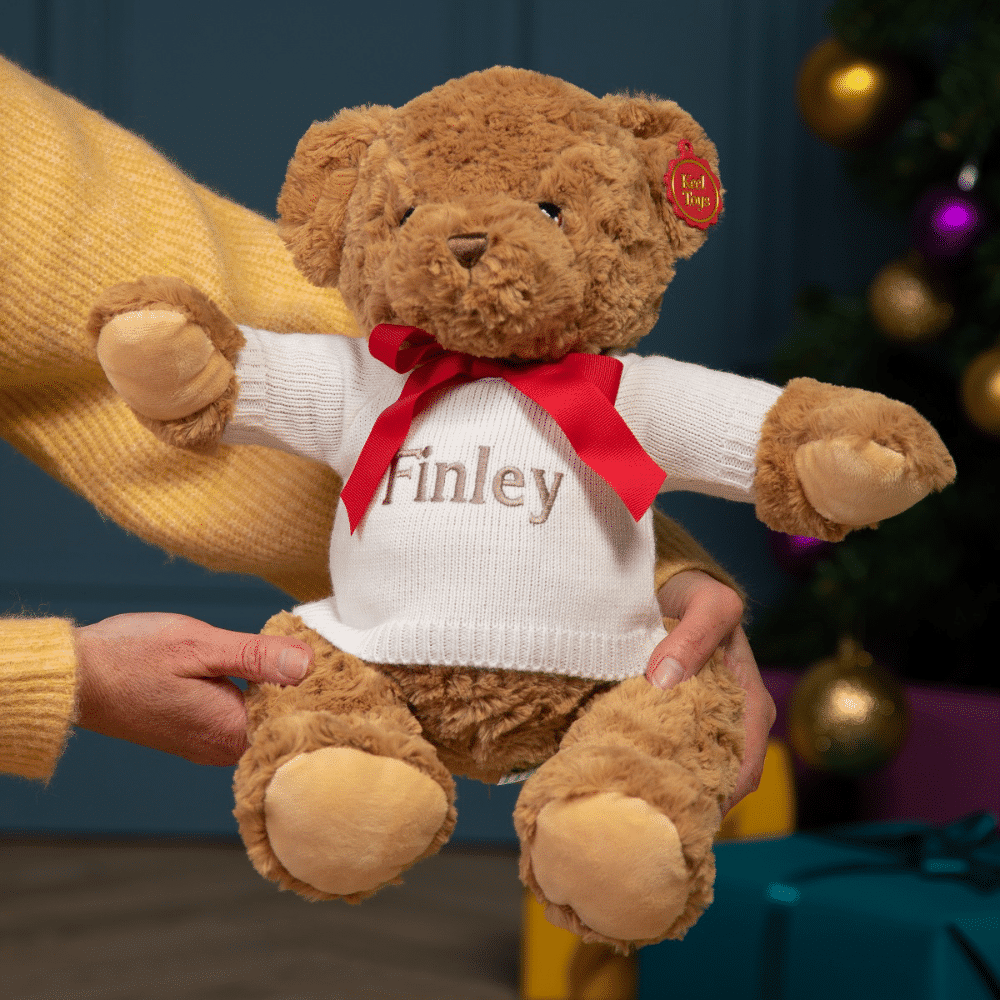 Keeleco is the NEW 100% recycled range from Keel Toys. Did you know these eco-friendly toys are manufactured and are stuffed with 100% recycled polyester from plastic waste? Weighted with recycled glass beads, these floppy toys have been perfectly designed for hugging by a loving new friend. This cute personalised teddy bear is full of detail and additionally has beans inside to allow it to sit. Super soft, cuddly and cute with a bright red satin bow ribbon.
Jellycat Bartholemew Bear, £40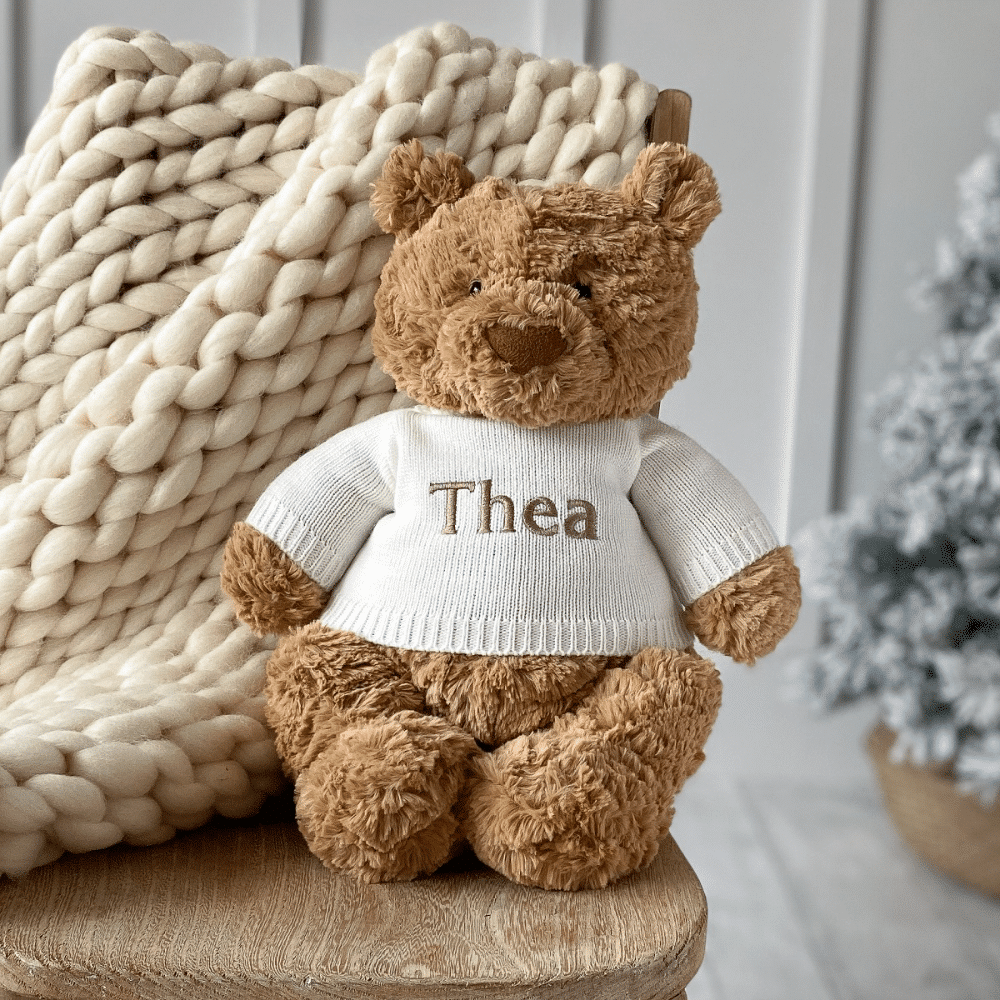 This personalised Jellycat Bartholemew large bear is a tubby cub with lots of love to give! Because of his tawny-tousled and full of softness, Bartholomew Bear is the perfect bedtime buddy. Read him a story, sing him 'The Teddy Bears' Picnic' or maybe just rest on his fluffy podgy tummy.
Aurora brown Bonnie Bear, £33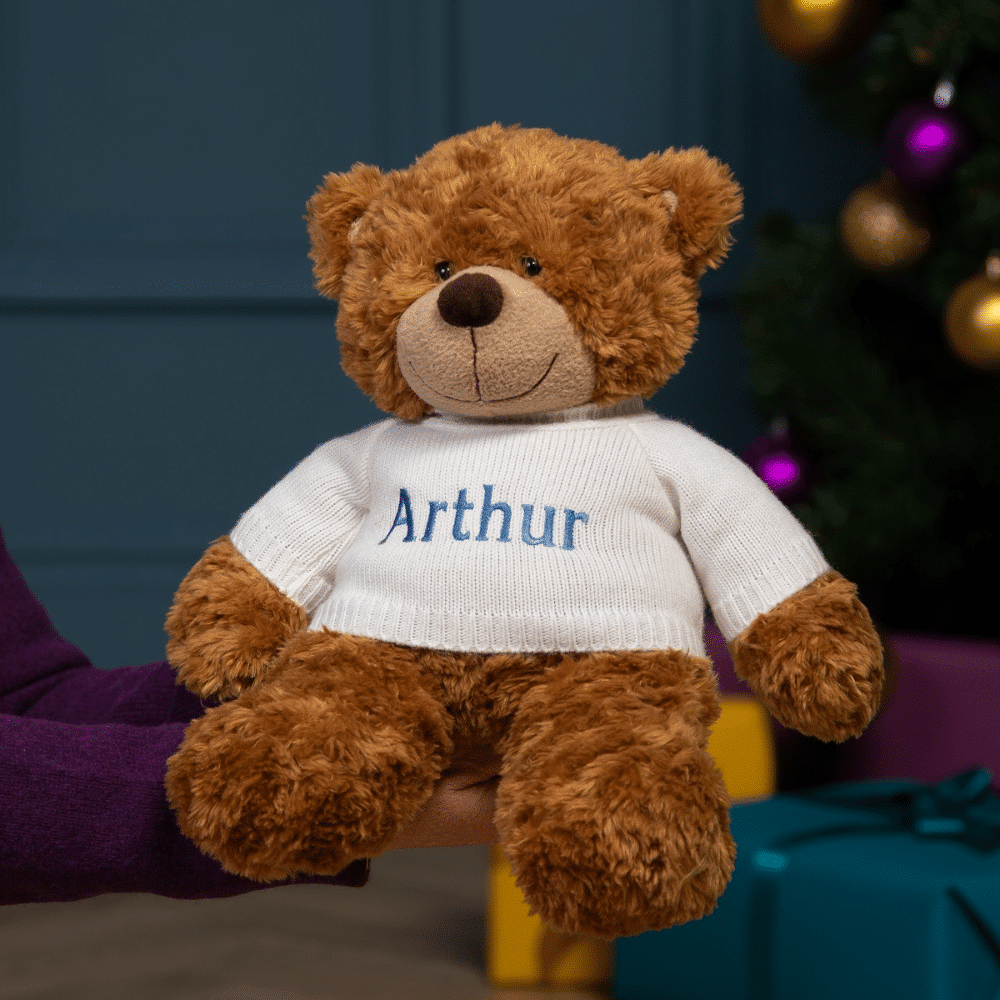 Next up, we've got the Aurora Brown Bonnie Bear! This personalised Aurora large bear is a beautiful big huggable bear available in brown, baby pink and baby blue. The perfect gift for anyone, and it's the best if you need a cuddle!
Make sure you check out all these options and many more, and also our giftboxes and gift cards, making it extra special!
Happy shopping!