Have you scoured the internet for that perfect baby gift and just can't find the right one? New families seem to be gifted everything under the sun nowadays, and it's feeling even more difficult to make your gift feel extra special. But don't fret! Because we're just that nice, we've done the work for you! Here's our top picks for the best personalised baby boy gifts, that you can find right here at That's mine! Beautiful keepsakes for a beautiful baby boy.
Personalised Baby Boy Gifts
Personalised Jellycat dusky blue bashful bunny, £33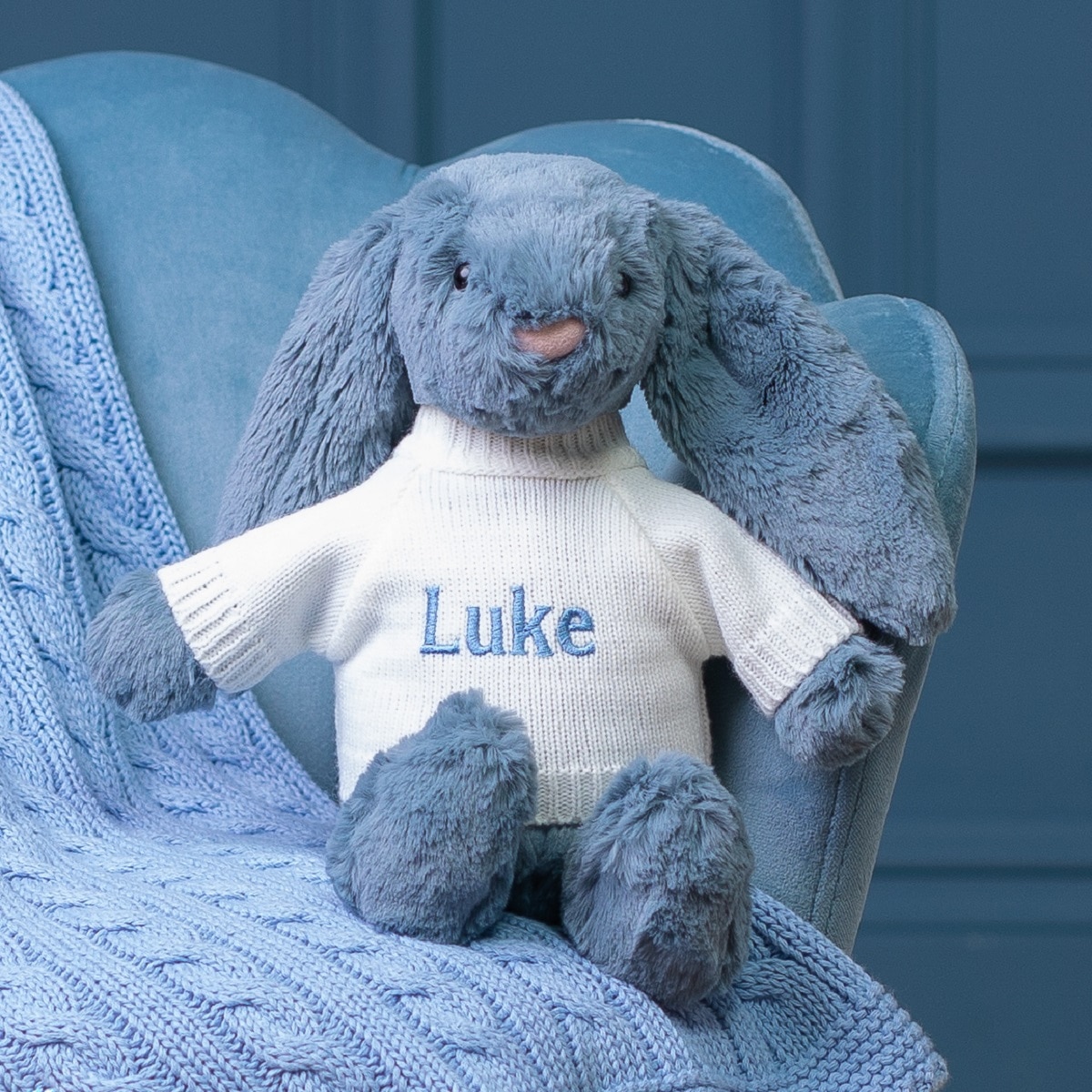 The perfect bunny for your little one! Super cuddly and full of flopsiness, dusky blue bashful bunny is a great cot side companion. Amazingly squishy and always ready to snuggle with lop-ears and scrummy soft fur; this bunny is perfect for beddy byes. Also, we're loving this dusky blue colour, as it helps bring calmness and serenity, and brings a sense of peace to your environment. Perfect for matching your blue toned nursery, and also perfect for cuddles! And of course, jumpers can be personally embroidered with your choice of name.
Shnuggle personalised blue and white luxury knitted baby blanket, £44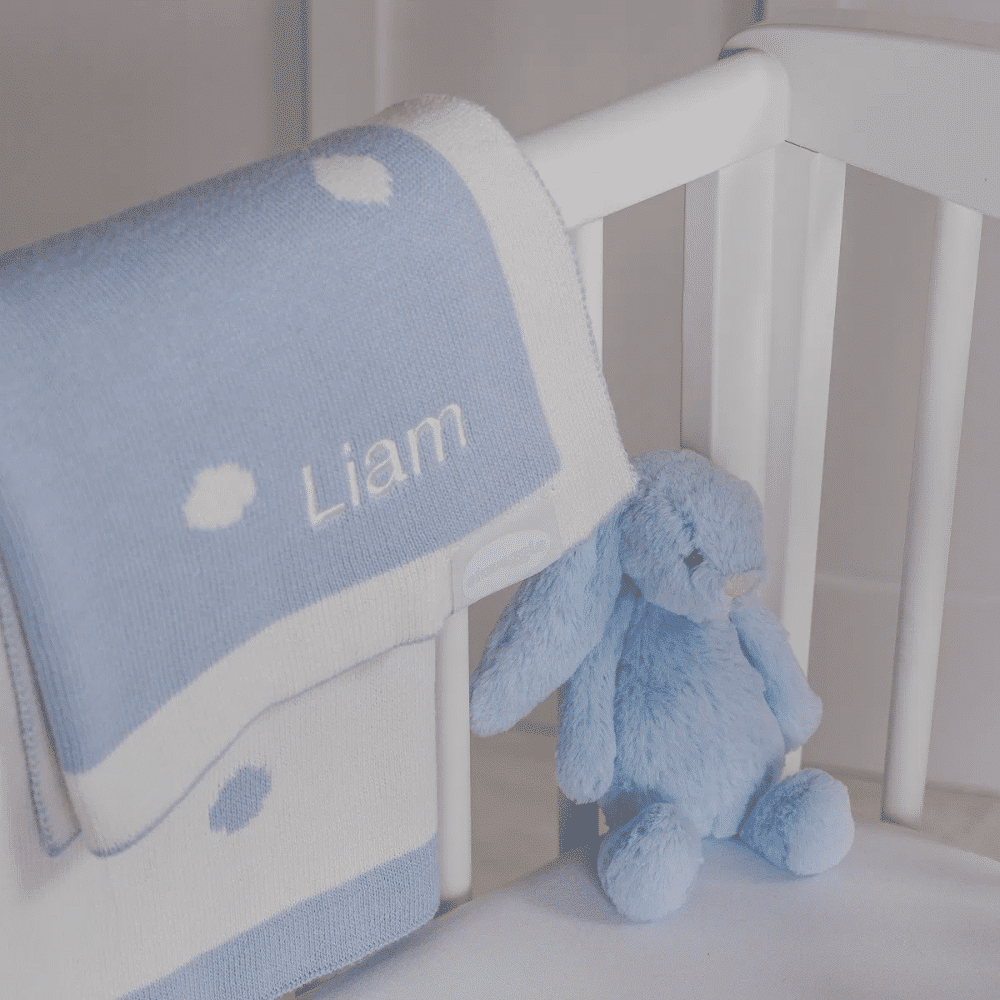 Next up, we have a gorgeous personalised blue and white luxury knitted baby blanket from Shnuggle. If you are nesting and designing your nursery colour scheme or looking for the perfect baby shower gift, this Shnuggle luxury knitted blanket comes in three on-trend contemporary designs, grey chevron, dusky pink hearts and sky blue clouds. Also all styles are reversible. Most importantly keeps your baby cosy! Add a matching Jellycat small bashful bunny rattle to make this an extra special and unique gift set.
Toffee Moon personalised luxury cable baby blanket and Signature Collection Peter Rabbit soft toy, £64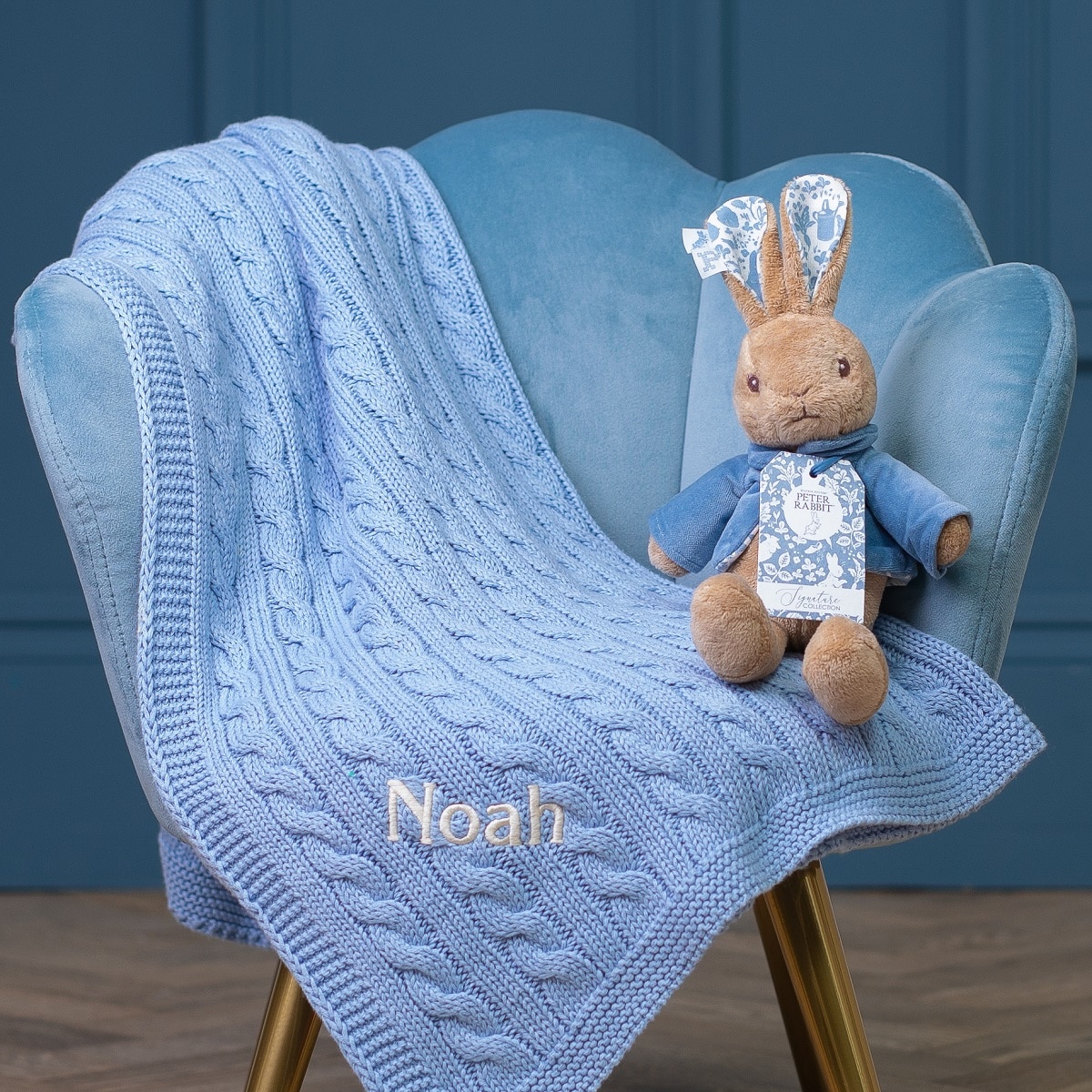 This exquisite Beatrix Potter, Peter Rabbit Signature Collection is a beautiful range of 'Forever' heirloom toys that has been created to be shared across generations. This adorable collection features two of the most traditional and much-loved children's literacy characters, Peter Rabbit and Flopsy Bunny, which evokes nostalgia in parents to share happy memories and traditional values of their own childhood. This and a matching, snuggly baby blanket makes it the perfect gift set keepsake.
My First Steiff Teddy Bear blue soft toy and Toffee Moon luxury cable blanket gift set, £70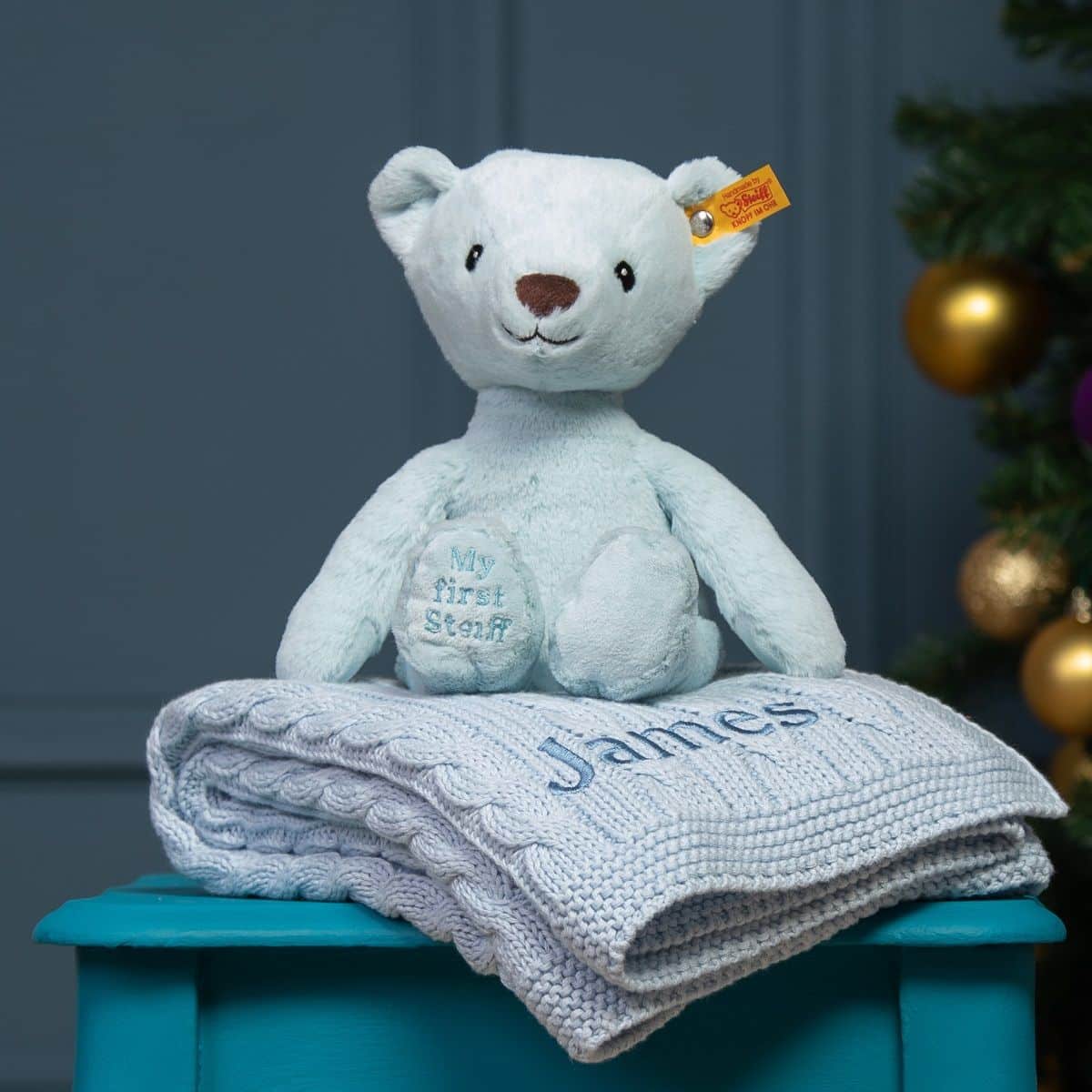 Wait a minute – what's that in teddy's left ear? … The famous Steiff "Button in the ear" and classic yellow ribbon tag! We're very proud to be able to provide a personalisation service for Steiff, one of the most classic timeless plush toy brands, who have been handcrafting forever friends since 1880 in Germany. High quality soft, plush fabrics are used and paired with this beautifully soft personalised pure cotton cable knitted blanket; it's ideal for prams, cots and make a lovely bedroom accessory for many years to come.
Dandelion personalised receiving shawl, knitted jacket and leggings and Jellycat bashful bunny gift set, £85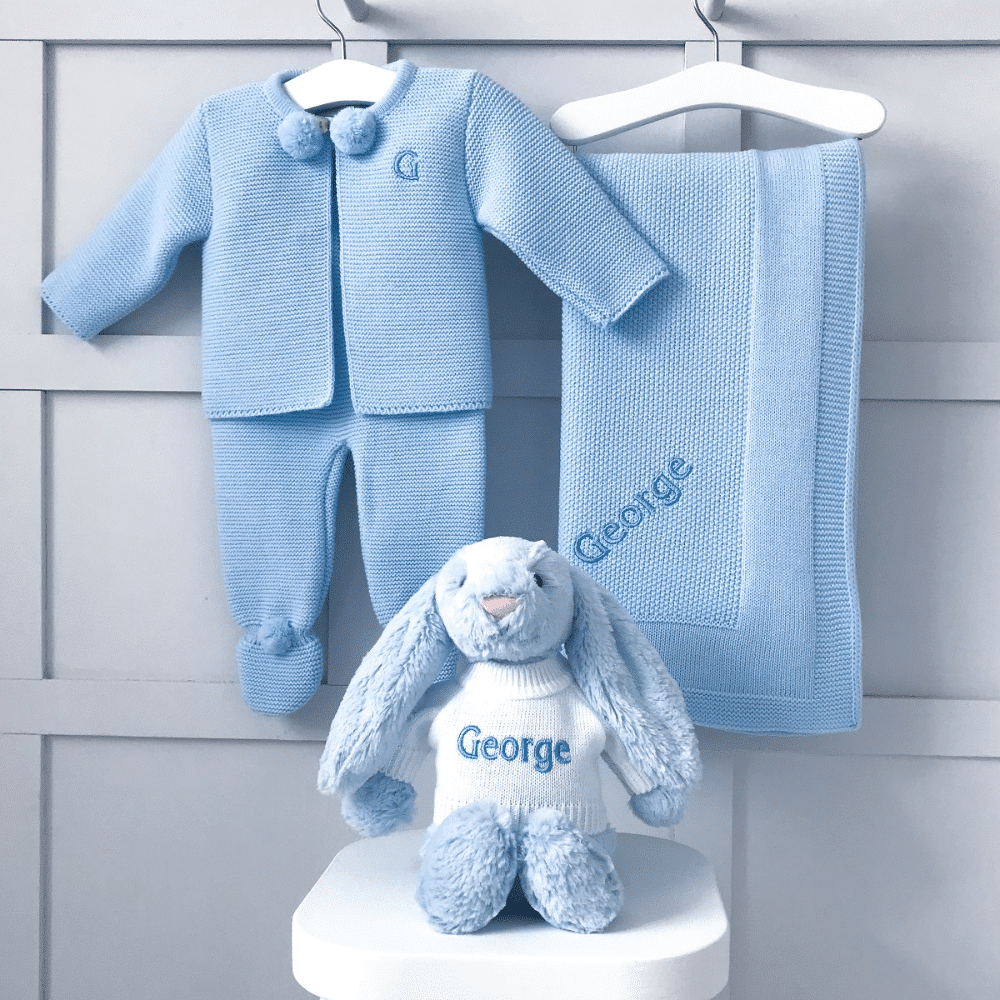 A beautiful personalised gift set, comprising of a knitted baby receiving shawl, matching pom pom knitted jacket and leggings and a Jellycat bashful bunny with personalised jumper. Did you know these Spanish knitwear outfits are lovingly made in Portugal! The jacket and leggings are traditional and timeless and the jacket is front fastening with gorgeous pom poms. Set also comes in pink, cream or grey!
What to gift a one year old baby boy- luxury personalised baby boy gifts
Personalised white and blue baby gift basket with blue bunny soft toy, £130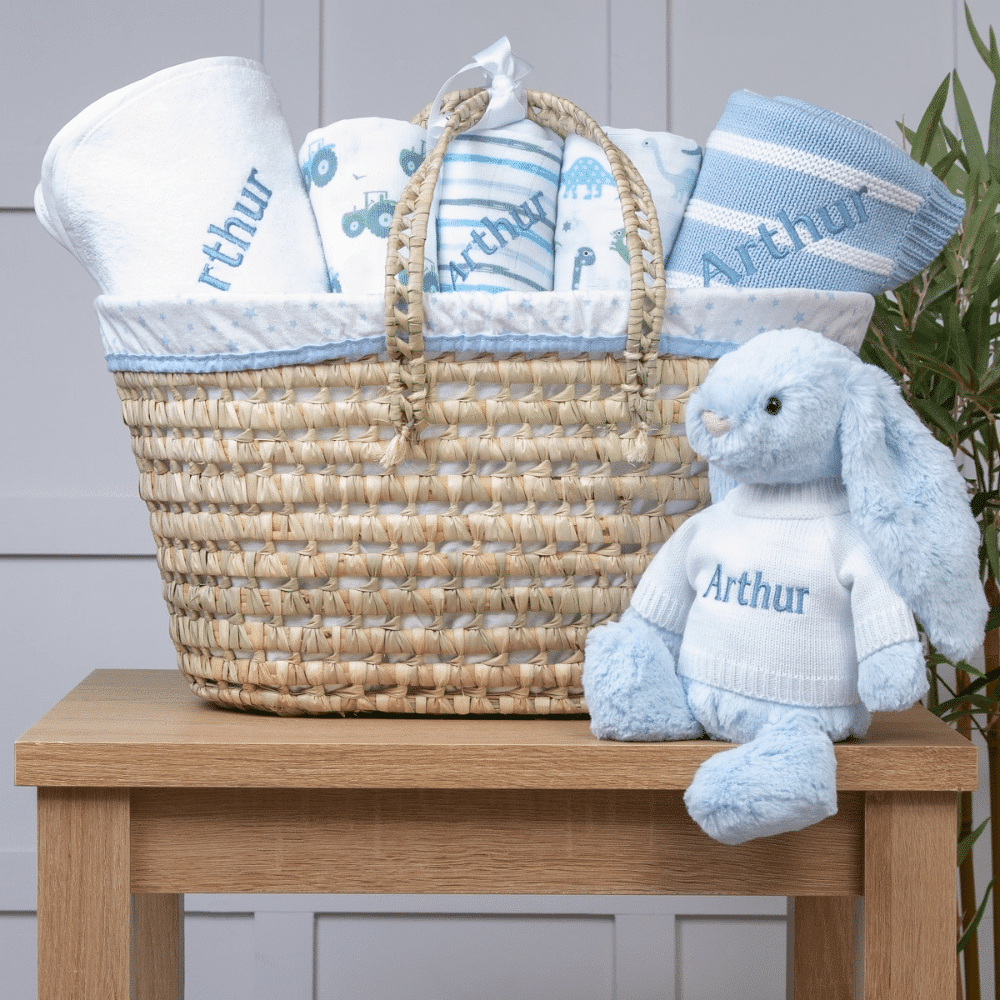 That's mine have made gift baskets easy! Don't waste you time and energy trying to build the perfect baby boy gift basket, we already created it! This personalised baby gift basket really is unique and exclusive to That's mine. Carefully created by ourselves, we have selected matching and complimentary products, making this palm basket a baby basket with a difference. Additionally, each product is colour coordinated to make this basket stand out from the crowd! It consists of a Clair de Lune lined baby palm basket, a That's mine personalised towelling cuddlerobe; 3 Ziggle stylish muslin squares, one of which is personalised, a gorgeous Ziggle personalised stripe knitted pram blanket and finally a wonderfully soft Jellycat bashful bunny toy, dressed in a personalised That's mine jumper. Add any other baby products yourself to make it even more unique!
That's mine personalised white towelling gingham trimmed bathrobe with blue embroidery, £29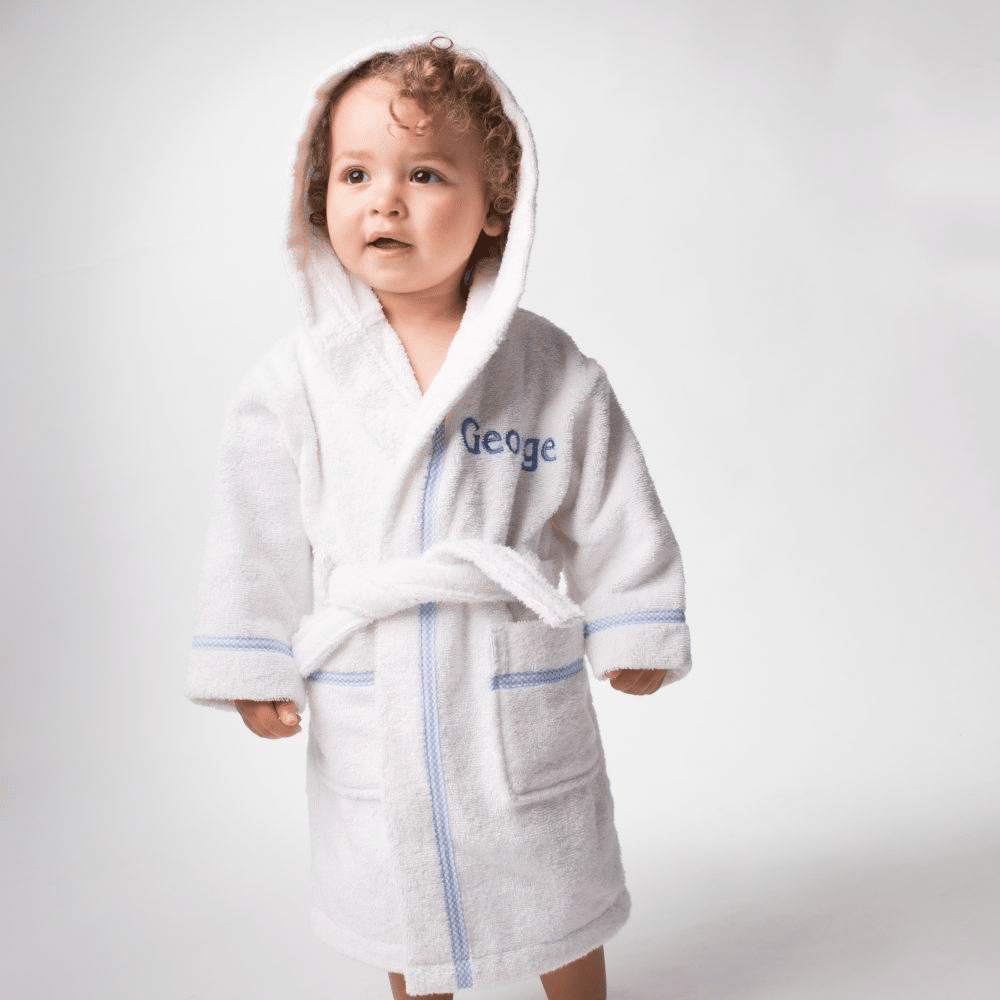 Such a great pick! That's mine's classic, traditional towelling bathrobe. Made with 100% luxury cotton and trimmed with gorgeous gingham. The bathrobe comes in white 400g towelling with either blue or pink gingham trim and embroidery and lovely little bunny ears. Make bath times and bed times special with a That's mine personalised bathrobe! Available in 0-6 months, 6-12 months, 12-18 months, 18-24 months and 2-3 years.
Bizzi Growin personalised ludvic lion baby pram blanket, £44
Here's Ludvic the Lion sitting in a jungle of leaves! This ever so soft cotton rich blanket will be a roaring success for any little one. The blanket will look fabulous out and about, used in a stroller or just for lots of cuddles. Embroidered with your choice of name.
Personalised Jellycat Bashful Bee comforter and soft toy gift set, £39
If blue might not be your favourite colour, here's another option for you! The uniquely personalised Jellycat Bashful Bee comforter and soft toy gift set. The Bashful Bee Soother is a honeycomb dream in scrummy-sweet golden fur. Our bright-eyed bee is standing guard, looking after sleepyheads. Stripey, silly and summery, with stretchy feelers and a bobble body, this little bug is a bedtime bud. Most importantly, the comforter can be personalised with your choice of name, making this the perfect newborn, christmas or birthday gift set.
Make sure you check out all these options and many more, and also our giftboxes and gift cards, making it extra special for those new bundles of joy.
Happy shopping!