If you're on the hunt for the perfect personalised baby girl gift, you've come to the right place! We've chosen our favourite baby girl gifts, all personalised by us! Whether you have an upcoming birthday, christening or a newborn in the family, we have the perfect personalised gifts to make any occasion unique and special. Cherish your own personalised gift for years to come!
Personalised Baby Girl Gifts
Personalised Jellycat petal pink bashful Easter bunny, £33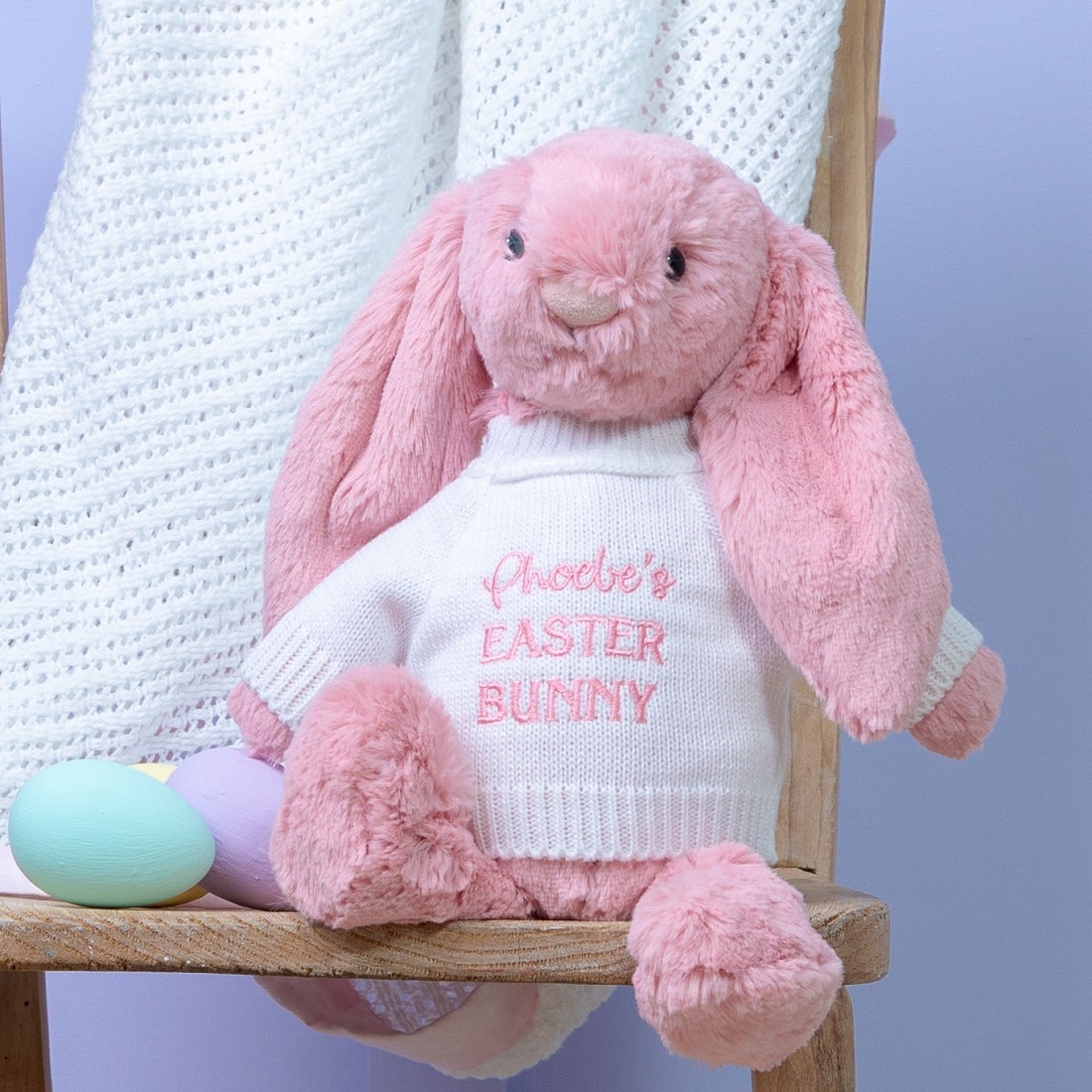 The perfect Easter bunny gift for your little one! Choose from a variety of gorgeous colours including silver, beige, lemon (new), petal pink (new) and lilac (new). Super cuddly and full of floppiness, the bashful bunny is a great cot side companion. Amazingly squishy and always ready to snuggle, with lop-ears and scrummy soft fur; this bunny is also perfect for beddy byes! And of course, jumpers can be personally embroidered with your choice of name, making this the perfect Easter gift.
Personalised Toffee Moon luxury cable baby blanket and Jellycat bashful bunny set, £75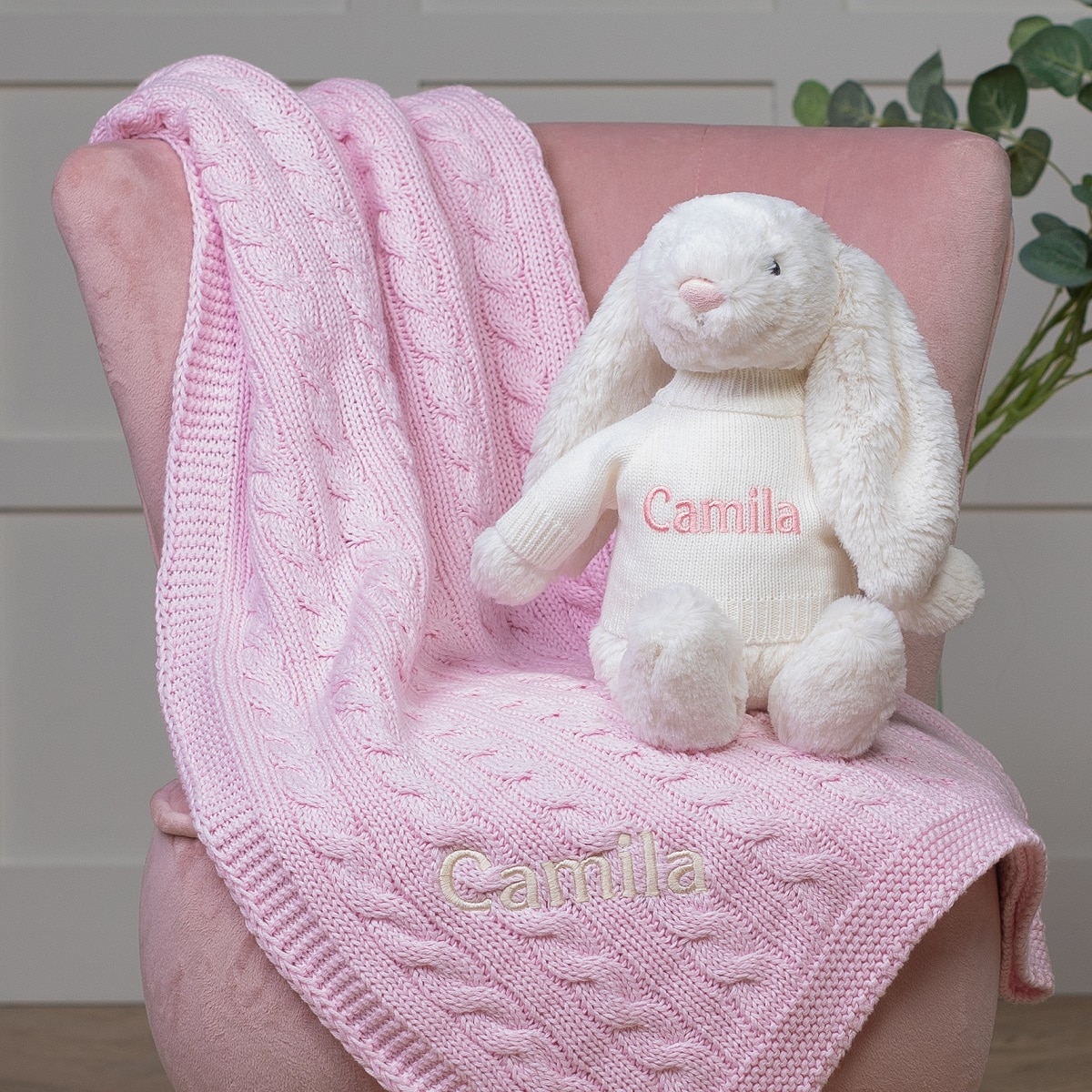 Next up, we have a gorgeous and luxurious personalised cotton cable blanket and a super soft personalised Jellycat bashful bunny soft toy. A perfect keepsake, this luxury personalised cotton baby blanket will keep your precious little one warm and snug, which therefore makes it one of the perfect personalised baby girl gifts. Also, these beautifully soft personalised pure cotton cable knitted blankets are ideal for prams, cots and make a lovely bedroom accessory for many years to come.
Flopsy bunny personalised pink baby comfort blanket and soft toy rattle gift set, £38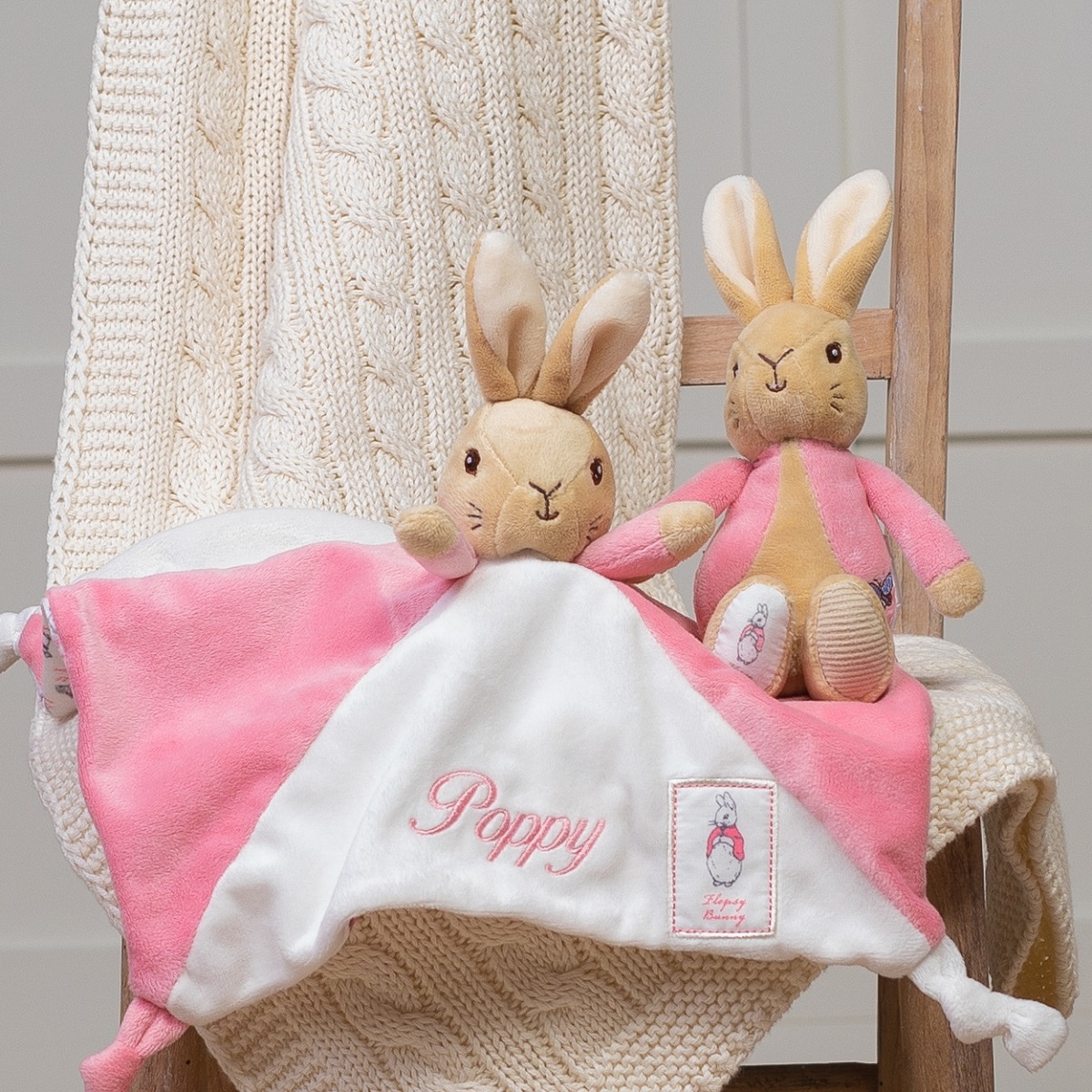 From the original Beatrix Potter books, our Peter Rabbit nursery collection features loveable Peter Rabbit and snuggly Flopsy Bunny. Suitable from birth, baby soft plush comforters are brilliant for encouraging sensory play in children. Embroidered with your choice of name, making these the perfect newborn, christening, birthday or personalised baby girl gifts.
Toffee Moon personalised purple thistle luxury cable baby blanket, £48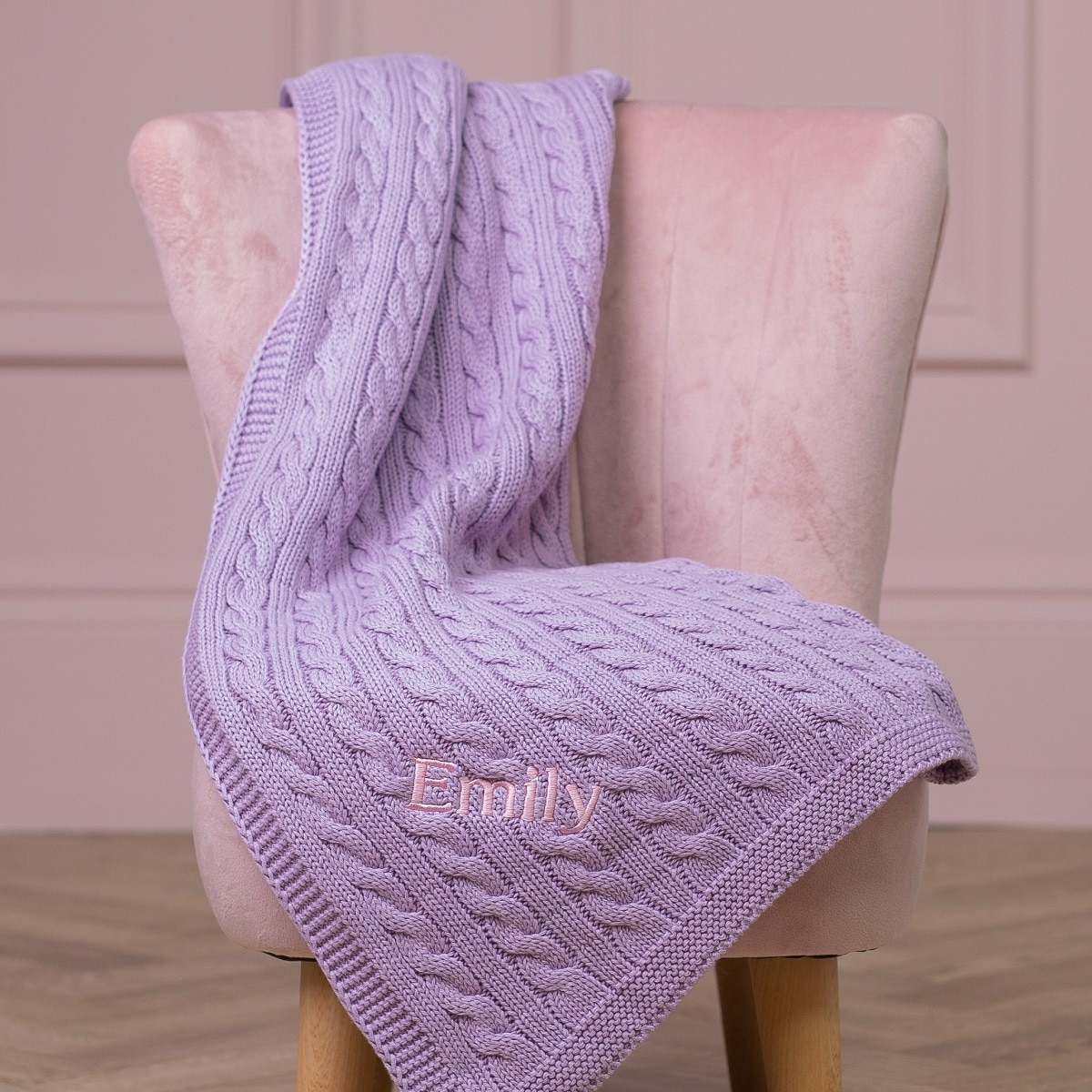 Toffee Moon blankets are all made from 100% cotton which is highly breathable and super soft against baby's delicate skin. This is just one of our lovely unique gifts for your little one, and is beautifully embroidered with your choice of name! If pink isn't exactly your favourite, perhaps go for a soft lavender or a neutral shade. We have it all!
How to make a gift basket for a baby girl – the essentials
Personalised white and pink baby gift basket with pink bunny, £130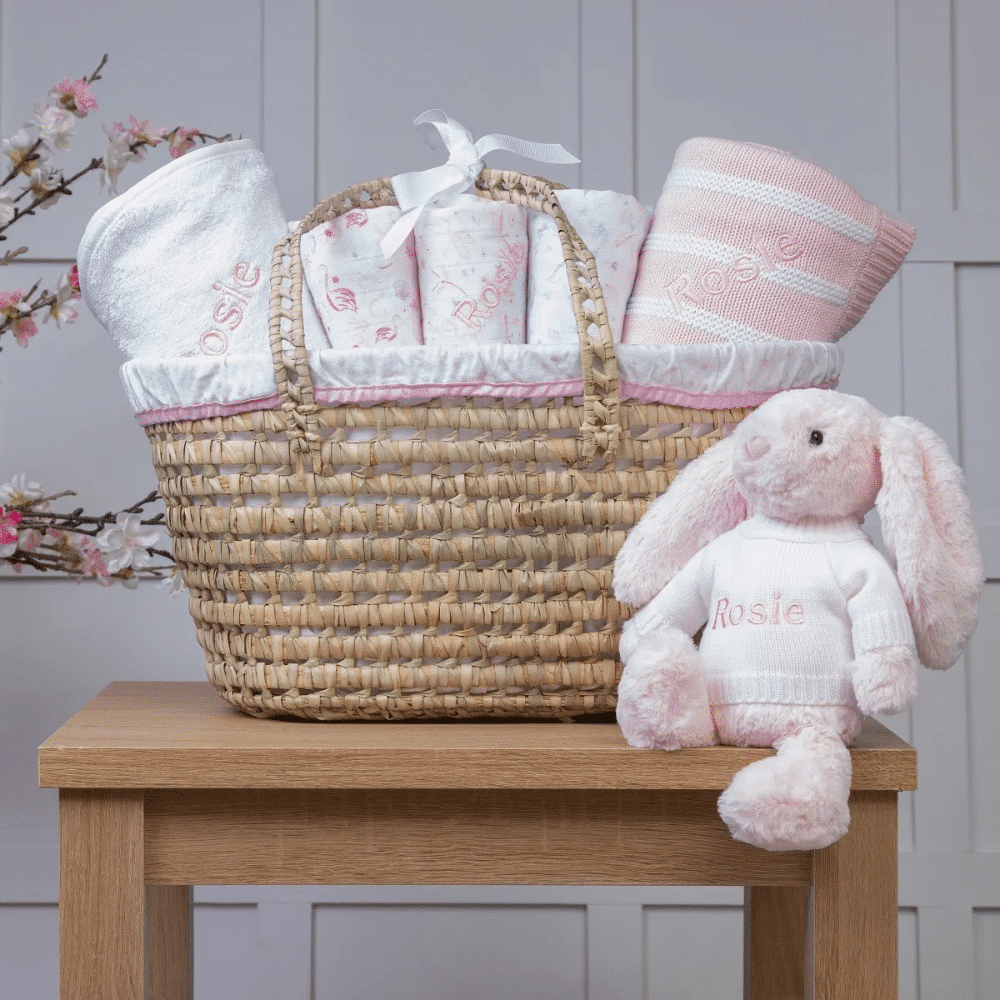 That's mine have made gift baskets easy! Don't waste you time and energy trying to build the perfect baby girl gift basket, we already created it! This personalised baby gift basket really is unique and exclusive to That's mine. Carefully created by ourselves, we have selected matching and complimentary products, making this palm basket a baby basket with a difference. Additionally, each product is colour coordinated to make this basket stand out from the crowd! It consists of a Clair de Lune lined baby palm basket, a That's mine personalised towelling cuddlerobe; 3 Ziggle stylish muslin squares, one of which is personalised, a gorgeous Ziggle personalised stripe knitted pram blanket and finally a wonderfully soft Jellycat bashful bunny toy, dressed in a personalised That's mine jumper. Add any other baby products yourself to make it even more unique!
Jellycat Fuddlewuddle Elephant comforter and wooden teether gift set, £42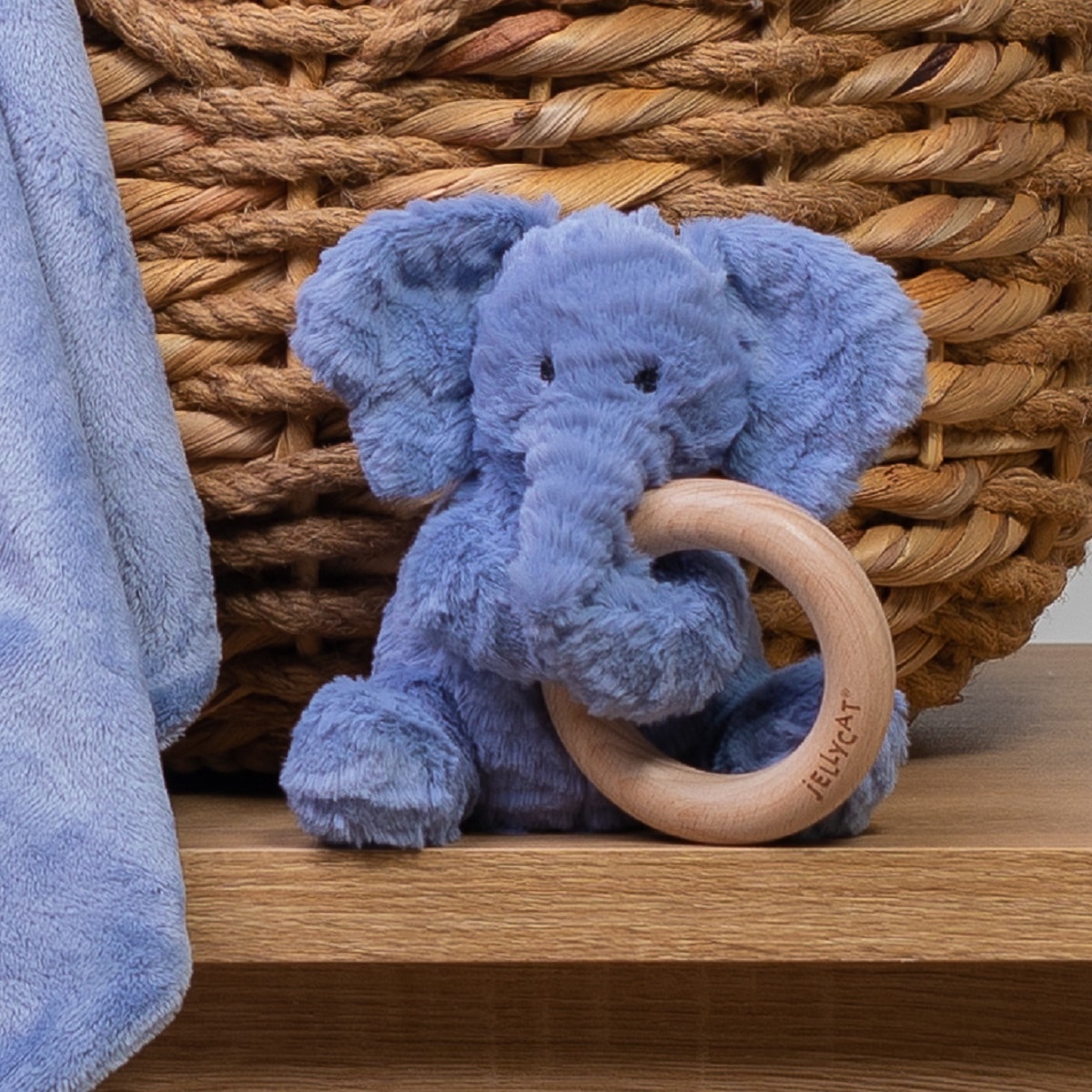 This thoughtful Elly elephant has wrapped up in ribbon, a square of softness to snooze on! Perfect for little fingers fascinated by new textures, it's so cosy and will keep baby comforted in the cot or pram. This set is made from luxurious super-soft fabric and features a rattle & wooden teething ring that will help comfort the youngest of children. Durable and natuarally antibacterial, our yummy teething ring will help when it's needed most.
Steiff honey teddy bear medium soft toy, £42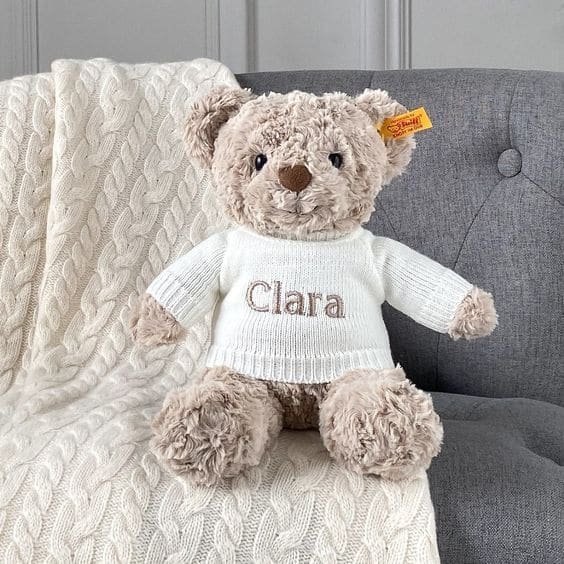 Every baby girl needs a teddy! For example, Soft Cuddly Friends Honey teddy bear is made of cuddly soft plush, which makes this perfect for snuggles. The 28cm friend with a honey-sweet smile will steal the heart of any little girl. The bean bags included in its rear, paws and soles allow honey teddy to be firmly seated on a surface. They are also perfect for teaching your child to grip.
That's mine personalised white towelling gingham trimmed bathrobe with pink embroidery, £29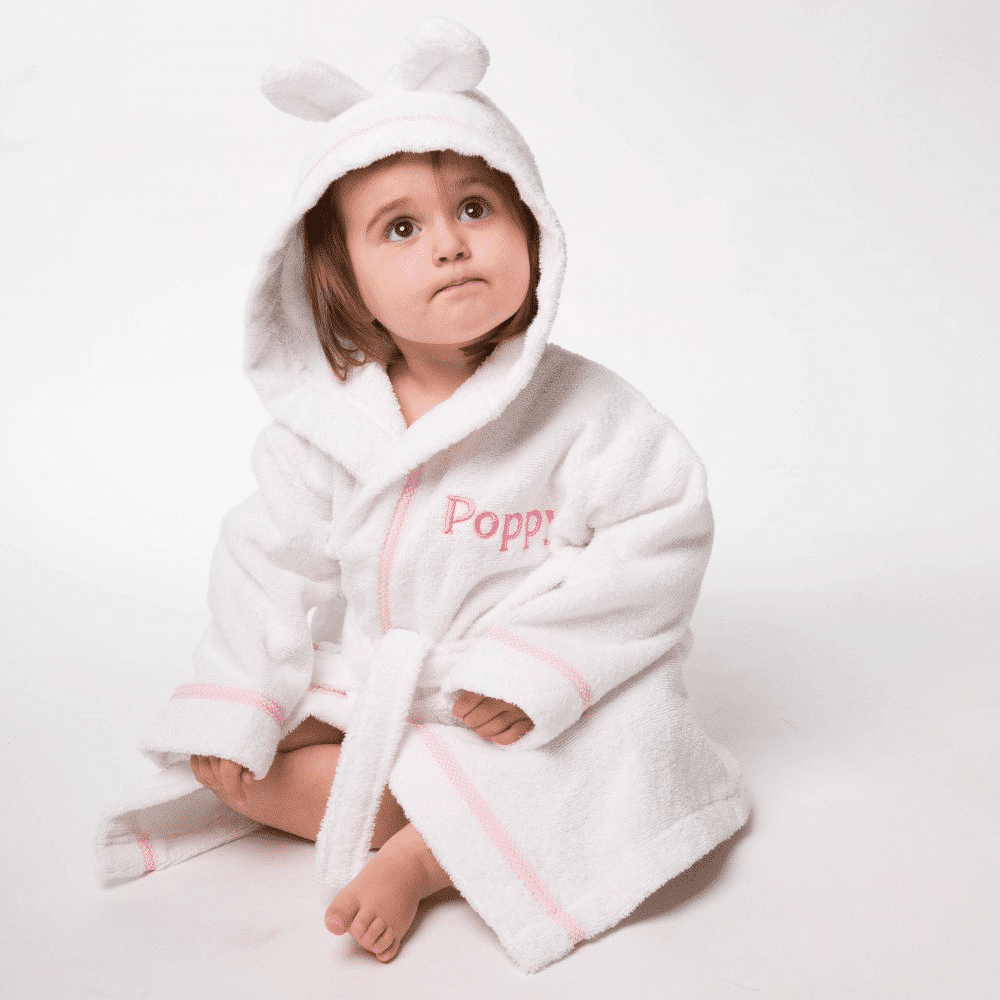 Such a great pick! That's mine's classic, traditional towelling bathrobe. Made with 100% luxury cotton and trimmed with gorgeous gingham. The bathrobe comes in white 400g towelling with either blue or pink gingham trim and embroidery and lovely little bunny ears. Make bath times and bed times special with a That's mine personalised bathrobe! Available in 0-6 months, 6-12 months, 12-18 months, 18-24 months and 2-3 years.
Dandelion personalised receiving shawl, knitted jacket and leggings and Jellycat bashful bunny gift set, £85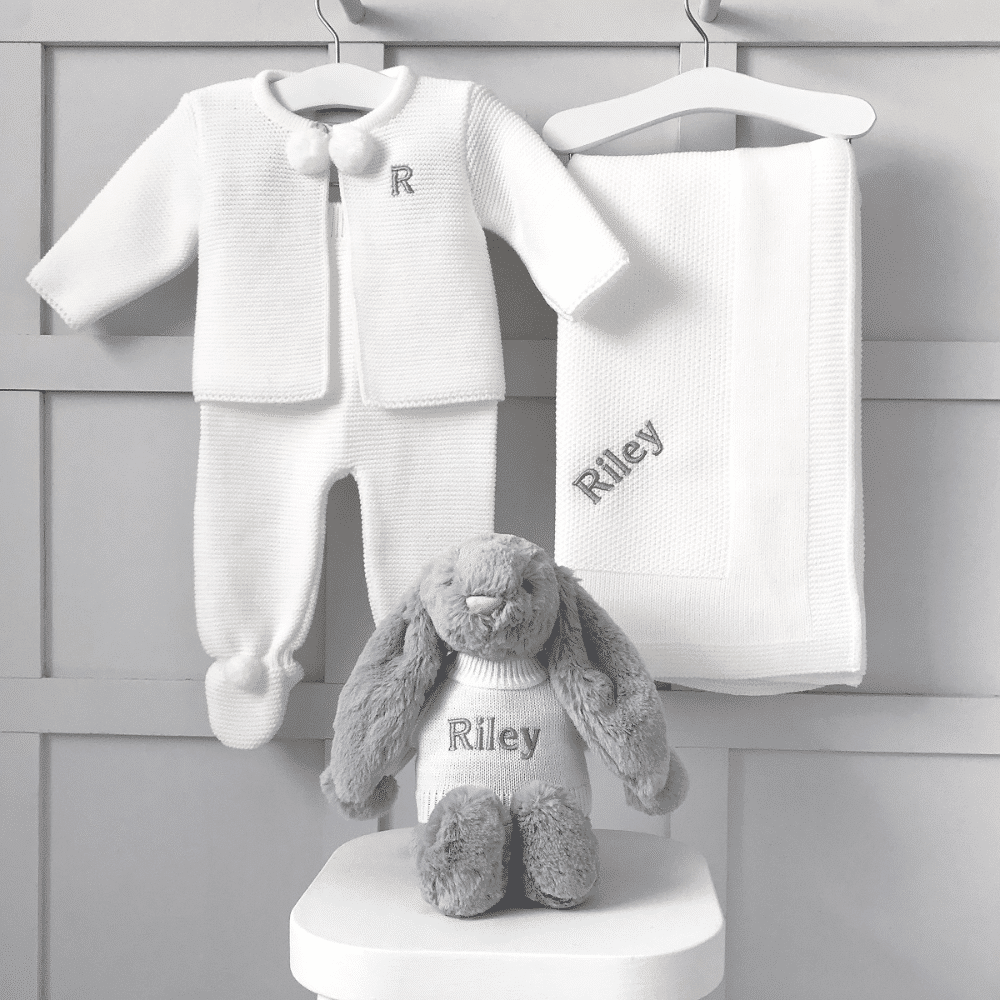 A beautiful personalised gift set, comprising of a knitted baby receiving shawl, matching pom pom knitted jacket and leggings and a Jellycat bashful bunny with personalised jumper. Did you know these Spanish knitwear outfits are lovingly made in Portugal! The jacket and leggings are traditional and timeless and the jacket is front fastening with gorgeous pom poms. Set also comes in pink, blue or grey!
Make sure you check out all these options and many more, and also our giftboxes and gift cards, making it extra special for those new bundles of joy.
Happy shopping!