That's mine are so proud to have teamed up with this amazing and historical company. We are honoured that our exclusive personalised jumpers can now be seen on a selection of these iconic bears and bunnies. We thought we'd take a dive into the history and legacy of the home of the original teddy bear, and share why we're so proud to provide you with the best Steiff personalised baby gifts!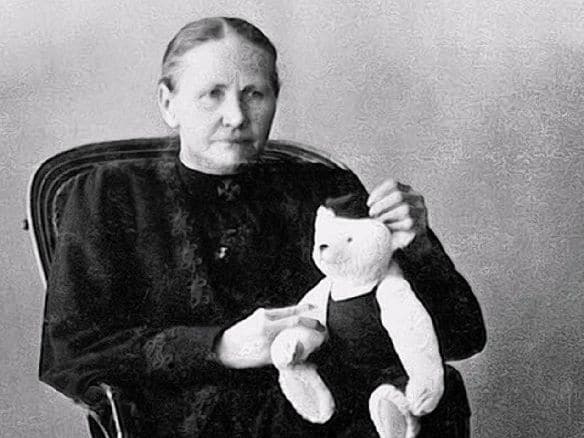 Steiff Personalised Baby Gifts – The Steiff History
On 24th July 1847, Margarete Steiff was born in Giengen an der Brenz and in 1880 she founded Steiff GmbH. Margarete's motto was 'For children only the best is good enough!' As an energetic young girl, Margarete fought for her place in life, against much resistance. With a pin cushion in the shape of a small stuffed elephant, she wrote the first chapter of this unprecedented success story.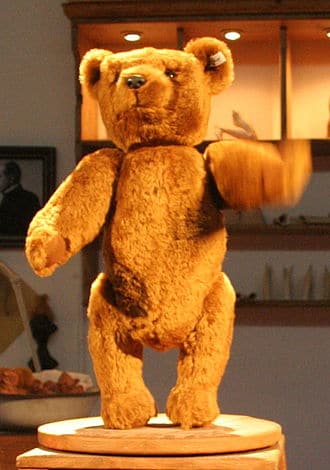 Richard, Margarete's nephew, designed and created the first Teddy Bear in 1902! All Steiff toys receive the Steiff seal of approval – the famous trademark "Button in Ear". Also, all Steiff bears and other soft toys proudly wear an ear tag as a distinguishing mark. The success of the brand is still being continued today, 140 years later!
Did you know who invented the teddy bear? The classic teddy bear we all know and love today, was actually named in honour of American President Theodore Roosevelt. In 1902, Roosevelt refused to shoot a bear whilst on a Mississippi hunting trip. The guides had discovered the bear, clubbed it and tied it to a tree, and then invited the President to shoot it. Roosevelt declined, believing it was unsportsmanlike to kill the defenseless animal in that way. After this, in Brooklyn, New York, shopkeeper Morris Michtom and his wife Rose created a stuffed fabric bear and named it 'Teddy's bear', in honour of Roosevelt. They then went on to start a successful company manufacturing teddy bears and toys.
Also, around the same time, seamstress Margarete Steiff founded a German company, making their own plush bears as well! Fast foward to 2022, That's mine are very proud to personalise and sell Steiff bears!
Steiff Personalised Baby Gifts by That's mine
STEIFF HONEY BEAR, £42.95 – £59.95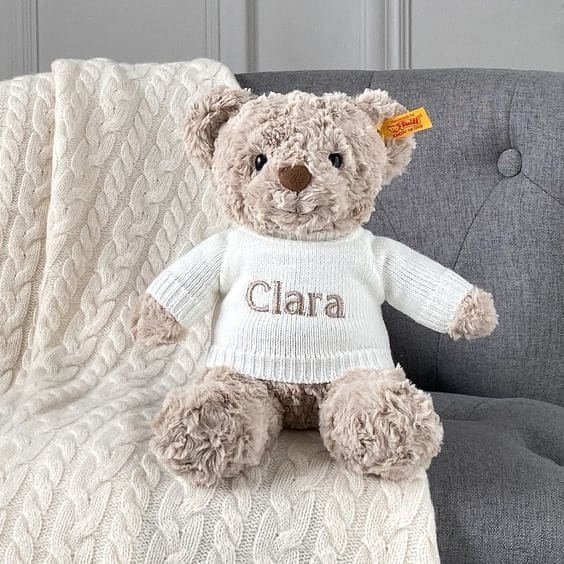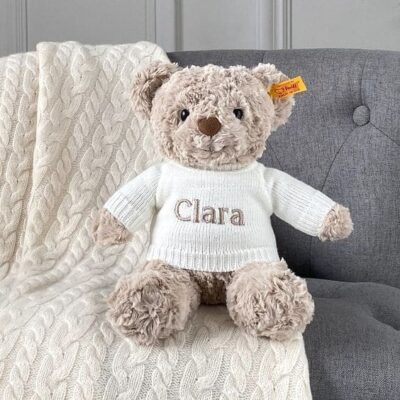 This Personalised Steiff honey teddy bear medium soft toy is exclusive to That's mine, therefore making it totally unique! Did you know That's mine is the only place to find personalised Steiff bears?! Soft Cuddly Friends Honey teddy bear is also made of cuddly soft plush. The 28cm friend with a honey-sweet smile will steal the heart of any child. The bean bags included in its rear, paws and soles allow honey teddy to be firmly seated on a surface. They are also perfect for teaching your child to grip. Complete with the world famous Steiff stainless steel "Button in Ear" yellow and red tag.
STEIFF BEARZY BEIGE TEDDY BEAR, £45.95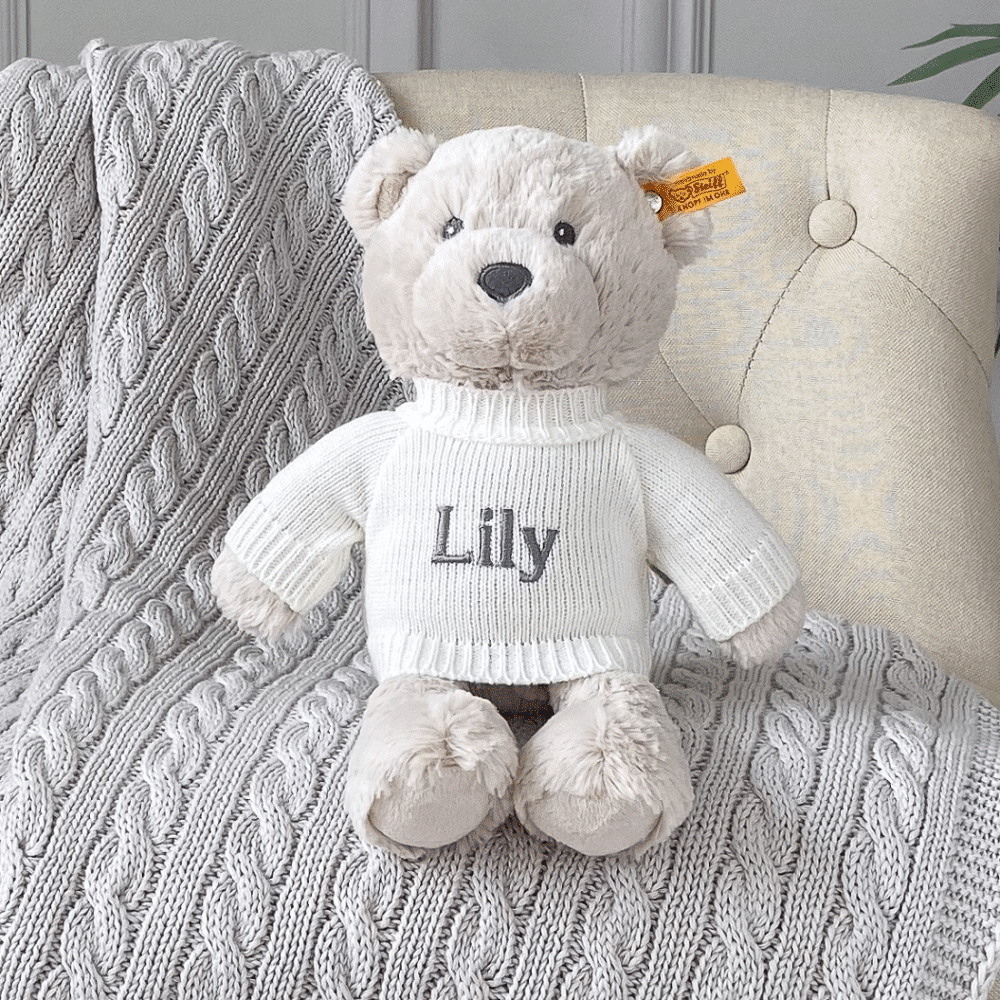 Thanks to the bean bag in teddy's tail, this 28cm soft, Cuddly Friends Bearzy teddy bear can sit beautifully next to their best friend. Teddy's eyes and nose are lovingly embroidered. Inside of the ears, arms and the paws is short haired plush for baby's soft skin. Also, beautiful fur is made of longer ultra soft plush. The arrangement of the different surfaces invites baby to feel and touch.
My First Steiff Teddy Bear beige soft toy and Toffee Moon luxury cable blanket gift sets, £70.95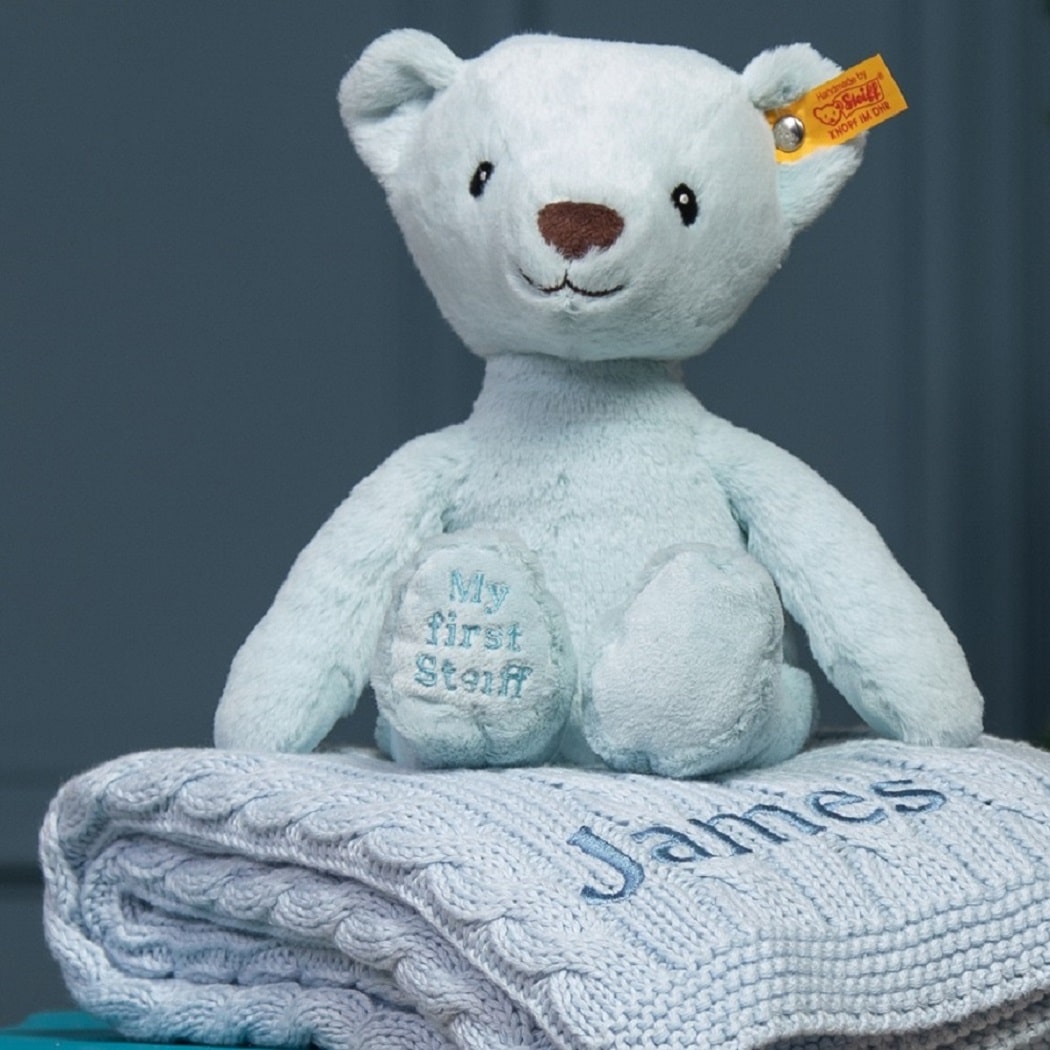 Wait a minute – what's that in teddy's left ear? … The famous Steiff "Button in the ear" and classic yellow ribbon tag! We're very proud to be able to provide a personalisation service for Steiff, one of the most classic timeless plush toy brands, who have been handcrafting forever friends since 1880 in Germany. High quality soft, plush fabrics are used and paired with this beautifully soft personalised pure cotton cable knitted blanket; it's ideal for prams, cots and make a lovely bedroom accessory for many years to come.
Personalised Steiff hoppie rabbit soft toy, £42.95 – £52.95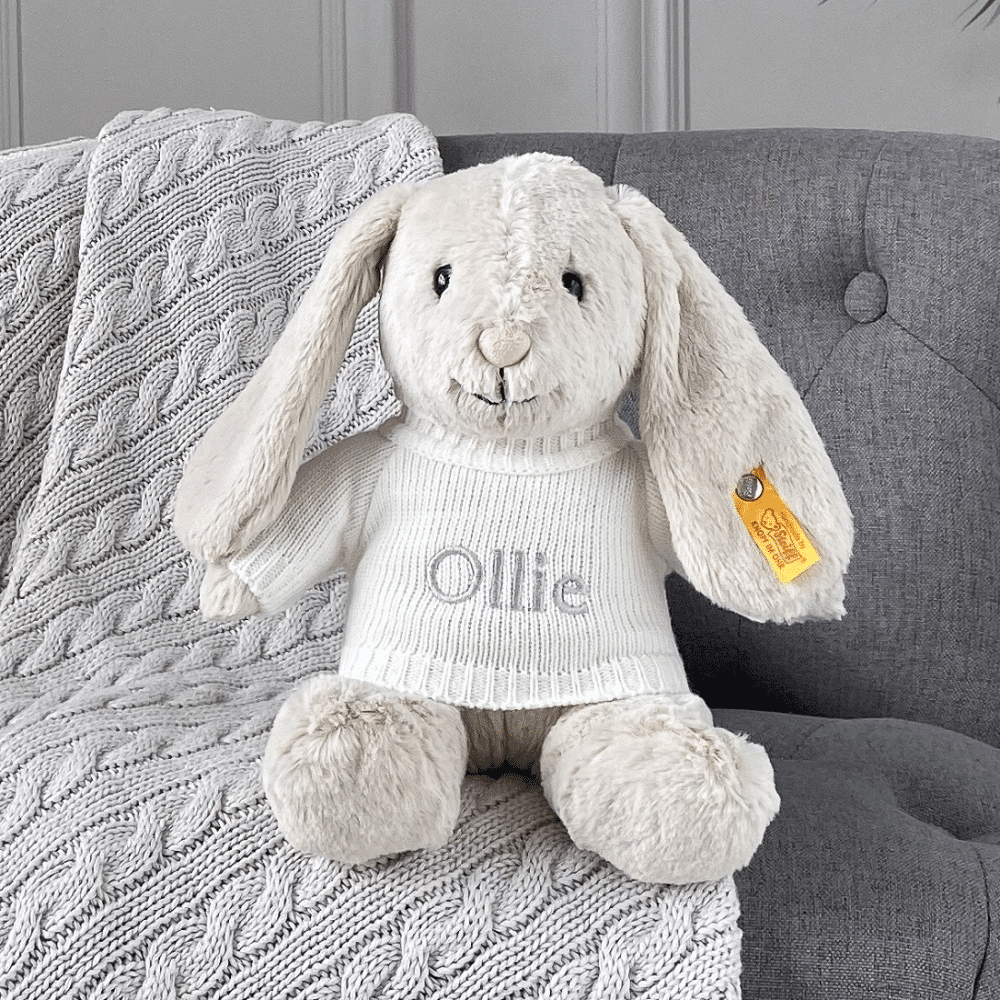 This Personalised Steiff hoppie rabbit medium soft toy is exclusive to That's mine and totally unique! Children's eyes light up when Soft Cuddly Friends Hoppie rabbit comes hopping. The rabbit has a height of 28cm, and its cute pink nose and super long ears make it the perfect affectionate companion for young and old alike. The bean bags included in its seat, paws and soles ensure good support and are ideal for gripping and feeling. The soft and dense cuddly toy in tender light grey lends itself to snuggling and caressing.
Perhaps a sustainable option?
TEDDIES FOR TOMORROW TOM TEDDY BEAR, STEIFF.COM, £49.90
Measuring 30 cm tall, trendy Tom has a cappuccino-coloured plush coat with a vanilla-coloured insert for his tummy. He has a short-pile, white round snout, paws and soles, as well as shiny black eyes and a funny dark brown nose! Tom is from the Steiff Teddies for Tomorrow collection, created in 2020; a campaign to announce Steiff's commitment to use alternative materials and sustainablity going forward. To express their responsible and future-oriented corporate policy, Teddies for Tomorrow are all made from bamboo, hemp, linen and paper.
Make sure you check out all these options and many more, and also our giftboxes and gift cards, making it extra special for those new bundles of joy.
Happy shopping!