It's christening time! We've all been that person that's trying to find the perfect christening gift idea; but have no clue what a newborn or new parent needs. We've chosen our favourite picks to create the perfect list of personalised baby gifts for christenings that you'd be proud to take to the ceremony! This list includes some personalised baby gift ideas that won't break your budget, and also some that are on the more luxurious side.
The perfect personalised baby gifts for christenings
Bizzi Growin personalised pink koochicoo baby blanket, £44.95
Looking for the height of luxury? The Bizzi Growin personalised koochicoo baby blanket is just that! Luxuriously soft and super chic, this baby blanket is perfect for baby to snuggle up in when out and about or just for cuddles! Get the name of your choice embroidered and there you have one of our top picks for personalised baby gifts for christenings.
Personalised white and grey baby gift basket with grey bunny soft toy, £130.95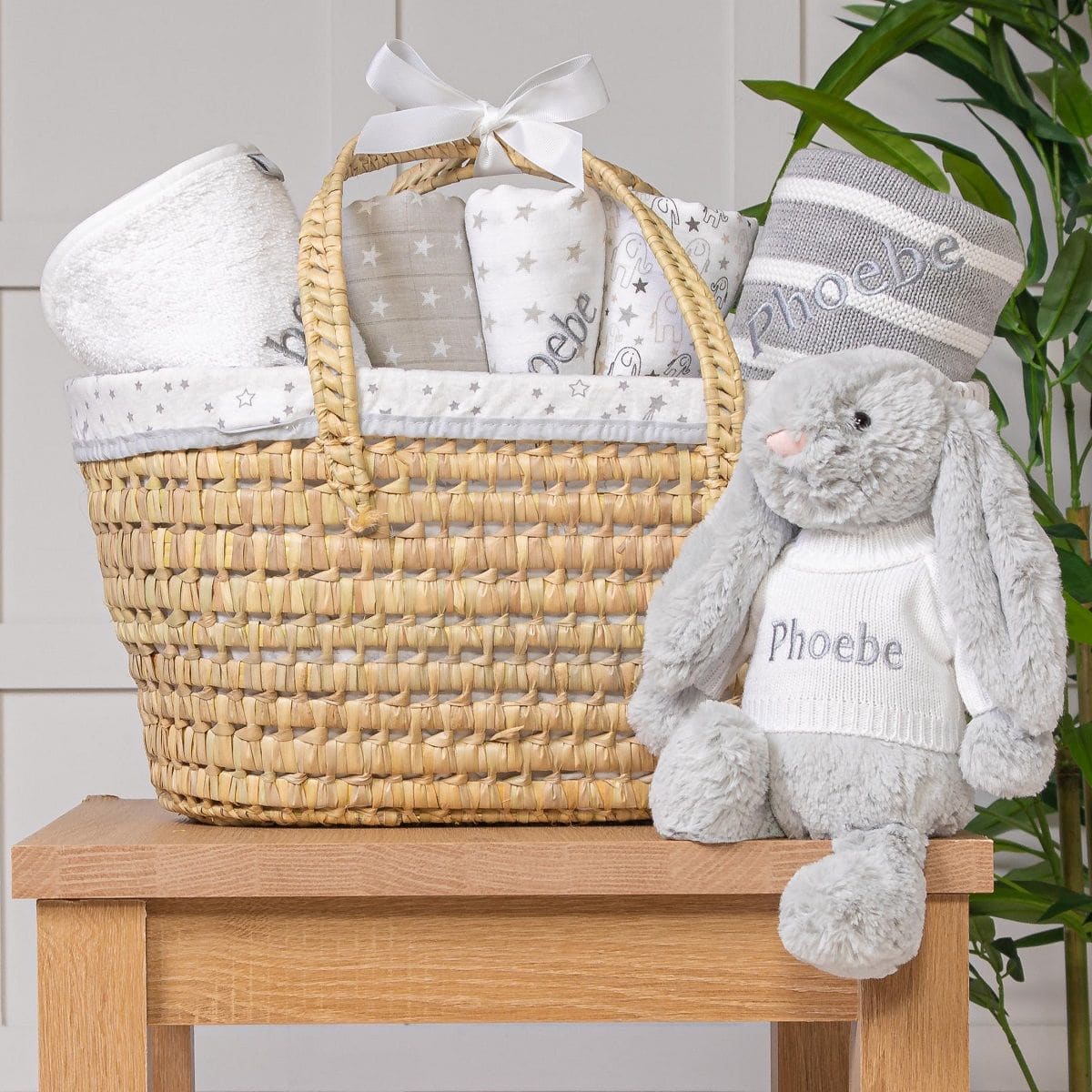 That's mine have made gift baskets easy! Don't waste you time and energy trying to build the perfect baby boy gift basket, we already created it! This personalised baby gift basket really is unique and exclusive to That's mine. Carefully created by ourselves, we have selected matching and complimentary products, making this palm basket a baby basket with a difference. Additionally, each product is colour coordinated to make this basket stand out from the crowd! It consists of a Clair de Lune lined baby palm basket, a That's mine personalised towelling cuddlerobe; 3 Ziggle stylish muslin squares, one of which is personalised, a gorgeous Ziggle personalised stripe knitted pram blanket and finally a wonderfully soft Jellycat bashful bunny toy, dressed in a personalised That's mine jumper. Add any other baby products yourself to make it even more unique!
That's mine personalised cable knit cashmere baby blanket, £155.95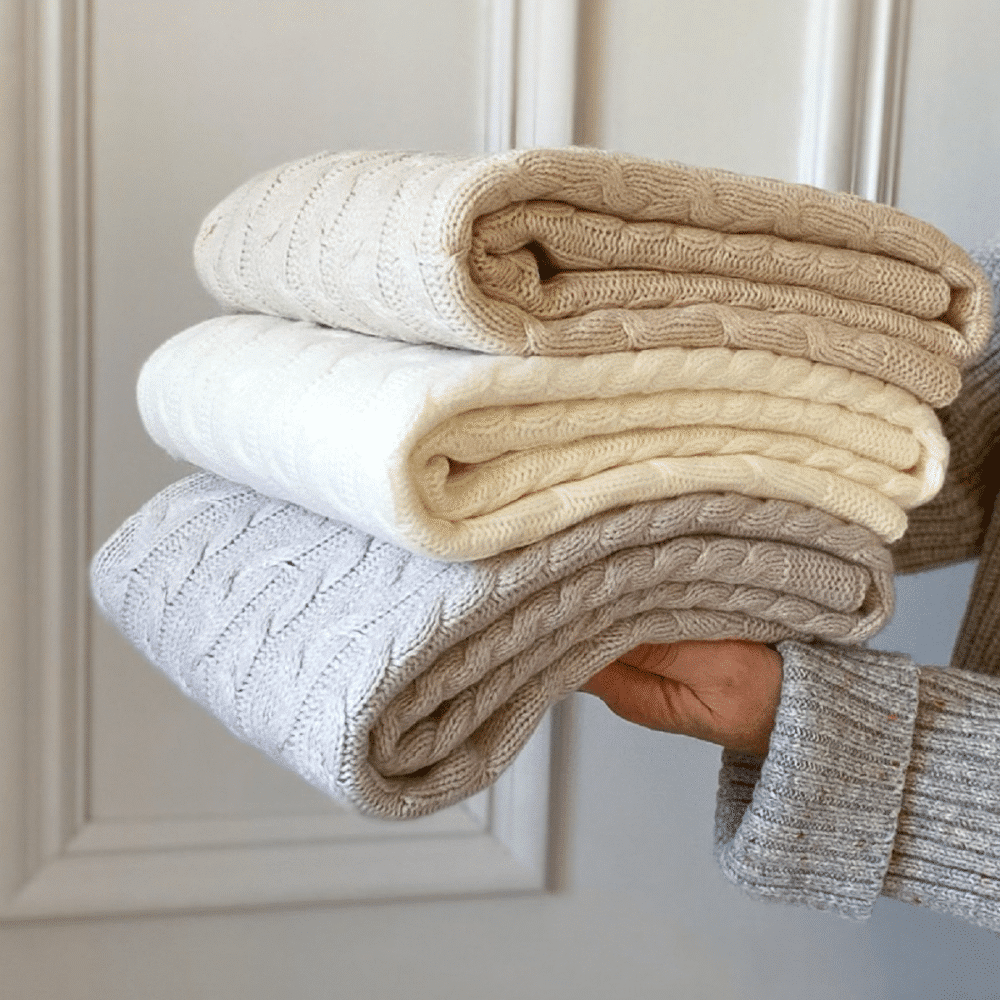 As far as personalised baby gifts go, this cashmere baby blanket is up there as one of the best. Unbelievably soft and snuggly, That's mine have designed and made this exclusive cashmere baby blanket. It has been designed with a fabulous double cable pattern with a contrasting close knit border. Super soft to the touch, so this 100% cashmere blanket really is the height of luxury for your little one. It comes in 2 beautiful colours, beige and grey.
Personalised Jellycat silver blossom bunny soft toy, £33.95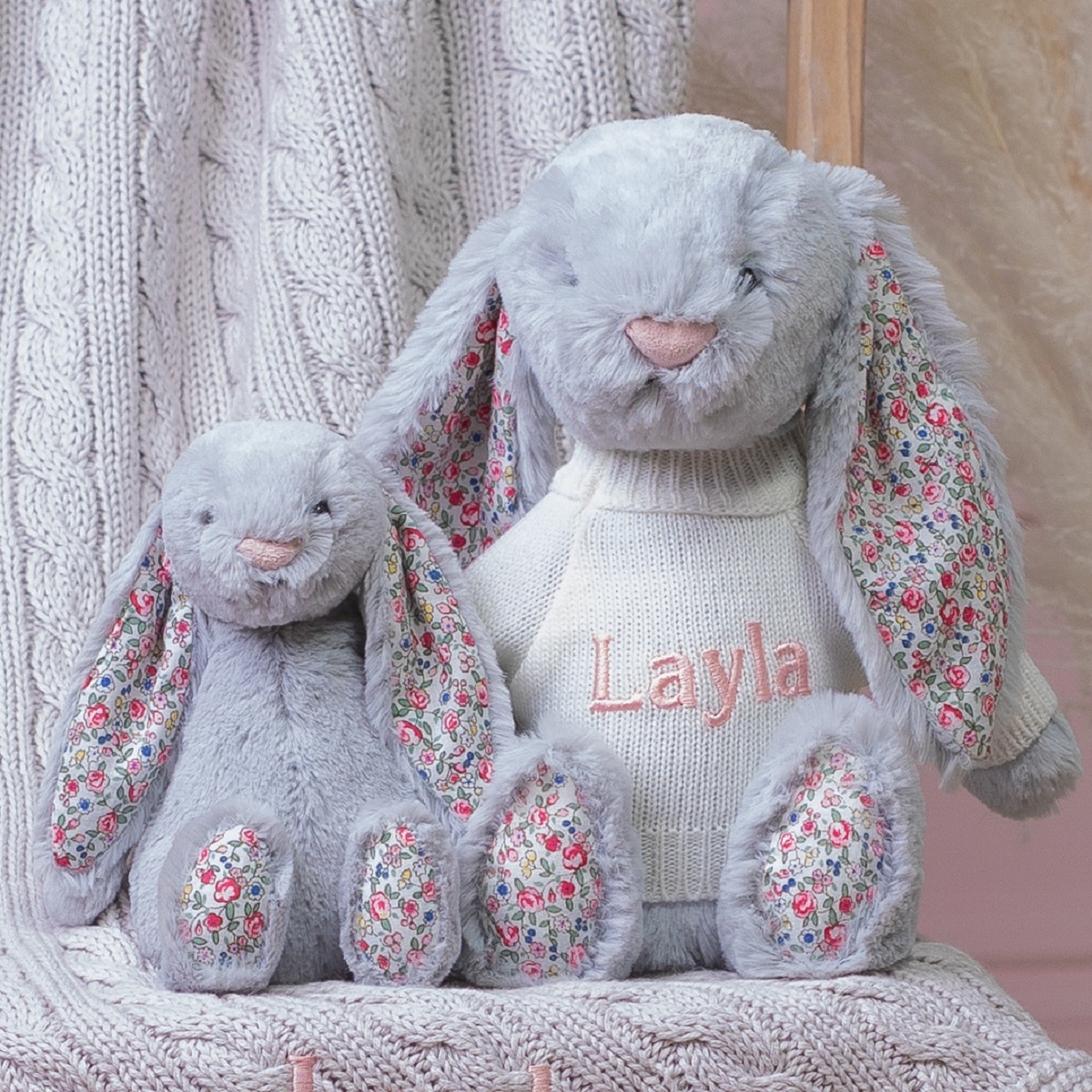 Next up, super cuddly and full of floppiness, the bashful bunny is a great cot side companion and the perfect Easter gift. Amazingly squishy and always ready to snuggle, with lop-ears and scrummy soft fur, so this bunny is perfect for beddy byes! Choose this colour in large too.
My First Steiff Teddy Bear soft toy and Toffee Moon luxury cable blanket gift set, £70.95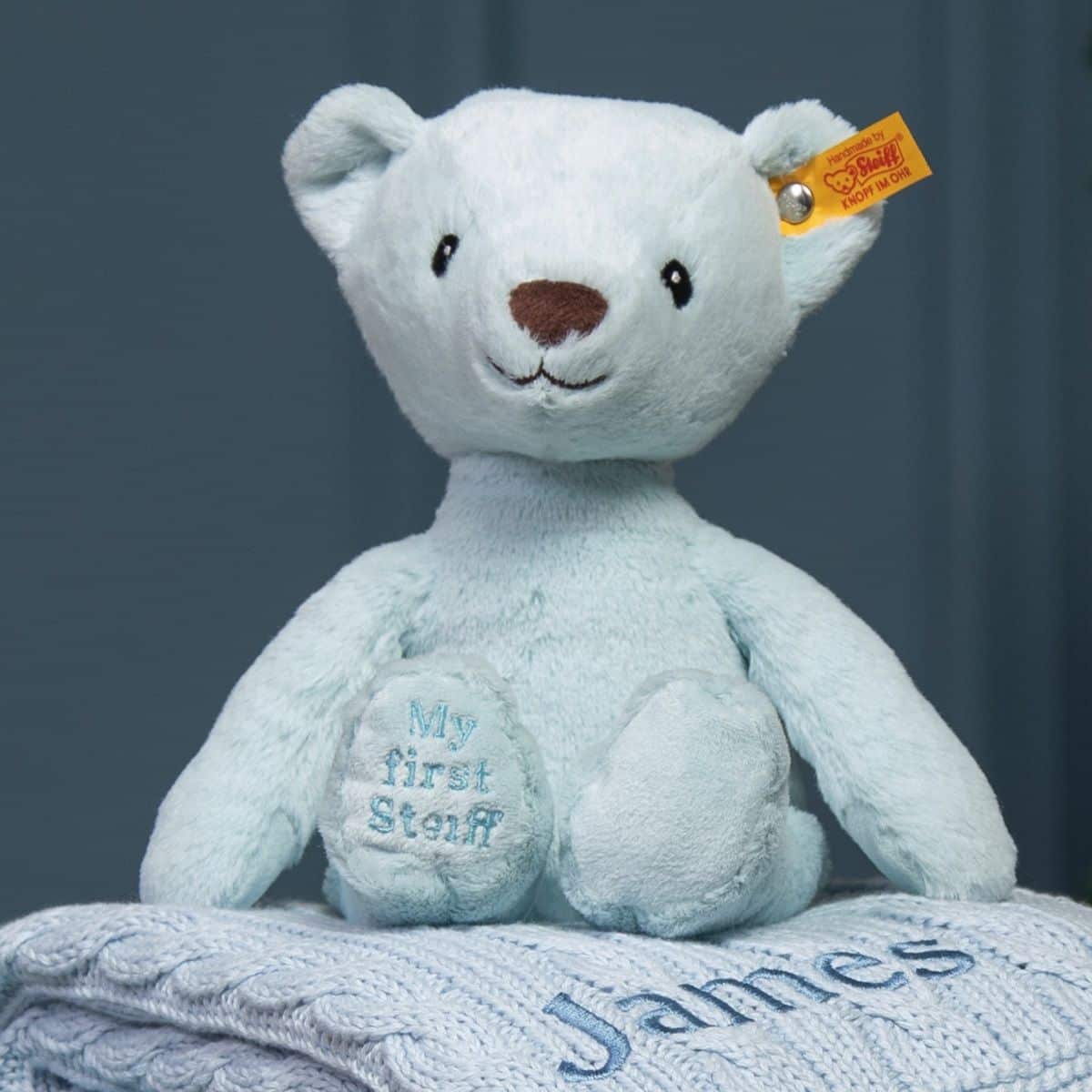 Wait a minute – what's that in teddy's left ear? … The famous Steiff "Button in the ear" and classic yellow ribbon tag! We're very proud to be able to provide a personalisation service for Steiff, one of the most classic timeless plush toy brands, who have been handcrafting forever friends since 1880 in Germany. High quality soft, plush fabrics are used and paired with this beautifully soft personalised pure cotton cable knitted blanket; it's ideal for prams, cots and make a lovely bedroom accessory for many years to come.
Baby Christening Gifts
Personalised Jellycat silver bashful bunny and baby blanket gift set, £77.95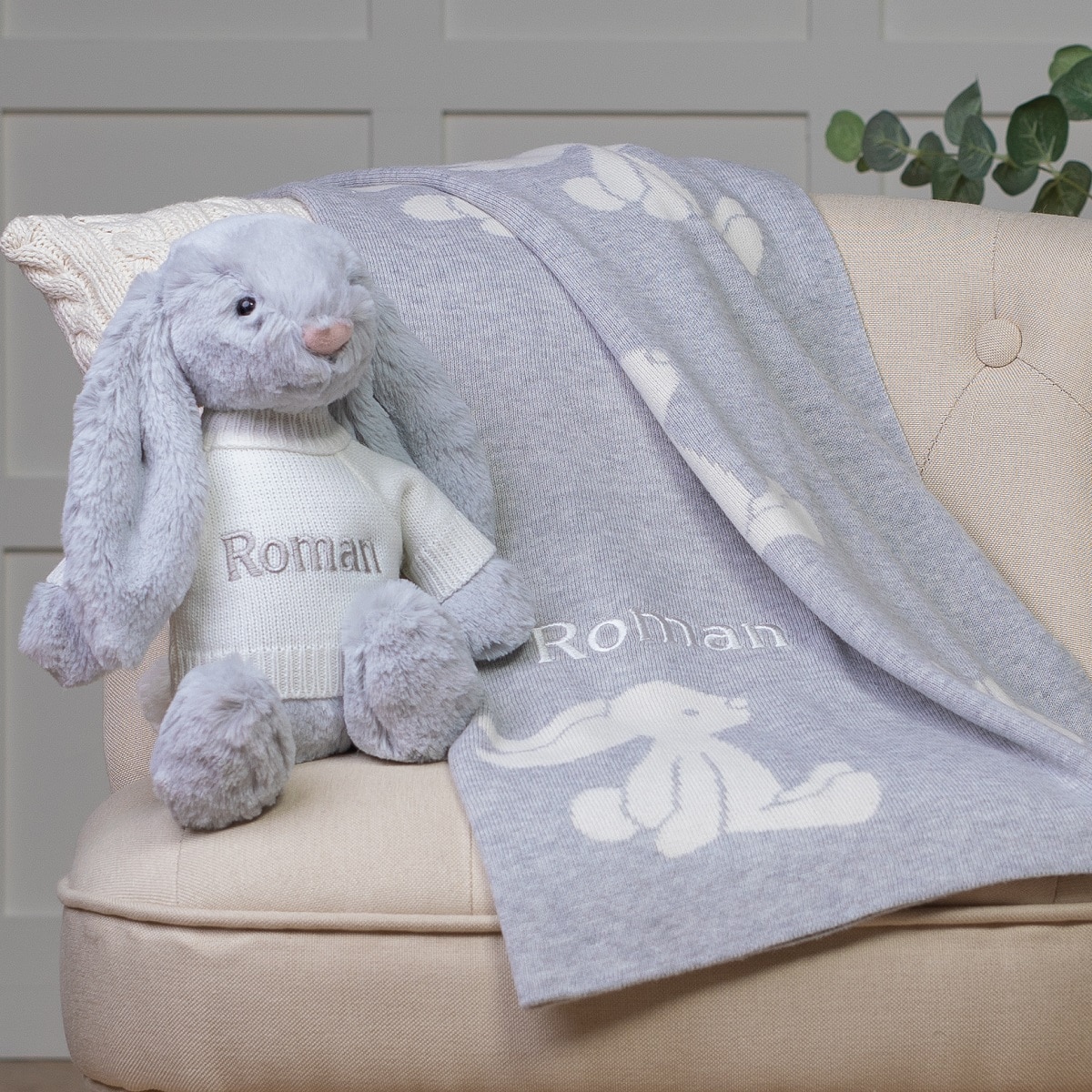 Next up, this personalised Jellycat bashful bunny and bunny baby blanket is a unique gift set. A perfect newborn, christening gift. The Jellycat blanket is a heavy weight, 100% cotton blanket; breathable whilst providing warmth for little ones. A stylish and simple bunny design, and also the super soft bunny soft toy compliments the blanket perfectly.
Toffee Moon personalised dusky rose luxury cable baby blanket, £48.95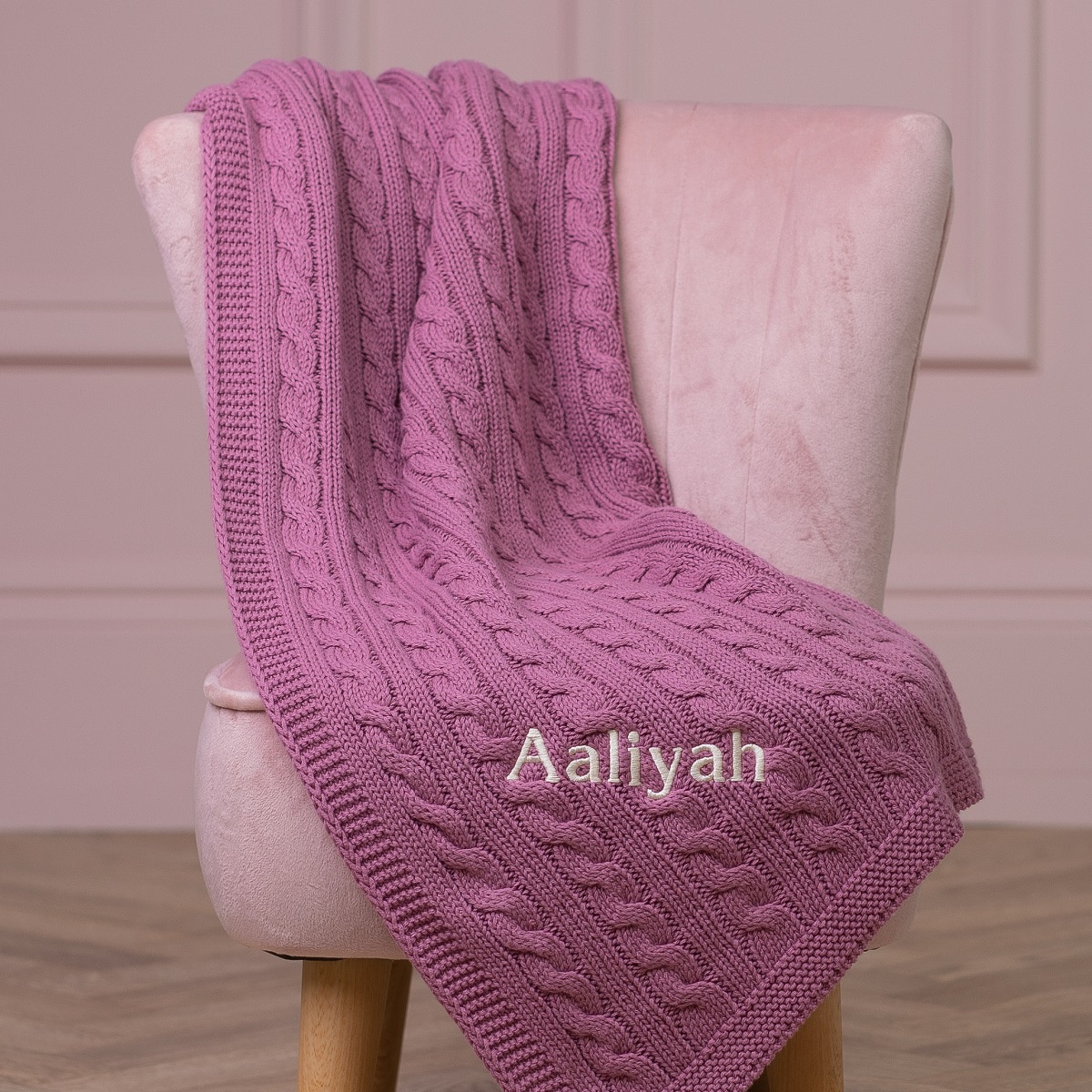 Toffee Moon blankets are all made from 100% cotton which is highly breathable, because it's super soft against baby's delicate skin. This is just one of our lovely unique gifts for your little one, and is of course, beautifully embroidered with your choice of name! If greys and neutrals aren't exactly your favourites, perhaps go for this vibrant dusky rose or a even a dark blue shade. We have it all!
That's mine personalised white towelling baby cuddlerobe, £25.95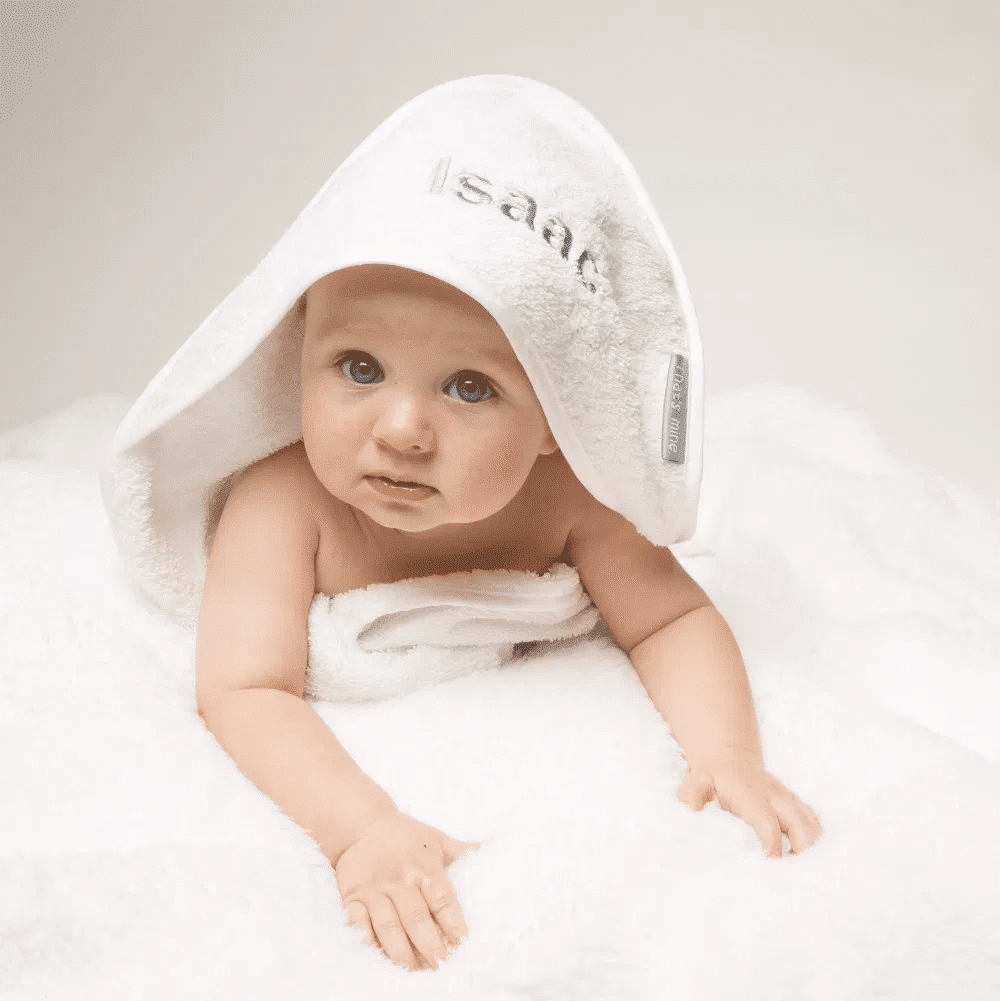 Our That's mine classic, traditional super soft towelling cuddlerobe. Your little one's very own cuddly hooded towel for drying after bathtime. Embroidered with your choice of name, and available in a choice of embroidery thread colours – Blue, Grey or Pink. Why not make bath times special with a That's mine personalised cuddlerobe! A wonderful gift for a special person, and remember……"It can dry me, it can only dry me!" Additionally, this is the perfect gift to help new families make new memories.
Dandelion personalised receiving shawl, knitted jacket and leggings and Jellycat bashful bunny gift set, £85.95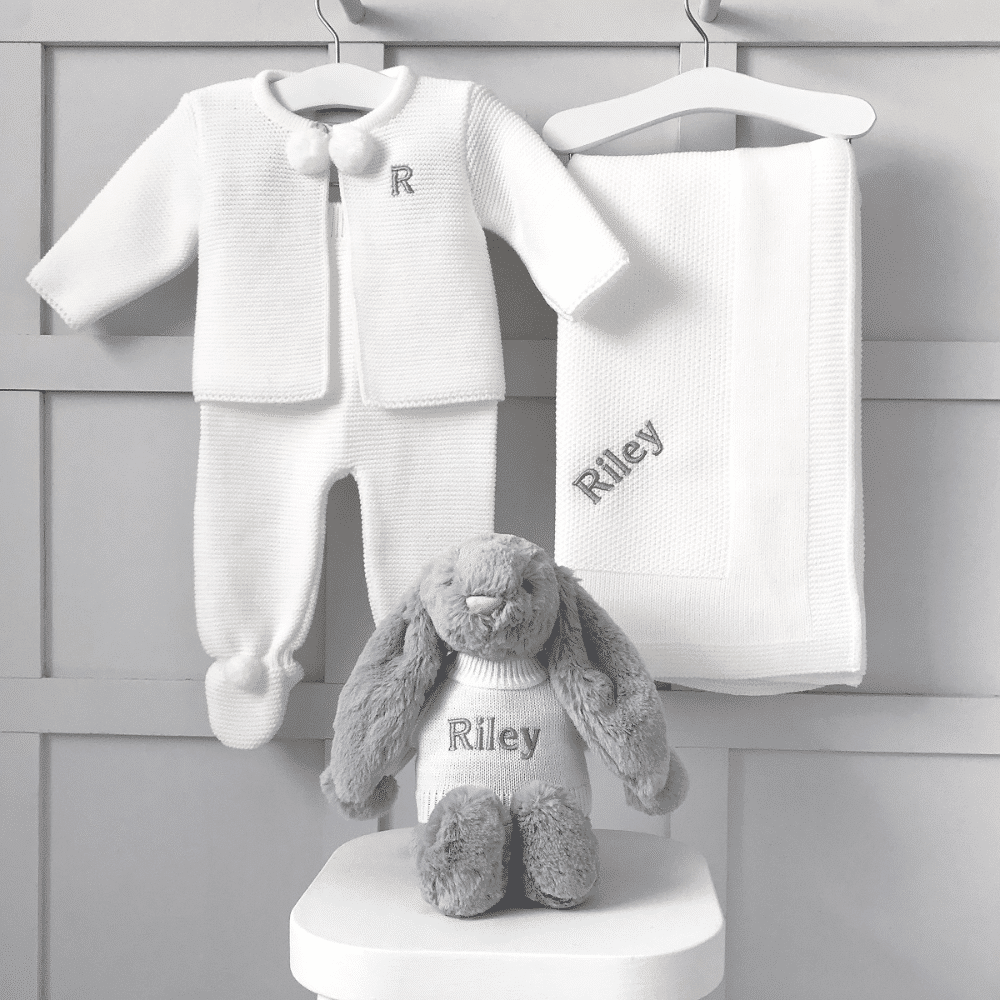 Here's a baby essential; a beautiful personalised gift set, comprising of a knitted baby receiving shawl, matching pom pom knitted jacket and leggings and a Jellycat bashful bunny with personalised jumper. These Spanish knitwear outfits are lovingly made in Portugal! Jacket and leggings are traditional and timeless and the jacket is front fastening with gorgeous pom poms. The jacket can be personalised with an initial of your choice, and the matching receiving shawl and the Jellycat bashful bunny can be embroidered as well, which makes this unique gift set. Extra special! The embroidery can be in grey (as shown), pink or blue. Jacket and leggings come in two sizes, 0-3m and 3-6m and the gift sets come in pink, blue, grey and white. This is also great to help the new parents build their new baby's wardrobe!
Ziggle personalised 3 pack grey and white baby muslin squares, £26.95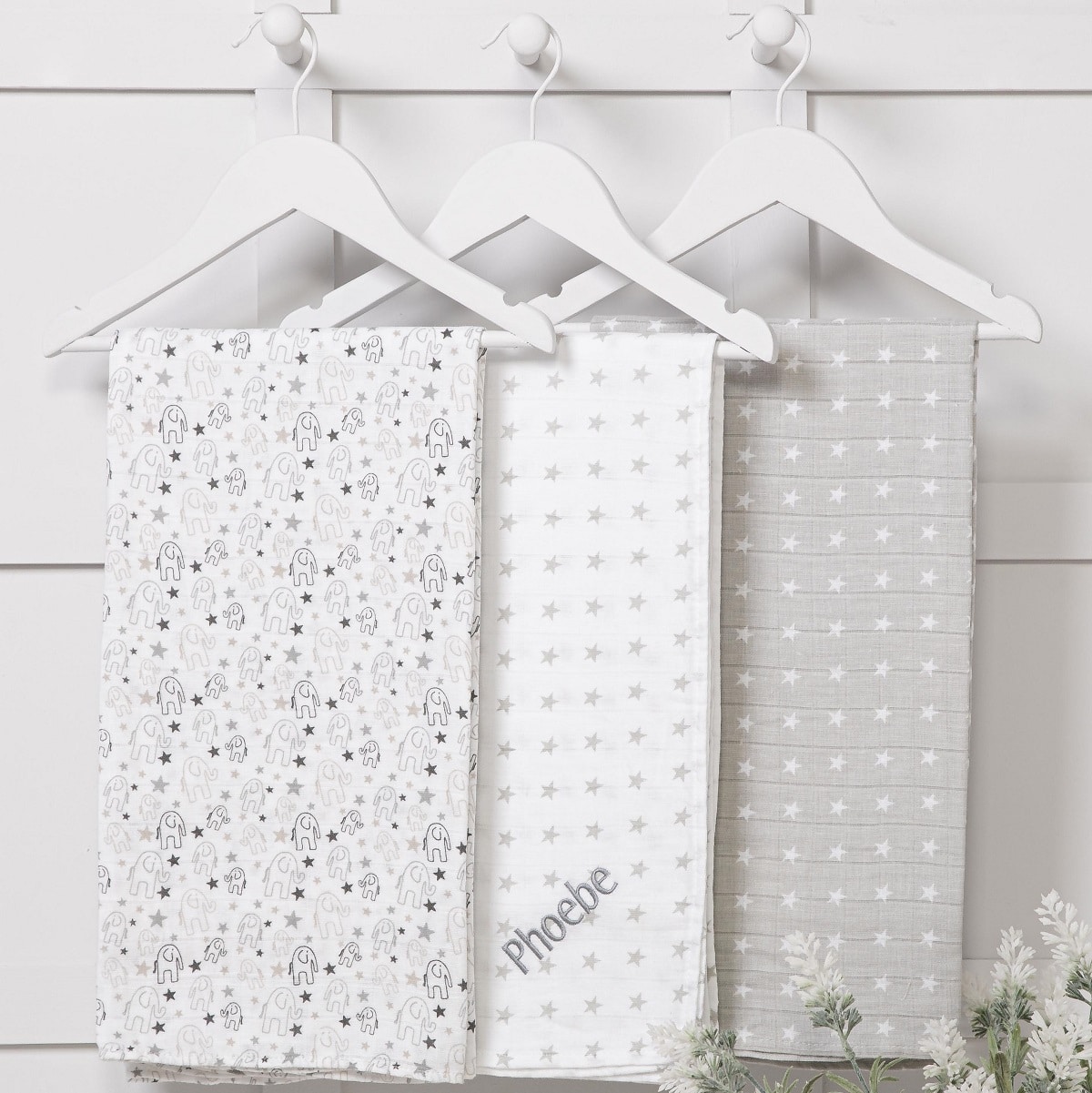 These stylish muslin squares are a must for every changing bag. They are also soft on baby's skin, are great as a comfort blanket, bib or burp cloth and get softer with every wash. The grey and white star and elephant print combination is so attractive compared to plain muslin squares and one of the squares is embroidered with your choice of name.
Make sure you check out all these options and many more, and also our giftboxes and gift cards, making it extra special for those new bundles of joy.
Happy shopping!